A Grand Prix exactly 17 years ago today would prove a key historical stage in Michael Schumacher's great career, as he landed a crucial punch in his season-long battle with Renault's Fernando Alonso to regain the World Championship crown the Spaniard had relieved him of the previous season…
Fernando's team mate Giancarlo Fisichella could have won the 2006 Chinese Grand Prix, helping his team mate's cause, once Alonso had run into trouble after leading.
Instead, a mistake from the Italian gifted Schumacher his seventh win of the season – and it gave him the lead for the first time in the 2006 title chase, even though he and Fernando, who recovered to finish second, shared 116 points; where Michael had those seven wins, Fernando had only six.
READ MORE: Wet weather mastery and Monaco magic – The most iconic of Hamilton & Schumacher's 91 wins compared
To begin with it was Michael who seemed to be in trouble as Fernando sprinted into the distance on a wet Shanghai track made treacherous by standing water and heavy spray. As Fisi ran second, Michael had to fight his way past the battling Hondas of Jenson Button and Rubens Barrichello, and Kimi Raikkonen's McLaren.
After 13 laps Fernando was 16.4 seconds ahead of Kimi, who had outfoxed Fisi on that lap. Michael had just disposed of Jenson and was fourth, a worrying 25s adrift of his championship rival. I remember thinking that his title hopes were really waning.
At that stage, another win seemed in the bag for Fernando. But then it all started to go wrong.
Michael refuelled first, on Lap 21. Fernando followed suit a lap later. Fisi a lap later still. But where Schumacher and Fisichella had stayed on their original intermediate tyres – Bridgestone and Michelin respectively – Fernando was concerned about the wear rate on his left front, and elected to change both front tyres.
It was a mistake that dramatically hampered his pace, however, as the new rubber refused to reach its optimal operating temperature for lap after lap. Suddenly both Fisichella and Schumacher, now third after Kimi had retired his McLaren with a throttle problem after 19 laps, were hauling him in.
Incredibly, within a mere five laps, Alonso was having to block his own team mate, who had Schuey all over him like a red cloak.
READ MORE: Top 10 moments of Michael Schumacher brilliance
Fernando resisted until inevitably having to yield to his team mate on the 30th lap, and all the while Michael was metaphorically rubbing his hands. Historically this was the one circuit that had never smiled upon him, but soon it would give him a very nice going away gift – Schumacher having announced at the race before in Monza that he would be leaving the sport at the end of the year.
He overtook the struggling Alonso on Lap 31, and the Spaniard lost further time – a crucial 13s – during his second stop on the 35th lap when the wheelnut fell out of the securing gun for the right rear when he changed to dry tyres.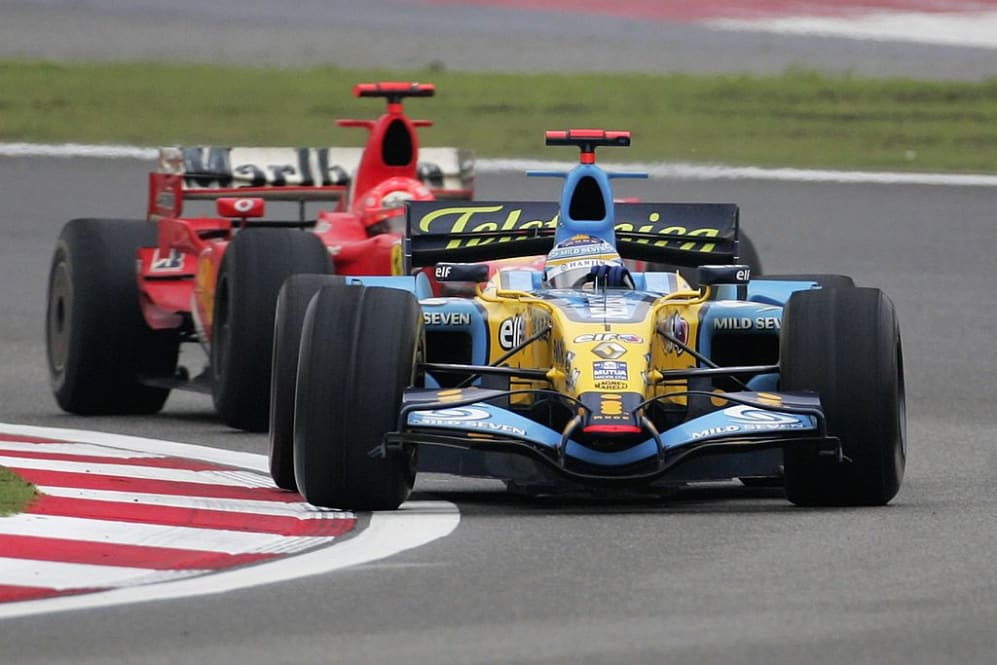 Now only Fisi could stop a disaster for Renault. Schumacher stopped for new, dry tyres on Lap 40, by which time his intermediates were just about finished.
Fisichella did likewise in response a lap later, and rejoined still in the lead. But that only lasted until he reached the first corner. And there he made a fateful error.
WATCH: Michael Schumacher – Origins of a legend
"It was clear that Turn 1 was going to be difficult," Michael said afterwards. "I had a moment there myself. I took it reasonably easy, but still almost went in too fast. So I was thinking it could be an issue with Giancarlo and there it was, he went wide.
"I took my opportunity, and I was then able to turn down the revs and drive safely home."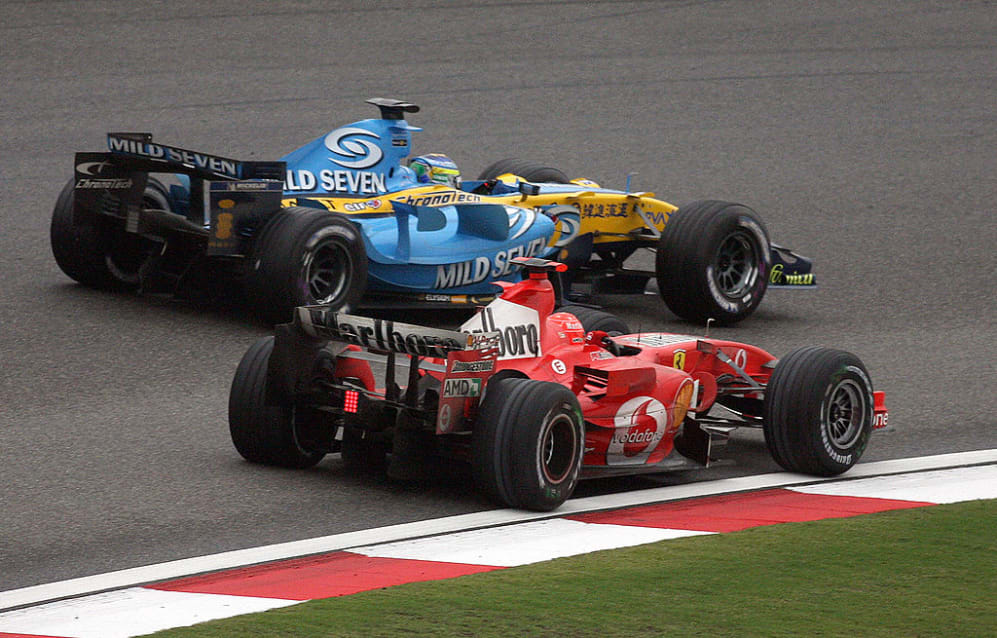 The Italian, who would lead Renault in 2007 as Fernando was going to decamp to what would prove a super-frustrating spell with McLaren alongside a rookie partner called Lewis Hamilton, looked as crestfallen as he had after losing to Kimi in Japan in similar circumstances the previous year. And well he might have.
Now Fernando's fresh dry tyres were working and he proceeded to set a string of fastest laps. He soon overhauled Fisi for second, and two valuable extra points, on the 48th lap, and by the finish was only 3.1s adrift of Michael.
PODCAST: Ross Brawn on Michael Schumacher – the driver, the leader, the man
But Fernando's title lead was all but gone. Had Fisi been able to contain the Ferrari driver, who knows what opportunity that might have created for the champion?
"Giancarlo and Michael came to me really quickly," Fernando said of his middle stint. "When I stopped again we changed early to dry tyres and hoped to find a miracle.
"But I think that the weekend has been fantastic and we have to take the positive thing, that the middle stint was the only part of the race when we weren't quick. I am very confident for the last two races, but this was one opportunity lost."
Schumacher, meanwhile, was ecstatic.
"It was quite an exciting and extreme weekend," he said with a megawatt smile. "It was a gamble to stay on the original set of tyres, but it paid out. Now we are on equal points.
"If we look back some while ago it is a miracle we are here, but thanks to great work from everyone we've managed it and go to last two races fighting.
READ MORE: Schumacher on… his most emotional title win, his most respected F1 rival and more
"I believe we will have to wait until the last one for a decision to be reached, so it's an interesting couple of weeks we face. I really look forward to that."
As he bade farewell to his legion of Chinese fans, the soon-to-retire racer savoured his first decent race in Shanghai and beamed as he said: "Today was a little present to myself."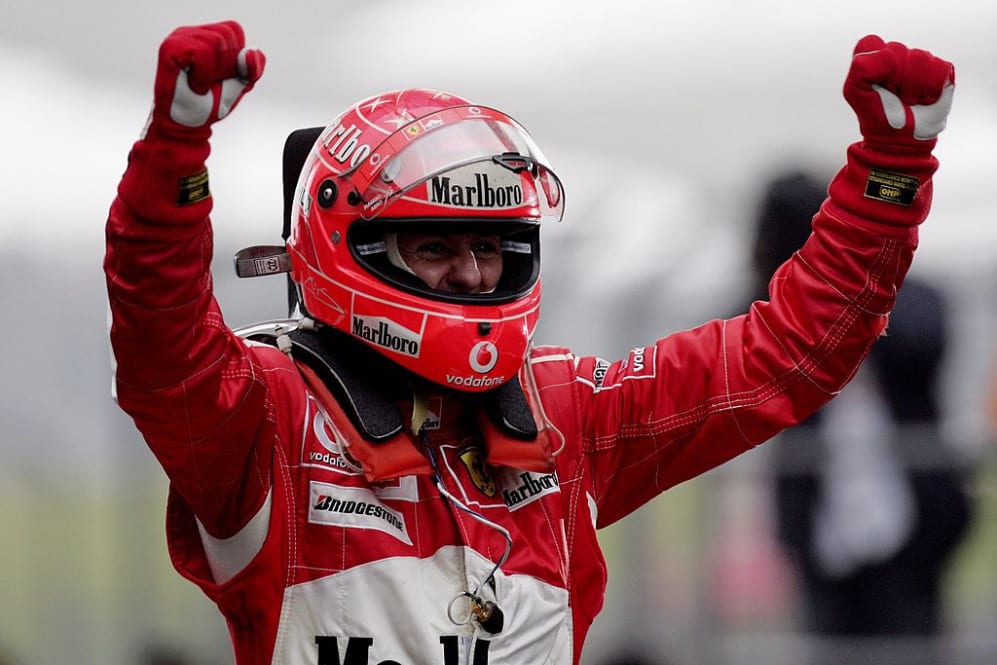 But as the championship fight could not have been better poised as we headed for Suzuka, none of us that day could possibly have known that his record 91st Grand Prix triumph would also be the last of his glittering career.
In the end, of course, Michael's engine failed while he was leading in Japan, and he was only fourth in the finale in Brazil after qualifying troubles and an early-race puncture.
WATCH: Fernando Alonso relives his epic 2005 Imola battle with Michael Schumacher
Fernando, meanwhile, won in Japan and finished second to Schumacher's partner Felipe Massa at Interlagos to clinch the second of his two titles. In his case, we couldn't know either that there would not (thus far) be a third…
Michael Schumacher's 91st win at the 2006 Chinese Grand Prix