From Red Bull's run of victories being under serious threat of coming to an end to Haas chasing a big result, and from rookie Liam Lawson in with a shot of scoring a first point to increased overtaking opportunities, Chris Medland highlights some key things to look out for on race day at Marina Bay…
1. A huge chance for a new winner in 2023
It's certainly not the first time that Red Bull have been beaten to pole position this season, with Carlos Sainz making it back-to-back poles as he followed his qualifying performance in Monza with another impressive lap in Singapore. But unlike two weeks ago, this time the battle for the win looks very much like being between multiple teams – with Red Bull not among them.
READ MORE: Sainz pips Russell and Leclerc in ultra-tight qualifying battle in Singapore after shock double Q2 exit for Red Bull
The straight fight looks to be between the Ferrari pair – with Charles Leclerc third on the grid – and George Russell in second.
That's because while Lewis Hamilton has the same strategic options as his team mate and can never be discounted, Russell has appeared the more comfortable of the two Mercedes drivers this weekend.
That strategic advantage comes in the form of two sets of the preferred medium tyre for the Mercedes pair, compared to one for the rest of the field back to Alex Albon in 14th. And Russell believes it will allow his team to attack.
But with Ferrari's race pace not always their strongest suit and Sainz expecting to have to drive defensively, the pace of Lando Norris from fourth and even Fernando Alonso in seventh could become a factor in the fight for victory.
2. What can Red Bull salvage?
And that battle for the win becomes all the more enticing for the teams involved as it comes with Red Bull looking like they will finally be beaten for the first time this season.
Struggling since FP1, both drivers have been trying to find a set-up that works around the Marina Bay Circuit but failed to do so despite making significant changes ahead of qualifying. Not only were they out of the frame in terms of the fight for pole, both Max Verstappen and Sergio Perez were eliminated in Q2, and face a huge challenge to get up into the podium fight on Sunday.
READ MORE: Verstappen calls Red Bull's double Q2 exit 'a very shocking experience' as team predict race-day struggles in Singapore
Although the margins in qualifying are often small, the Red Bull race pace hasn't looked that strong so far this weekend either, and Singapore is a tough circuit to overtake on so the drivers would need a big advantage to be able to make quick progress.
But Safety Car interruptions and incidents can really shake-up the race in Singapore and Red Bull have been excellent in their execution all season – hence their unbeaten status so far – so if they somehow manage to keep their record-breaking winning run going you can almost guarantee it will mean it's been a classic race.
2023 Singapore GP Qualifying: Singapore shock as both Red Bulls knocked out in Q2
3. Haas looking to close on Williams
Leading into this weekend, Haas team principal Guenther Steiner was talking about a major upgrade the team will have from Austin onwards, admitting it will need to deliver a significant step forward in performance to give them a chance of catching Williams in the constructors' championship.
The gap between the two teams is currently 10 points, and aside from a sixth place in the Sprint in Austria, Haas haven't scored since Miami 10 rounds ago, but they are in a great position to end that run in Singapore.
MUST-SEE: Stroll walks away from huge Q1 crash in Singapore
Kevin Magnussen starts sixth and Nico Hulkenberg ninth after a hugely impressive performance from the whole team to advance with both cars to Q3. And while Haas have regularly qualified well and fallen back on Sundays, the fact that it can be tough to overtake at Marina Bay provides them with reason for optimism heading into the race.
Add in the two Williams cars being 14th and 18th on the grid and the opportunity is there to start to eat into that deficit even before the updated Haas hits the track in Texas.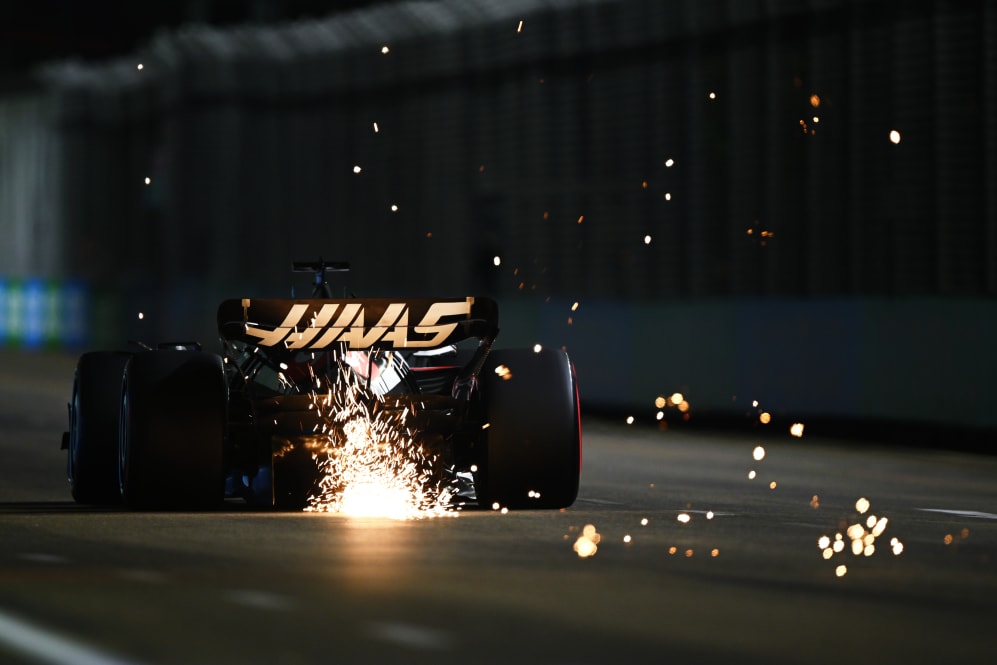 4. Maiden points for Lawson?
And one of the drivers between the Haas and Williams drivers is someone who has been increasingly impressive since making his debut just three weeks ago.
Liam Lawson stayed out of trouble and gained experience during the chaos of Zandvoort, and then followed that up with a strong run to 11th on his first full race weekend in Monza a week later.
READ MORE: How Liam Lawson is grabbing his shock F1 call-up with both hands – and impressing his Red Bull paymasters
Still standing in for the injured Daniel Ricciardo, Lawson has so far made a mockery of how challenging Singapore can be for rookies as he advanced to Q3 – with his final lap in Q2 the time that knocked championship leader Verstappen out of the session – and will line-up 10th for AlphaTauri.
Lawson admits fitness could come into play given how little time he has had to prepare for the unique demands of the night race, but he's so far handled everything that has been thrown at him in such a short window and has shown little to suggest that he won't be able to handle the pressure of staring in the top 10 with points on offer.
2023 Singapore GP Qualifying: Watch the moment rookie Liam Lawson knocks Max Verstappen out of Q2
5. Overtaking opportunities?
For those who have been following the rest of the race weekend so far, you'll have noticed something different about the Marina Bay Street Circuit over the past few days, with the final sector heavily revised.
Construction work means four corners are not being used this year, with a straight from the Turn 15 left-hand kink to what is now a final Turn 16/17 chicane ahead of the last two left-hand corners.
HIGHLIGHTS: Relive the Singapore qualifying action as Sainz takes pole and the Red Bulls drop out in Q2
In qualifying that meant lap times were more than five seconds quicker than the fastest pole lap set by Lewis Hamilton back in 2018, but it's in the race that we might actually see a bigger impact.
That's because there is a DRS zone on the run to Turn 14 that should allow a following driver to stay close even if they can't make a move under braking, and then the new flat-out section provides a further opportunity to try and overtake into Turn 16. But the racing is unlikely to end there, with a DRS detection point straight after that chicane, for another zone that on the pit straight.