Sergio Perez will reach a milestone in Singapore this weekend as the Mexican enters the 250th Grand Prix of a rollercoaster career that began more than a decade ago. To mark the occasion, we took a trip through the archives to pick out some of the most memorable moments from his time in the sport so far.
Malaysia 2012: Perez scores his first F1 podium (and almost a win)
Perez well and truly announced himself to the F1 paddock just over a year into his career when he expertly navigated a rain-hit Malaysian Grand Prix to come home second, bagging a surprise and very welcome result for himself and Sauber.
IT'S RACE WEEK: 5 storylines we're excited about ahead of the 2023 Singapore Grand Prix
Having pitted early to swap intermediate tyres for full wets, Perez vaulted up the order from his P9 grid slot and found himself squabbling with Ferrari rival Fernando Alonso shortly after the race resumed following a weather-related suspension.
With the field running inters again, Perez piled the pressure on the leader thanks to a rapid turn of pace, and then got agonisingly close when he and Alonso switched to slicks, only for an off-track excursion – and clear message from the Sauber pit wall to "be careful" – to settle the result.
Nonetheless, P2 marked a stellar outcome for driver and team.
Through The Visor: Sergio Perez recalls his first F1 podium in Malaysia
Canada and Italy 2012: Charging from the midfield to the rostrum
Perez wasn't done with impressing the paddock in 2012 and two more drives from the former British F3 National champion and GP2 runner-up stood out as his sophomore season developed.
After a string of finishes just outside the points-paying positions, Perez brilliantly made a one-stop strategy work in Canada to go from 15th on the grid to third, beating both Red Bull drivers, the Ferraris, a Mercedes and a Lotus to the chequered flag.
UNDERDOG TALES: When Vettel and Toro Rosso splashed their way to a sensational maiden win at Monza
Similarly impressive was Perez's charge from 12th to second in Italy a handful of races later, the youngster – who was the last of the one-stoppers to pit with another lengthy first stint – following the McLaren of Lewis Hamilton home.
Bahrain 2014: A dream start to Perez's new life at Force India
Perez's performances at Sauber caught the eye of many in the paddock, and rather than maintain his Ferrari association, he made the move to McLaren – winners of the final round in 2012 – for his first shot at a front-running team. Things didn't go to plan, though, and the relationship was over after just one year.
After considering his options, Perez settled on a move to Force India for the 2014 campaign, another plucky midfield operation who were regular points scorers but had their eyes on bigger prizes – the first coming just three races into the new partnership in Bahrain.
UNDERDOG TALES: When Bianchi charged to the points with minnows Marussia and made an everlasting mark on F1
Starting the encounter fourth, Perez overcame battles against Williams' Felipe Massa and team mate Nico Hulkenberg, and then kept Red Bull's Daniel Ricciardo at bay, to secure the final spot on the rostrum and kick off what would be a fine first season with his new team.
Race Highlights – 2014 Bahrain Grand Prix
Monaco and Azerbaijan 2016: Nailing strategy and nursing tyres
After another popular visit to the podium at the 2015 Russian Grand Prix, Perez doubled up in quick succession during the 2016 season, displaying a combination of tyre management and street track skills that would come to define his F1 career.
While a busy, wet-dry race in Monaco caught some teams out as they moved from full wet tyres to inters and finally slicks (see Red Bull with early leader Ricciardo), Perez and the Force India strategy crew – which included F1's very own Bernie Collins – kept their cool to go from seventh to third.
READ MORE: From Brawn GP's fairytale to Aston Martin's super start – The biggest year-on-year performance jumps in F1 history
A couple of races later in Azerbaijan, Perez qualified a brilliant second but dropped to seventh on the grid due to a gearbox penalty, prompting another one-stop masterclass as he worked his way back into podium contention.
His final-lap pass on Ferrari's Kimi Raikkonen, who would have dropped behind with a time penalty in any case, was the icing on the cake.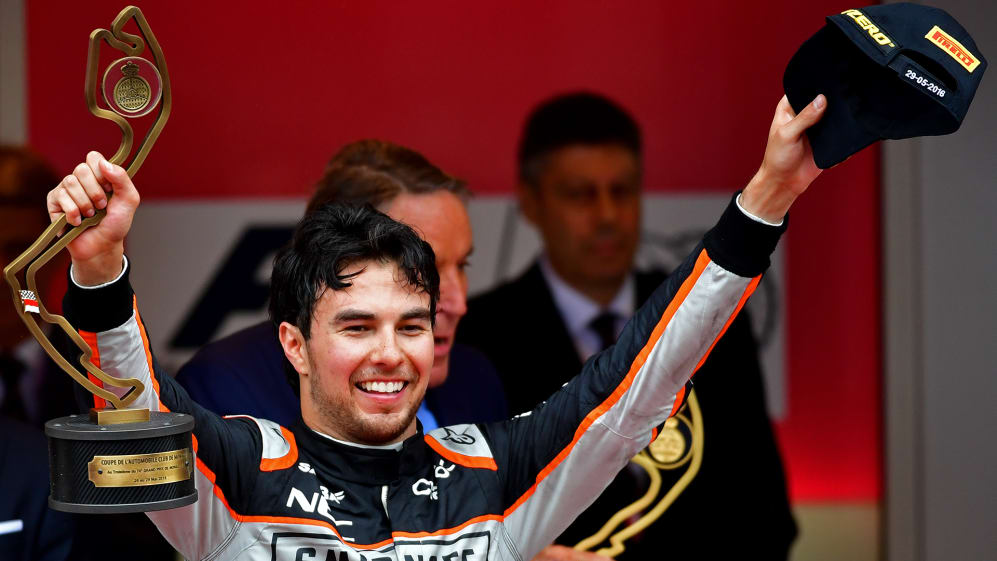 Turkey 2020: Second-best to Hamilton as F1 history is made
It was Perez's team mate, Lance Stroll, who initially stole the show in Turkey in 2020, the Canadian storming to pole position on a wet and wild weekend at an Istanbul Park venue that had returned to the calendar for the Covid-affected season.
However, having run one-two in the early stages, different strategic approaches at the outfit – now known as Racing Point – saw Stroll's pace disappear on a fresh set of intermediates and Perez's remain competitive on used rubber, turning the intra-team battle on its head.
LIGHTS TO FLAG: Pedro de la Rosa on his late start in F1, working for Ron Dennis, and his dream of a Spanish F1 team
While Stroll slumped to ninth amid his struggles, Perez ploughed on up front and ultimately crossed the line second to newly-crowned seven-time world champion Hamilton, pipping the Ferraris of Sebastian Vettel and Charles Leclerc to the line after some last-lap dicing.
'One more lap and the tyre would have exploded!' – Sergio Pérez crosses the line P2 in Turkey
Sakhir 2020: A maiden F1 victory from the back of the pack
Two races on, Perez and Racing Point's day of days would come at the Sakhir Grand Prix, which used the Bahrain International Circuit's shorter, high-speed 'Outer' layout.
While he lined up fifth, Perez was sent tumbling down the order just a handful of corners into the race when Leclerc braked too late at Turn 4 and ran into the back of him, leaving him with a mammoth task to recover lost ground and score any points.
F1 ICONS: Rally legend Sebastien Ogier on four-time F1 champ Sebastian Vettel
But a fired-up Perez adopted all-out attack mode, picking off rival after rival to work his way back into the top 10, before taking advantage of a late Virtual Safety Car, full Safety Car and pit stop drama at Mercedes to somehow take the lead and net a sensational maiden win.
"I'm a bit speechless," was Perez's initial comment post-race. "I hope I'm not dreaming, you know, because I dreamed so many years of being in this moment. Ten years it took me. Incredible."
SIDE-BY-SIDE: Racing Point garage erupts as Sergio Pérez wins Sakhir Grand Prix
Azerbaijan 2021: Winning in Red Bull colours for the first time
It was a case of no room at the inn for 2021 as Racing Point's rebranding to Aston Martin saw four-time world champion Vettel join the continuing Stroll and leave Perez without a race seat.
Fortunately for F1's newest race winner, Red Bull were in search of a more competitive partner for Max Verstappen and Perez's timely strong form prompted the drinks company to look outside their own talent pool for the first time.
READ MORE: Hundreds of laps led, chauffeuring Schumacher and feeling like James Bond – Bernd Maylander on life as the FIA F1 Safety Car driver
Five races into the latest chapter of his career, Perez would stand on the top step of the podium again, with Verstappen suffering a dramatic late tyre failure while leading in Azerbaijan and leaving his new team mate to pick up the pieces.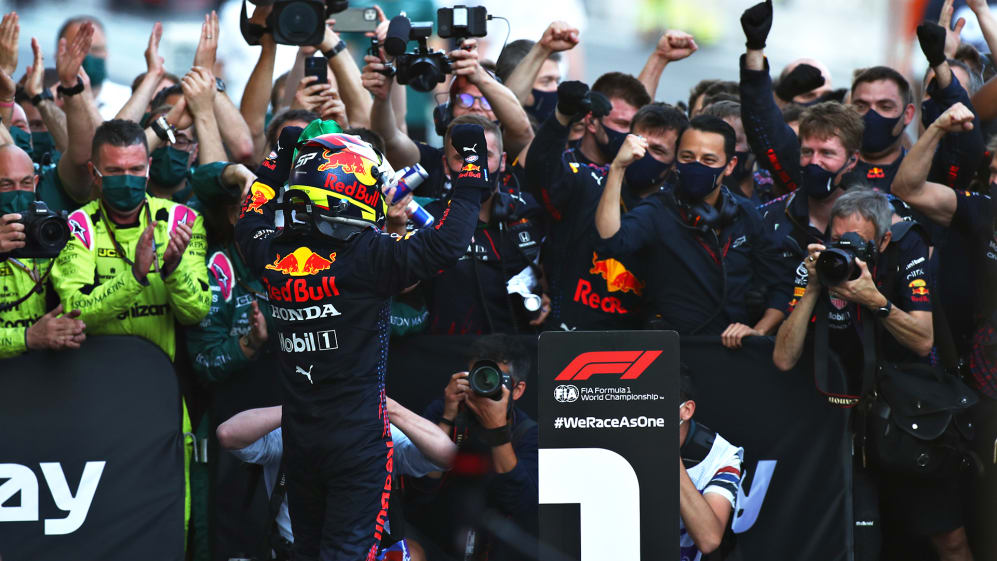 Saudi Arabia 2022: A blistering lap lands a maiden F1 pole
Perez remained in Verstappen's shadow as their partnership developed – the Dutchman taking 10 wins to his one en route to the 2021 world title – but there were still some flashes of brilliance from the Guadalajara native.
One of those moments came early in the 2022 season with a superb run to pole position around the particularly rapid Jeddah Corniche Circuit, marking the first table-topping qualifying performance of his 12-year career up to that point.
EXCLUSIVE: Inside the making of Drive to Survive, its impact on F1 and what the future holds
Perez had looked set to convert that pole into another win on race day, only to pit just before a Safety Car was deployed, allowing Verstappen, Leclerc and Carlos Sainz to complete less costly stops and emerge ahead.
ONBOARD: Sergio Perez's 2022 Pirelli Pole Position Award lap at the Saudi Arabian Grand Prix
Monaco and Singapore 2022: Underlining his street track credentials
There would be more opportunities for Perez to add to his victory tally later in the season, though, with street tracks and the challenges that go with them again bringing out the best in him.
In a wet-dry Monaco race, Perez started behind Ferrari pair Sainz and Leclerc after a crash in the final phase of qualifying but jumped both of them in the pit lane as the Scuderia botched their strategy, giving him a sought-after triumph in the Principality.
READ MORE: 6 times the best F1 drivers and best cars combined to produce relentless brilliance
Perez managed to add one more victory to his name in 2022 at the Singapore Grand Prix, taking advantage of drama for team mate Verstappen, passing Leclerc for the lead at the start and cruising to the win – which he kept despite picking up a post-race time penalty for a Safety Car rule breach.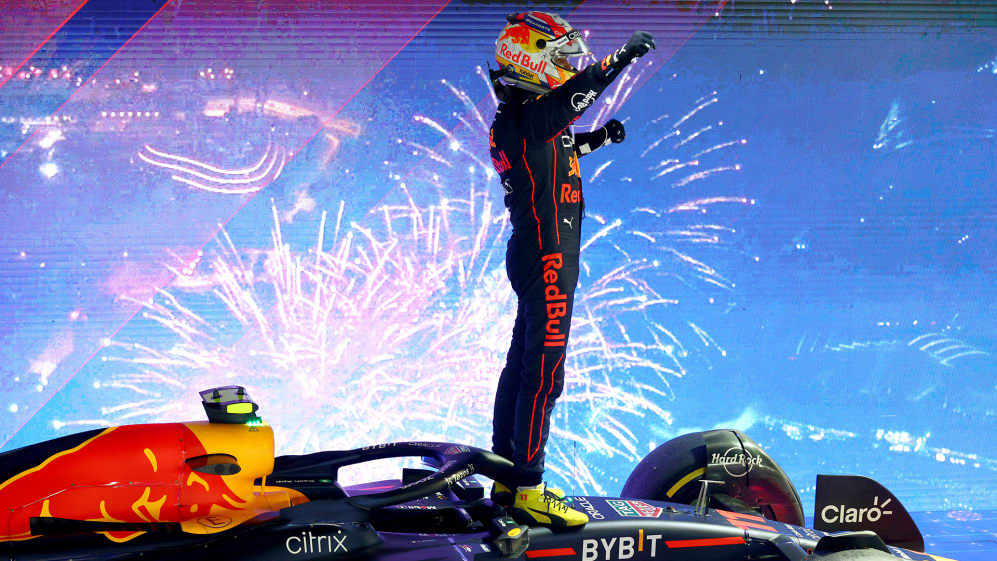 Saudi Arabia and Azerbaijan 2023: Taking the fight to Verstappen
Heading into their third season as team mates, Perez gave the clearest indication yet that he was ready to take the fight to Verstappen, showing impressive pace throughout testing and pushing him close for both pole position and the win at the Bahrain opener.
Over the first five rounds, Perez held two victories to Verstappen's three, underlining his impressive pace at Jeddah by pulling off a pole/win double, before going from third to first in Azerbaijan amid pressure from the sister Red Bull throughout.
GRILL THE GRID: The drivers put their geography skills to the test as we crown our 2023 winner
His title challenge derailed thereafter, however, with Perez now looking to build on a recent return to podium-finishing ways and get back on the top step of the rostrum as he celebrates his 250th race weekend in the sport.
Race Highlights: 2023 Azerbaijan Grand Prix