"Carlos, Carlos, Carlos!" That was the chant that reverberated around Monza last Sunday as the drivers climbed aboard the iconic podium that straddles the pit lane and the start-finish straight at Monza.
Max Verstappen may have won a record 10th successive Grand Prix, heading a Red Bull one-two with Sergio Perez second, but all the tifosi – Ferrari's loyal fan following – cared about was the driver who finished third: Carlos Sainz.
READ MORE: Sainz's mighty Monza efforts earn your vote as Driver of the Day
Monza is Ferrari Mecca, the place where the fans can pay homage to a marque that has a special place in the heart of every Italian motor racing enthusiast, and plenty more around the world too. The atmosphere is always incredible. The passion oozes out. It's infectious. Even if you don't support Ferrari, when you're at Monza, you can't help but want them to win.
This year, that passion overflowed. The reaction hit new levels. The tifosi, it seemed, were overwhelmed. This has been a chastening year for them, their Ferrari team struggling against the might of Red Bull – and often also usurped by the likes of Mercedes, Aston Martin and McLaren.
So when Ferrari arrived with a bespoke low downforce package – headlined by a super skinny rear wing – in a move that demonstrated they were throwing all their eggs in one basket for at least one big result this year in front of their home fans, it had to pay off.
And Sainz was immense all weekend, the Spaniard fast from the first lap he turned in first practice. He was the quicker of the two drivers across all sessions, with team mate Charles Leclerc even copying his set-up after Friday's running in a bid to close the gap.
The Spaniard then soaked up the pressure to take his first pole position of the season – and then in the race, delivered one of his best-ever drives, fending off Verstappen in a much faster Red Bull for 14 laps and then with his tyres really struggling, staying ahead of Leclerc despite the Monegasque throwing everything at him to take third.
If there was any doubt about Sainz's ability to deliver under pressure – either internally or externally – this performance went a long way to extinguishing that and served to only boost his stature as one of the strongest all-round propositions on the grid.
READ MORE > PALMER: Sainz's Monza podium was just reward for one of his best and most entertaining F1 weekends yet
It was the kind of drive that has come at exactly the right time, with discussions set to begin in the next couple of months about a contract renewal. Sainz signed a two-year deal with the option of two more years with Mattia Binotto ahead of 2021. That option was taken up, keeping him at the team until the end of 2024.
Sainz has said he wants to have his future sorted before the start of next season – and new boss Fred Vasseur is keen to work to the same timeframe, allowing for complete focus on the 2024 campaign.
2023 Italian Grand Prix: Sainz and Leclerc in thrilling wheel-to-wheel battle for final podium spot
The Spaniard is believed to want to stay on, with a preference for a multi-year extension – though as you'd expect, his team are in conversations with other teams about the short- and medium-term possibilities to ensure all bases are covered. There is plenty of love for Sainz in the paddock, three different team principals telling this writer that they would want to run the former McLaren man.
I believe Ferrari's priority is to keep him – but first, they're focusing on concluding a new deal for Leclerc, who has been with the team since 2019. He's courted interest from several teams, with Mercedes among those admirers.
READ MORE > PADDOCK INSIDER: Why Mercedes opted to stick with Lewis Hamilton and George Russell
But with the Silver Arrows locking their line-up of George Russell and Lewis Hamilton until at least the end of 2025, any such link-up will have to wait at least two years.
Leclerc himself is focused on renewing with Ferrari. He has a strong bond with the team, across all levels up to the very senior management, and while Ferrari's inability to so far deliver him a car that can sustain a year-long title fight is irritating, he still believes they are his best option in the near future.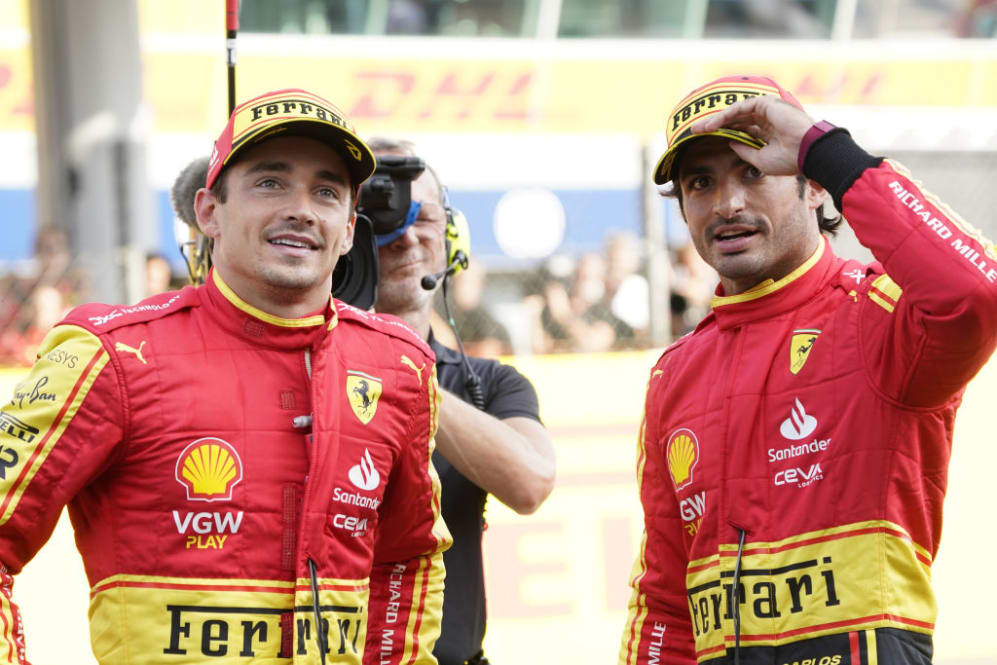 As I've written previously, talks have already begun regarding an extension – and providing it all goes as expected, such an arrangement will likely be concluded before the end of the year.
The kind of heart he and his team mate showed at Monza was just another example of why Ferrari want to stick rather than twist with their line-up. Leclerc's raw speed and supreme pace over one-lap combined with Sainz's immense experience, consistency and elite level feedback to engineers gives the team a very strong combination.
They are also a fearsome duo from a brand perspective, their personalities drawing in a legion of new fans as well as making them an attractive proposition to both existing and new sponsors.
READ MORE: Vasseur says he 'really appreciated' Sainz and Leclerc's intra-team tussle in closing stages of Italian GP
It might take some time to get it all signed off as the second-half of the season is laced with flyaway races that makes finding time and headspace to sit down and talk contracts tricky – but everything is pointing towards Ferrari keeping Leclerc and Sainz.
Once those deals are done, focus can sharpen on finding a way to deliver a chassis and power unit that can give them the chance of a first world championship since 2008 – and continuing to strengthen personnel across all departments. If they can do that, their driver line-up will essentially look after itself.