The Dutch Grand Prix at Zandvoort is always a hectic race for the strategists. The quick 70-second lap time, difficulty in overtaking and high tyre degradation all come with challenges. Since its return to the calendar in 2021, the race has been a sunny affair, but not so this year as a host of new challenges were thrown at the teams and drivers.
Before the weekend began, Zandvoort was expected to be a two-stop race, but with the variable rain conditions the drivers ended up stopping between four and seven times. So how do you set strategy for a wet race – and react to constantly changing conditions, Safety Car restarts and red flags? Former Aston Martin strategist Bernie Collins explains what it's like for those on the pit wall…
READ MORE: 5 Winners and 5 Losers from the Dutch GP – Who kept their head when the heavens opened?
Firstly for the strategy department, all the preparation that would normally be completed for a dry race still has to be done. Often the forecast for rain is incorrect so you need to have the standard set of dry weather plans available.
On top of this then comes the preparation for changeable conditions. On Saturday, the wet weather meant that there was at least some data to work with.
In changeable weather conditions, tyre selection and pit stop timing become more crucial than in a dry race. If the track is getting wetter, then missing the correct stop lap can mean losing time during the in-lap on a dry tyre when the track is wet. For example, Max Verstappen waited one lap longer than Sergio Perez when rain started to fall in the opening laps – and lost around 17 seconds as a result.
These massive time losses can result in several changes of position – that is, if the driver even survives the lap and manages to avoid crashing out. In drying conditions, often the situation changes more slowly, but yet again on Sunday Verstappen lost 2.5 seconds, staying on track one lap later than Fernando Alonso on Lap 11.
During wet conditions, a few key pieces of additional data are used: weather radars and stations, tyre temperatures, lap times, driver feedback, video feeds – and of course physical conditions in the pit lane, often using the trusty 'holding the hand out from under the pit wall canopy' method.
Weather radar – if accurate – can help determine how an approaching rain front will affect the circuit in terms of duration and intensity.
READ MORE > F1 NATION: Verstappen makes history as Alonso returns to the podium – it's our Dutch GP review
In dry conditions, teams build up to an event for the entire week with various briefings to help get everyone aligned on the focus for the race. Circuit features – like how difficult overtaking is – are discussed continuously. However, in changeable conditions priorities change quickly. One of the biggest challenges in these situations is effective communication and getting everyone aligned.
In the run up to the race, all rain that appeared on the radar had passed the circuit just to the north and did not affect the track condition significantly, therefore I'd imagine many on the pit wall hoped this situation would continue. Perhaps many had been conned into a false sense of security, and having escaped all earlier rain, hoped it would continue to miss the track, or only be a few drops.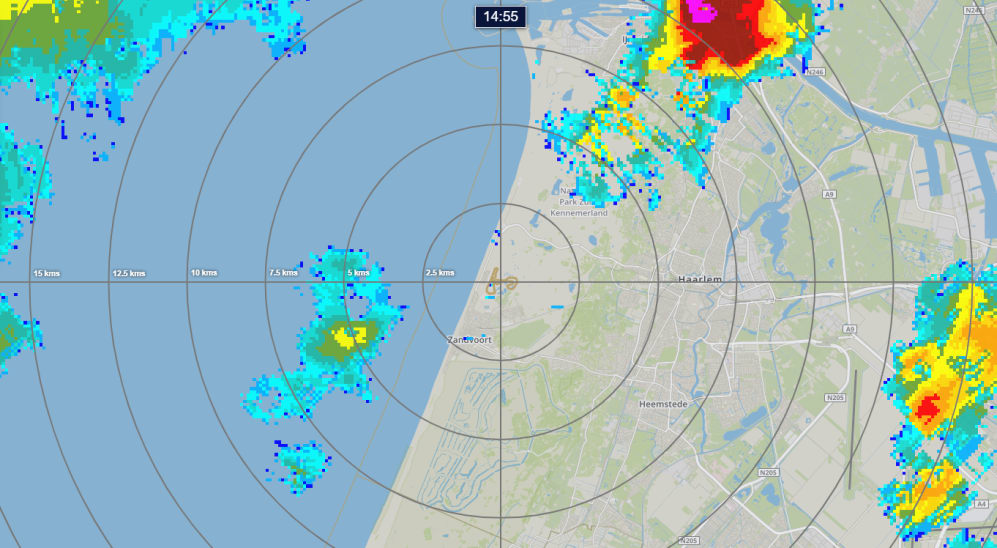 Most drivers on the grid were told the rain would be light and just for a short period. This type of mentality can set in very quickly, but it is the teams that most quickly adapted to the fact that the rain approaching at the race start would not miss the circuit but indeed bring intermediate tyre conditions that coped best.
Five drivers elected to survive this period on the soft tyres they had started on, despite losing significant lap time. That's because if the rain period is short then it avoids having to stop twice: once to fit wet tyres, and a second time to go back to slicks. With a pit stop time of 21.5 seconds at Zandvoort, around 43 seconds could be saved relative to those that did stop twice.
READ MORE: 'One bad decision cost us a lot of places' admits Norris after P2 grid slot becomes P7 race finish
Those that got caught in the middle of indecision lost out even more. George Russell and Lance Stroll didn't stop early enough (so lost time being on the incorrect tyre on Laps 3 and 4), but then didn't brave it out on their dry tyres either (like Alex Albon and Oscar Piastri) so still had the additional time loss of two pit stops.
From Lap 11 onwards, the race again settled into dry conditions, with dry strategy decisions dominating. The main effect on the strategy teams at this point was that the track was improving rapidly – so tyre degradation was mostly hidden.
10 Minutes That Changed the 2023 Dutch Grand Prix
Also, for those that ran intermediate tyres, there was no longer a need to run two different dry compounds so they could now stick to the preferred soft tyre. Additionally, the slow introduction for this tyre on the damp track would extend tyre life significantly, so most of the pre-race models would need significant adjustment.
For those that fared well during the opening damp period, there would have been a pressure to retain the position now that the track was dry – and for those that fared badly, an intense pressure to somehow redeem themselves. Both situations allow no possibility of a breather on the pit wall.
READ MORE: 'P8 is still disappointing because P6 was there' – Albon rues tyre calls that cost him crucial points in Dutch GP
Towards the end of race, it became apparent that it would not finish on dry tyres. All teams told their drivers that heavy rain was coming and that it would not be survivable on a dry tyre. Yet still many drivers again remained on track too long.
This, in my opinion, is related to how and where the rain affected the circuit. The radar shows heavy rain approaching that was due to hit Turn 1 first. This had the effect that the portion of the track between Turns 7 and 14 – where the driver is deciding whether to pit or not – was the driest.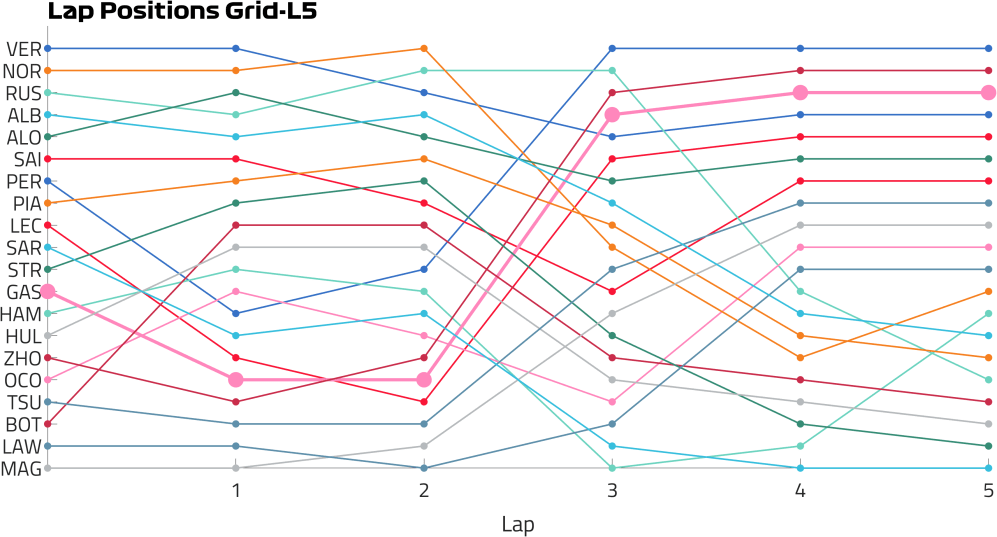 Therefore despite being told they need to switch tyres, the track was indicating to the drivers that it was maybe still too early. However, in driving past the pit entry and reaching Turn 1, it was immediately obvious it was time for intermediate tyres.
Pierre Gasly, for example, was told it was raining hard but then through this section of track discussed doing one more lap – but on approaching the main straight and seeing the rain ahead, he reversed the decision and boxed for intermediates.
READ MORE: Lawson admits he was 'just happy to get through the race' after chaotic maiden Grand Prix
This is the same situation as the 2021 Russian Grand Prix, when many drivers completed additional laps due to the pit entry being the driest part of the track only to emerge at Turn 1 to a fully wet track.
The final impossible decision came with 10 laps left: would the rain now require a further switch to full wet tyres, or would the race be red-flagged?
2023 Dutch Grand Prix: Chaos at Zandvoort as heavy rain sees the race red flagged after Zhou crash
Red flags are unpredictable. Stopping for full wet tyres and taking the loss in time and positions of a full pit stop, only for a red flag to be thrown, is highly disappointing.
It is often a gamble with Race Control's decisions – and there is also the risk of other drivers causing a collision. If all drivers switched to full wets and survived the conditions – and there was no red flag – then remaining on track on the intermediates would be disastrous.
HIGHLIGHTS: Watch the action from a sensational rain-hit Dutch Grand Prix as Verstappen secures record-equalling win
In this case, for most the gamble to remain on intermediates paid off, as the red flag was indeed thrown on Lap 63. Then it was a case of an eight-lap dash to the finish – at which point the driver and the strategy teams could finally take a breath, after what had proved to be a dramatic return to work from the summer holidays.
I've had a few of these chaotic races to deal with in my time on the pit wall, and it's very frustrating to lose a potential good result because of a call you've made.
That 2021 Russian Grand Prix stands out, as despite us making the correct call to bring Sebastian Vettel in for wet tyres, he refused, thinking the track was too dry – as like Zandvoort the track was dry at pit entry. He ended up finishing a lap down and out of the points in P12.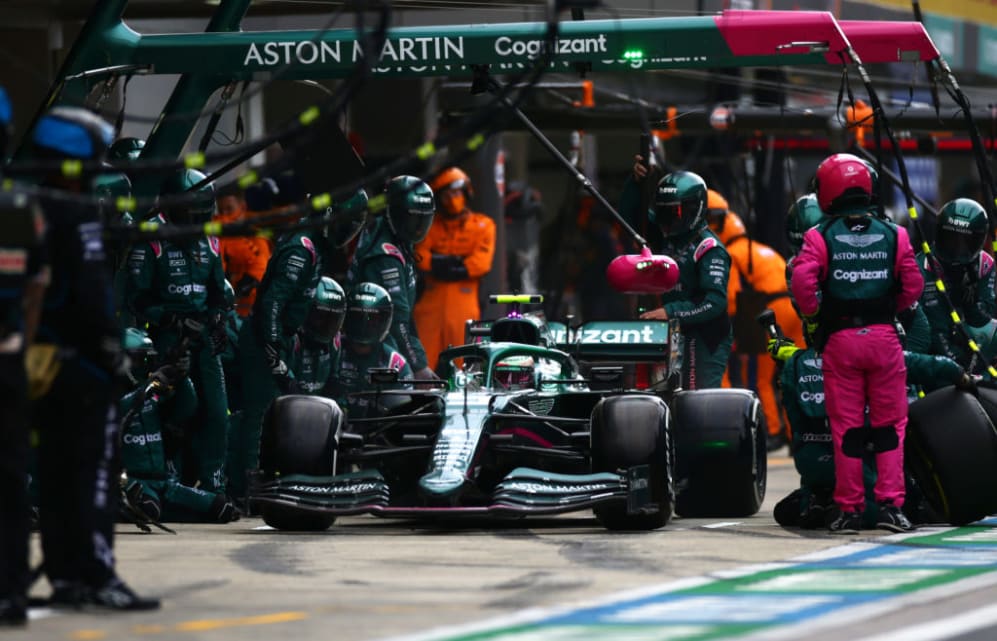 The 2019 German Grand Prix will forever be in my memory as one of my worst races for decision making.
Having started wet, I held the belief that more rain would come – and kept the cars out on track as others pitted. With Sergio Perez having crashed out, we managed to drop Lance Stroll from P15 to dead last.
READ MORE > TECH TUESDAY: How Red Bull returned to dominance across two drastically different sets of regulations in 2021 and 2023
Further poor decisions followed, including moving to the dry tyres too early. But a final Safety Car brought one final chance of saving the race – and the suggestion from the race engineer to fit dry tyres promoted Stroll to P4 at the flag, after briefly leading the race.
The worst part was the media celebrating a great strategy when it actually felt like a terrible day at the office.
RACE HIGHLIGHTS: 2019 German Grand Prix
Conversely, I think of Brazil 2016 as one of my best wet races. We actually didn't make a single pit stop – only bolting on two sets of fresh full wets at the two red flag stoppages – but as we saw in Zandvoort, the decision to stay out is as difficult as the decision to stop.
Perez was promoted from P8 to P4 and for 20 laps ran in a podium position, as most of the other runners stopped once, twice or even three times in the second half of the race.
I feel we took every decision well and for the right reasons – but as opposed to Germany 2019, it was reported in the press that we had just copied Mercedes' strategy!