Daniel Ricciardo cut a disheartened figure when we chatted in Belgium last year, just days after he had agreed to part ways with McLaren a year ahead of schedule. He was like a different person, his infectious and warm personality nowhere to be seen.
So, it was heartwarming to see the Australian was back to the bubbly and charismatic human the sport had fallen in love with when we caught up at Formula 1's technical HQ in Biggin Hill for an exclusive first interview since he signed a deal to replace Nyck de Vries mid-season with AlphaTauri.
READ MORE: Ricciardo to replace De Vries at AlphaTauri from the Hungarian Grand Prix
It has all come together very quickly. Yes, the move was on the cards as De Vries struggled to adjust to life in Formula 1 as a full-time race driver. But you can take nothing for granted in F1 and so it wasn't until Red Bull motorsport adviser Helmut Marko called Ricciardo and told him he was in the car that it felt like reality.
What did he think when he saw Marko's name pop up on his phone? "I was like, OK! Let's just hear what he has to say," he tells me. "That's the best thing to do. You can try and prepare yourself, but it's a case of let's hear him out, see what happens.
"These are calls I used to get all the time [when he used to be part of the Red Bull junior programme, the project that launched him into F1 first with Hispania, then with Toro Rosso and subsequently Red Bull].
He added: "There was no question I wasn't going to say yes. I didn't need to think much about it."
Daniel Ricciardo returns to F1 with AlphaTauri
Ricciardo hasn't had much time to think since it all happened. Understandably, the days during the British Grand Prix race weekend and the following Monday were crazy as the deal inched closer. He then had to get his head in the game for his first taste of 2023 machinery when he drove the Red Bull in the Pirelli tyre test on Tuesday.
The news then broke – after Ricciardo delivered the kind of speed Red Bull has seen form him in the simulator – and it's been full steam ahead to ready himself for a return next weekend. When we meet, he was in Biggin Hill to record the shots and footage needed for the opening title sequences for the race weekend broadcasts.
ANALYSIS: How Ricciardo got a second chance with stunning AlphaTauri return
We then had some time to chat on camera before he shot some more content for F1's digital channels, to run at intervals across the year alongside his rivals who recorded their bits at the start of the season.
As Ricciardo reclined into the sofa, wearing his new AlphaTauri fashion threads, a smile broke across his face – and before we started rolling he reflected on the whirlwind few days. The giddy excitement was clear.
This tweet has been removed from Twitter
It's obviously different from when he got his first shot in F1. You get the impression he feels like it's a second chance to prove he's still up there with the very best, and that his time at McLaren was just a blip. It's also clear that his belief is back.
"Falling out of love of it [F1], took a hit on my confidence," he said. "If you're competing in a sport where you're trying to be the best in the world at something you need full confidence, full belief. When that diminishes, the enjoyment starts to drop.
THIS WEEK IN F1: 10 quiz questions on all the F1 news after the British Grand Prix
"There are a lot of factors [to him getting his belief back]. Getting back to Red Bull, the reception I had walking back into the team in a positive way was a little bit overwhelming.
"Getting back on the sim, I was still unsure how it would go and if the car felt like it used to – and I was going to be, for lack of better words, the old me. Once I did a few sim sessions, I started feeling like myself again, it brought me back to 'normal Daniel'. Falling back in love and ready to go again."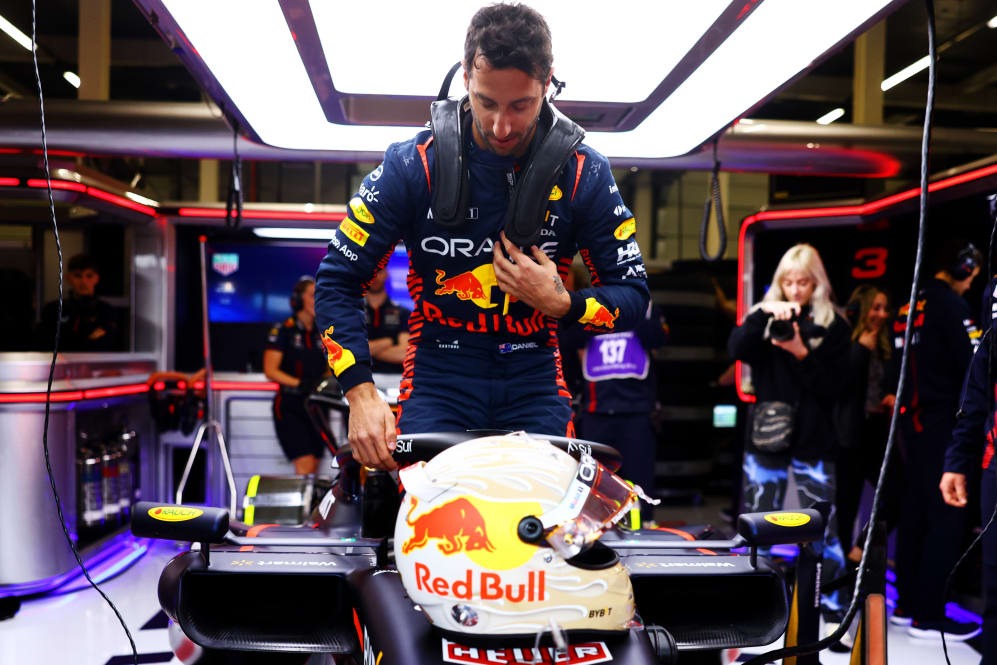 Ricciardo is underselling himself as being "back to normal Daniel", though. Having stayed in touch with him through this period since leaving McLaren, seen his ups and downs through his Red Bull, Renault and McLaren stints and heard how he's used the time away from the sport (in a racing capacity) to recharge physically and mentally and ease the pressure that had constantly been on his shoulders for around a decade, it feels – if anything – like he's levelled up.
He himself says he's "not really scared of anything that is going to be thrown my way" having "been through a lot the last few years". Those sentences alone show how far he has come.
READ MORE: HINCH'S HEROES – Who makes Hinch's top 5 after a scintillating Silverstone weekend?
You can tell he's relishing the challenge of not only jumping in mid-season (last time he did that, he made his F1 debut with Hispania) but finding a way to scramble some points in a car that is currently the slowest of all and rooted to the bottom of the constructors' championship. He knows it's going to be really hard – but he's backing himself to get the job done.
"The car will be what it is, I'll drive it and work from there," he said. "I appreciate the car will have some limitations, but if it's a car that feels balanced, it's something I can work with.
"[I'm] looking forward to developing it and using my experience. But ultimately for Budapest, [I will] just go out and have fun."
If he can do just that and revel in his returning confidence and belief, there's a strong chance Ricciardo will be a force to be reckoned with at AlphaTauri.
EXCLUSIVE: Ricciardo on his sensational F1 return, getting back to the 'old me' and what's possible with AlphaTauri
That might still only mean points here and there, but those points will be crucial in what is a tight fight in the constructors' championship from seventh through to 10th.
And that kind of good job would make a return to the Red Bull works team a genuine possibility. It's a heck of a challenge – but he says with impressive conviction that he's up for it. Yep, the confidence and belief is certainly back. This is going to be fun to watch.