On this day 12 years ago, Montreal and the Circuit Gilles Villeneuve played host to one of the most memorable F1 races ever staged. With the clock stopping at an incredible four hours, four minutes and 39 seconds, the 2011 Canadian Grand Prix also went down as the longest encounter in the sport's history.
Captured within this intense period was heavy rainfall, more Safety Car periods than ever before, countless slips, slides and crashes, a lengthy delay, an eventual break in the weather and a battle for victory that was dramatically settled on the very last lap.
READ MORE: From Senna's Suzuka stunner to Button's Montreal magic – 10 of the best comeback charges in F1 history
Etched in the memories of everyone involved, we spoke to a handful of journalists on duty and drivers in action that day to get their perspectives on how the race unfolded from start to finish – and how Jenson Button came out on top at the end of it all…
Rain, rain and more rain ahead of the race…
Given that continuous showers had hit the track on the morning of the race, standing water and spray raised concerns prior to the scheduled 1300 local time start. As such, the decision was made to get the Grand Prix going behind the Safety Car, with no formation lap, on Pirelli's full wet tyres.
After five laps, the drivers were released to race under green flag conditions – Red Bull driver Sebastian Vettel leading the way from Ferrari pair Fernando Alonso and Felipe Massa. Behind, the first talking point came when Lewis Hamilton tried to pass Mark Webber for fourth on the inside of Turn 1, only for contact to be made.
Canada 2011: Best Onboards
Lawrence Barretto, F1 journalist: "I was working for the BBC at the time and covered the race from their offices in MediaCityUK, working on the live text and online output. The BBC were rights holders at the time, so we had a good-sized crew on site and plenty of contact points to find out what was going on in what turned out to be one of the longest races I've ever covered.
"The persistent rain earlier in the day meant a wet start, so wet in fact that the Race Director Charlie Whiting determined a Safety Car start. That made life much easier for strategists in terms of starting tyre because the full wets were mandated in such a scenario.
UNDERDOG TALES: When Senna took the F1 paddock by storm with Toleman and made Monaco's streets his own
"It was totally the right decision to start the race under the Safety Car, but many drivers and team principals said at the time that it perhaps stayed out a little longer than it needed to. It was clear how treacherous the conditions were, though.
"Hamilton slid into Webber after riding the kerb on the apex of Turn 1, tipping the Red Bull into a spin when racing got under way. As the drivers got up to speed and gained more confidence to brake later, you'd see more and more cars squirm as they exited corners, having to correct oversteer."
Jarno Trulli, Team Lotus driver: "In Canada, when it rains and pours down, the track condition is always dangerous. First, because of the track layout – you have long straights, so the spray is very high. Second, because of the top speed, and in this case the risk is very, very high. Third, because the surface typically is very, very slippery.
"Already it's very slippery there in dry conditions, but in the wet it becomes extremely difficult. I've driven in the rain in Canada several times and it has always been difficult – always. But the visibility, of course, gets even worse when the rain comes down and with the top speeds reached at that circuit."
Jaime Alguersuari, Toro Rosso driver: "I remember we changed the set-up on the car, because we knew it was going to rain on Sunday. We qualified 18th and decided to make a full wet set-up for the race, meaning we started from the pit lane. That was the penalty we had to take, but we were happy to do it, because we knew in the rain, many factors come in and things happen.
"A driver can contribute a little bit more in those situations, especially considering Canada is a very tricky place, with a low-grip surface and low downforce. We knew it was going to rain a lot, but we didn't expect this amount of rain, of course.
READ MORE: From Brawn GP's fairytale to Aston Martin's super start – The biggest year-on-year performance jumps in F1 history
"It was a race to survive, to keep the car on the track, because it was super easy to make a mistake, to run wide, to crash the car or to crash with another driver with the conditions that we were driving in."
Button's action-packed route to victory begins
After his clash with Webber, which sent the Australian tumbling down the order, Hamilton had to take the long way around Turn 2 to avoid further contact, costing him positions to fellow McLaren driver Button, whom he re-passed later in the lap, and the Mercedes machines of Nico Rosberg and Michael Schumacher.
Hamilton would fall behind Button for a second time shortly afterward, however, losing ground with a failed pass on Schumacher. In a bid to regain the position, Hamilton approached Button down the start/finish straight on Lap 7 and put a nose alongside the left-hand side of his team mate's car, but the lack of visibility meant Button could not see Hamilton approaching and the duo banged wheels.
David Tremayne, F1 journalist: "It was interesting, the incident with Lewis and Jenson. Jenson made a mistake coming out of the last corner, or he wasn't as quick, and Lewis got a huge run on him and would have nailed him before the right-hand curve going into Turns 1 and 2.
"Jenson just didn't know he was there. As he said afterward, he couldn't see a thing in the spray. Lewis admitted that Jenson just didn't know he was there, and Lewis thought he was halfway alongside. It wasn't a smash into the wall, they kind of kissed, if you like, then Lewis got sideways and that's what banged the wheel against the wall and broke the suspension.
"Initially, Lewis thought he could have got back to the pits and still thought that it was only a puncture, but it wasn't, because you could see the super negative camber on the wheel – the top link was broken."
READ MORE: 'He was walking on water' – Senna's magical Donington 'Lap of the Gods' remembered by his fellow drivers
The rain eases, then returns with a vengeance
With Hamilton limping to a halt out on track, the Safety Car was called into action again. At this point, amid improving conditions, Button became the first driver to ditch full wets and move to intermediates, which came alive when Bernd Maylander peeled back into the pits five laps later.
However, Button's efforts were hampered by a drive-through penalty for speeding behind the Safety Car, sending him back to 15th. Then, another downpour arrived, meaning the Briton – and other drivers who had taken on intermediate tyres – were forced to make the move back to full wets.
By Lap 19, the rain had become so troublesome that the Safety Car emerged once more. On Lap 25, the race was red-flagged – Vettel holding P1 from Kamui Kobayashi, Massa, Nick Heidfeld, Vitaly Petrov, Paul di Resta, Webber, Alonso, Pedro de la Rosa and Button. But none of them would be completing further laps any time soon…
Jaime Alguersuari: "There was a lot of uncertainty, because even the engineers and the Team Principals didn't know what was going to happen. I think at some point we thought that the race was going to be cancelled, because there was a lot of time stopped with not a real answer, and it was still raining so hard.
"It's probably the worst conditions I've ever driven an F1 car in, but also, you reach a point where you say, 'Well, we're racing drivers, so if the track is that hard to drive, just go slower.' It is dangerous, of course, because you cannot drive the same in the wet, especially when you have lakes and rivers crossing the track, but that's also part of the emotion and driving.
READ MORE: From the six-wheeled Tyrrell to the dual rear wing Ferrari – 10 of the weirdest F1 cars ever raced
"I was one to push on the radio to tell them to restart the race and go for it. I know the conditions are dangerous and so on, but it's our ability to cope with that. People want to see a show, they want to see a car fighting through the rain, through the corners, and that's the spectacular thing from the sport – that's why it's always fun when it rains."
Lawrence Barretto: "This is where the pit lane reporters really earn their money, with plenty of time to fill while the Race Director waits for a break in the weather to safely restart the race. The key is to keep across various team's weather reports to work out when a restart is possible and grab key personnel and get some insight into the race so far – an opportunity that is rare when the race is in full swing.
"I remember the cameras spending a lot of time following popstar Rihanna around. She headed down to the McLaren garage during the stoppage and spent a fair time chatting to Hamilton, who had retired from the race, and he used the spare time to talk her through how his race car worked.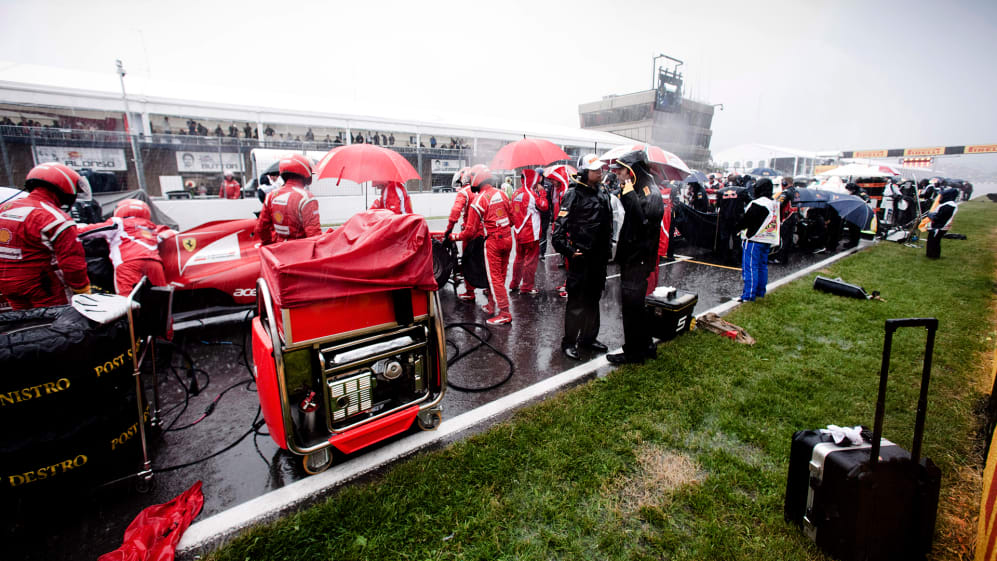 "We also saw Vettel on the pit wall, with headphones on, in deep conversation and seemingly discussing some data he had on a printout in front of him. His team mate Webber was sat at the back of the garage chatting to Helmut Marko, Red Bull's Motorsport Advisor. It was fascinating to see how different drivers cope with an unplanned stoppage."
Jarno Trulli: "As a driver, it's very challenging, because obviously your mindset is ready to race and you all have your race in your mind. When the race stops, and then after two hours you're asked to race again, it's not easy. You jump in the car with a completely different approach. It's just like having another race that we're not used to.
LIGHTS TO FLAG: Coulthard on replacing Senna, dealing with Ron Dennis, and racing against Hakkinen
"It has happened a few times in qualifying as well, that qualifying was suspended, and then eventually you had to jump in the car because the track was getting better and better. You're asked to deliver without having the right preparation to get in. You need to be extremely strong and well-prepared for these kinds of conditions."
David Tremayne: "I was still writing for The Independent newspaper then. One of the things I remember most – obviously apart from the weather and everything else – was the Wi-Fi in the press room. In the old days, we used to file our reports almost on the chequered flag, when there were around five phones. Everyone would go and grab a phone, then you'd have to read your stuff across.
"The internet made that better when it worked, and it was on and off here, but with the delays and everything else it became slightly more academic, thankfully. There was a time when we were thinking, 'Oh my God, we're never going to get this across in time', then the suspension went on for two hours or whatever…
Radio Rewind: The 2011 Canadian Grand Prix
"In the middle of it, everyone was laughing at the photographers, who kept coming back soaked like drowned rats, and there was a whole stream of Team Manager messages to the drivers that stayed in the cockpits – really facile comments – so everyone started making jokes. The break was actually very funny."
After more drama, Button makes his mark
Just over two hours on, and with the rain finally easing, racing resumed behind the Safety Car using full wet tyres. Eight laps later, the Safety Car came in and the 23 remaining drivers (Hamilton watching on from the sidelines) were free to race, with Button one of a handful to immediately pit for intermediates.
READ MORE: From Schumacher to Hamilton and Martini – Which F1 drivers have spent the most seasons with one team?
But the Safety Car was required again after just one more lap. With Ferrari's double stack in the pits delaying Alonso and sending him back out alongside Button, the pair collided at the Turn 3/4 chicane in what the stewards viewed as a straightforward racing incident, leaving Button with a puncture – and facing another trip through the pits – and Alonso in the wall and out on the spot.
With another set of intermediates fitted, what followed was a stunning display of racecraft and car positioning from Button as he used the slippery conditions to his advantage and found grip where others struggled, picking off rival cars from back to front by demonstrating skills he had used to devastating effect on several occasions earlier in his F1 career.
Lawrence Barretto: "Button was a master in mixed conditions. His ability to read a changing track in terms of grip and a feel for when it was the right moment to change tyres has earned him some spectacular results, none more important than his maiden F1 triumph in Hungary in 2006. That talent was used to the max in Canada that Sunday."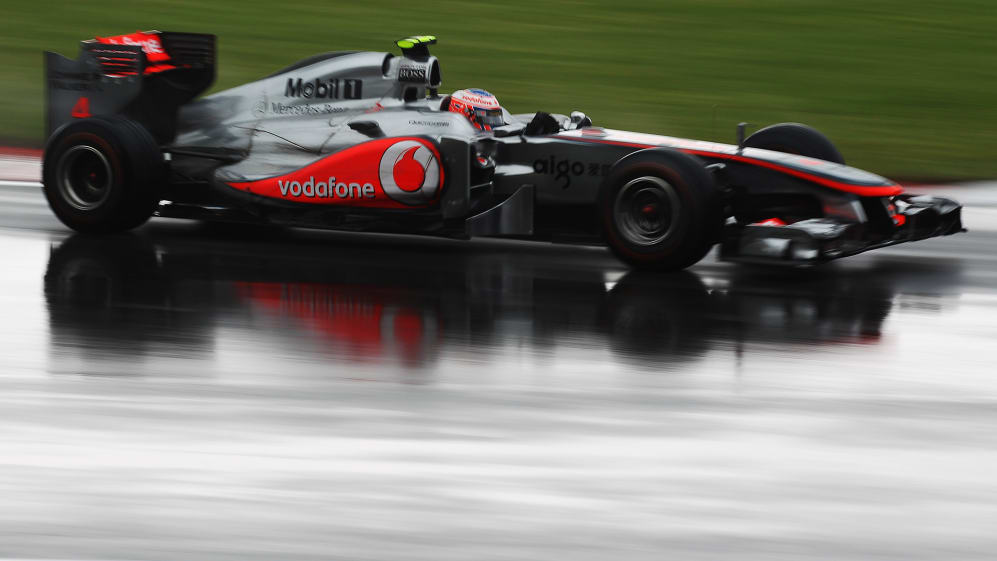 Jaime Alguersuari: "Many drivers just want to show that they're the quickest out there without really taking into consideration how the conditions are. It's not just about being the quickest out there, it's about being the smartest sometimes. Honestly, these kinds of races you win when you're smart, not quick – I think to be quick is the consequence.
"I think Jenson is one of the smartest guys ever in F1. Maybe he's not the quickest in F1 history; he's definitely a quick driver, he's a world champion. But for me, he's one of the smartest drivers ever in F1, and by this I mean understanding the whole game, the whole picture – the strategies, the tyres and the track situation."
READ MORE: Prost vs Senna, Mansell vs Piquet and more – F1's fiercest team mate rivalries
A flat-out run to the finish settled on the final lap
With 20 laps to go, Vettel held the lead from Kobayashi and Massa, while Button had worked his way from the back of the order to the points-paying positions. On Lap 51, he made his sixth pit lane visit of the day, swapping intermediates for slick super softs and continuing to charge toward the podium thereafter.
While Button was storming through the field, lapping around two seconds quicker than the front-runners, Heidfeld was flying over his own front wing and through the air after contact with Kobayashi exiting Turn 2 on Lap 56, triggering yet another Safety Car period and bunching the pack up.
At the restart, Button was running fourth and ready for more, capitalising on a mistake from Webber at the final chicane on Lap 64 and then breezing past Schumacher along the back straight a tour later. Now, with five laps to go, just one car and a couple of seconds stood between him and the unlikeliest of victories…
I think Jenson is one of the smartest guys ever in F1. By this I mean understanding the whole game, the whole picture – the strategies, the tyres and the track situation.

Jaime Alguersuari
Lawrence Barretto: "It wasn't until Button dispatched Schumacher's Mercedes for second that I felt a win was genuinely on the cards. He set the fastest lap of the race, even with that pass, and was 1.8 seconds quicker than race leader Vettel. He then slashed another 1.5 seconds off in the following lap.
"Button's McLaren looked like it was on rails. You could tell he was super confident. He positively turned into each corner, and the front and then rear end dutifully complied. Vettel's Red Bull didn't look as solid. He locked up at the hairpin, the rear end snaked away a couple of times as he got the power on – he was more tentative, less at ease.
READ MORE: 6 clever race strategies from F1 history that paid big
"Then Vettel ran wide at Turn 6, Button skipped through and the broadcast cut to a shot of the McLaren team wildly celebrating. This was, in my view, Button's greatest victory. He never gave up, and utilised his incredible gift to read changing conditions to absolute perfection."
Jarno Trulli: "I think Jenson proved more than once that he was good in that kind of condition, those changing conditions, mixed conditions… he always got it right, let's say.
"In difficult conditions, you really need to follow the track evolution and understand exactly when it's the right time to change the tyres and take the right risk and the right approach. Again, following the track conditions and getting to grips with the slick tyres – the transition is never easy."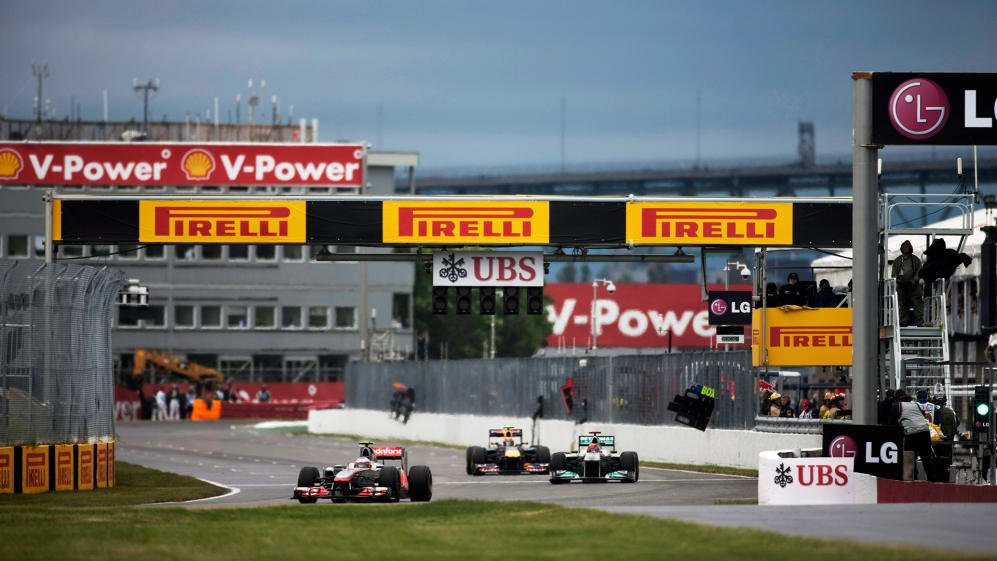 Jaime Alguersuari: "Jenson won the race because he picked the right tyre at the right time, and he understood the track better than the others. I'm sure some laps were even slower than other drivers, but he was just smarter to read the whole race. It was definitely a well-deserved race for Jenson – a very, very difficult race to win."
David Tremayne: "The final 15 laps were awesome. You were thinking, 'Is Jenson going to do it?' Then, of course, he provoked Seb into a mistake. Everybody in the press room cheered, clapped and banged the desks because it was so exciting. I think that was far and away Jenson's best race.
F1 ICONS: Rally legend Sebastien Ogier on four-time F1 champ Sebastian Vettel
"It was literally like Jenson was walking on water. He had a penalty, he had a puncture, the Safety Cars that interrupted his own recovery, then when it really mattered at the end he was absolutely flying. Everybody was just really stoked for him because it was such a great recovery – it was a great atmosphere afterward.
"I felt sorry for Seb, because he almost didn't put a wheel wrong. He was in charge all the way through, then it just went sour for him halfway around the last lap. He was annoyed with himself, which you would be, to sort of throw it away right at the end. He just said he was late on the brakes and he could feel that Jenson was quicker than he was.
"I think he regretted that he didn't push harder after the final Safety Car. I think, to be fair, everybody underestimated how fast Jenson was going. Seb thought if he had six or seven seconds, he might have just got away with it, and he only had three in hand."
Canada 2011: Button passes Vettel on last lap to clinch victory
A record-breaking race for the F1 history books
After stepping out of the car and punching the air with delight, Button commented that "even if I hadn't won today, I would have enjoyed this race immensely", admitting the victory likely ranked as the best of his trophy-filled career until then, while joking that "it felt like I spent more time in the pits than on the pit straights".
Indeed, Button's half a dozen visits to the pit lane (including his drive-through penalty) over the course of the afternoon was a new record for the winner of an F1 race, while records were also set for the lowest Grand Prix-winning average speed at just 46.518 miles per hour, six Safety Car appearances and the aforementioned race time of four hours, four minutes and 39 seconds.
BEYOND THE GRID: Jenson Button on his 2009 title, his toughest team mate and more
Lawrence Barretto: "In terms of drama, it was one of the all-time F1 classics. It gave a real insight into how hard it is to drive in wet conditions, how impressive each pass is when the car is difficult to control, and the brilliance of each team's strategy squad who must make tyre calls based on a weather forecast that changes from minute to minute."
David Tremayne: "It had everything, didn't it? The number of people who messed up and lost their front wings… It was just amazing. It's certainly one of the most dramatic races I've ever seen. I mean, there was just so much changing in this one, and so much good driving. I think that kind of race will always be one of the all-time most exciting."
Missed the race the first time around or want to watch it again ahead of this weekend's visit to Montreal? Relive the 2011 Canadian Grand Prix in full via our F1 TV platform today.
Race Highlights – Canada 2011