Fernando Alonso nonchalantly watching the big screen during the Miami Grand Prix, as his Aston Martin team mate Lance Stroll overtook the competition, had us thinking about the times F1 drivers performed elite levels of multitasking while behind the wheel.
So, we have dug through the footage, collected all the evidence, and found the moments where F1 drivers showcased their incredible abilities to do more than one thing at once.
There's a reason they are among the best drivers in the world…
READ MORE: Fernando Alonso adamant he can win a race in 2023 season as he targets key Grands Prix
Alonso keeps an eye on his team mate
As he was the catalyst for this conversation it is only right that the list starts with Alonso watching on as Stroll overtook Alex Albon for 13th at the Miami GP, before complimenting the Canadian on the team radio.
What it also showed is that Formula 1 drivers are human beings just like the rest of us – they also watch television when they should be working.
2023 Miami Grand Prix: Alonso follows race action on track big screens
Alonso passes on information to Stroll
Miami was not the first time Alonso was heard multitasking on the team radio this season, as in Baku he found time to tell his engineer to pass Stroll a message about what brake balance he felt was best for the Canadian to use.
Unfortunately, it did not work immediately as Stroll ran wide and lost a position just a few corners later, but it was still impressive multitasking from Alonso.
READ MORE: Stroll reveals what it's been like to work with two-time champ Alonso so far
Lance Stroll: 2023 Aston Martin team mate Alonso is 'a hell of a driver'
Senna stuck in sixth gear
Ayrton Senna did plenty of impressive things in Formula 1, but it is hard to argue that his first win on home soil at the 1991 Brazilian Grand Prix is not at the top of the list. While leading the race, Senna's gearbox failed, leaving him stuck in sixth gear, while also having to hold off the Williams of Ricardo Patrese, before rain began to fall.
READ MORE: F1's Best Drives #4 – Senna beats the pain for emotional home glory
The Brazilian racer would cling on for victory, but he was so emotionally and physically exhausted after the race, that he had to be lifted out of his car, and he could barely hold up his trophy in celebration.
Schumacher's hand signals
Back at the 1999 French Grand Prix, Michael Schumacher lost communication with his pit wall via the team radio. However, the quick thinking seven-time world champion realised that while they could not hear him, they could still see him.
So, he used hand signals to communicate with his team via the onboard cameras, on his way to finishing fifth ahead of his Ferrari team mate Eddie Irvine.
WATCH: Enjoy extended highlights from the exciting rain-hit 1999 French Grand Prix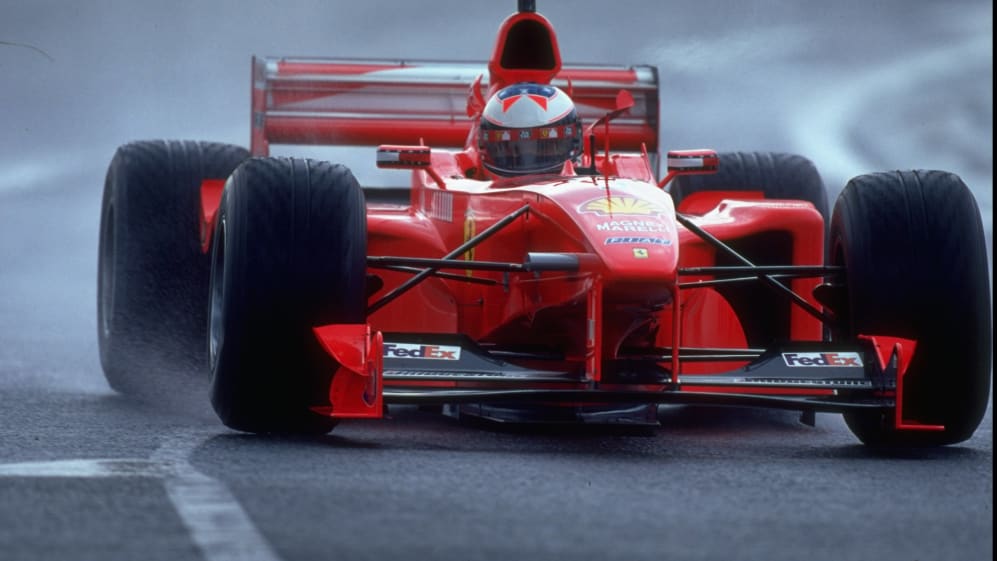 One hand on the mirror and another on the wheel
Going through 130R at Suzuka is often quite a difficult task for the drivers, but for Charles Leclerc, at the 2019 Japanese Grand Prix, it was made even tougher by the fact that he had to steer with one hand.
The Monegasque was forced to drive at nearly 300 KM/H, while trying to hold in place his damaged wing mirror, after making contact with Max Verstappen on the opening lap of the race.
READ MORE: Leclerc says Vasseur 'just starting' process at Ferrari and 'trusts him fully' for future
Watch Leclerc's one-handed race through Suzuka as he attempts to fix his wing mirror in 2019
Three wheels up Hamilton
Back at the 2020 British Grand Prix, Hamilton looked set to claim another win at Silverstone with ease, only for his left front tyre to suffer a puncture ahead of the final lap.
The seven-time world champion managed to cross the line in dramatic fashion on three wheels, just ahead of the charging Max Verstappen in second.
READ MORE: Hamilton reveals his fitness team developments after Angela Cullen split
Great Britain 2020: Hamilton wins despite dramatic final lap tyre issue
Webber leaves little to the imagination
We have often heard of drivers being sick on a race weekend but most of the time, it is left to the imagination for us to decipher how ill they really are.
However, back at the 2007 Japanese Grand Prix, we were given telling insight from Mark Webber, when he was heard vomiting in his helmet while driving and telling his team he needed to stop.
RISE OF THE ROOKIE: Mark Webber's journey from dirt bike rider to F1 championship contender
Classic Team Radio: Webber vomits in helmet at Japan 2007
Lauda battles injury on return
Back at the 1976 Italian Grand Prix, Niki Lauda put in one of the most heroic performances the sport has ever seen. Six weeks after suffering serious injuries in a crash at the German GP, Lauda returned to the grid as he looked to keep his championship hopes alive.
READ MORE: 'He was like a ghost' – Remembering Niki Lauda's comeback from fiery Nurburgring crash, 45 years on
The Austrian finished fourth for Ferrari that day, all while still suffering immense pain just to put on the helmet and also still being slightly visually impaired. To drive a car at speed, while battling with your health, is incredible multitasking.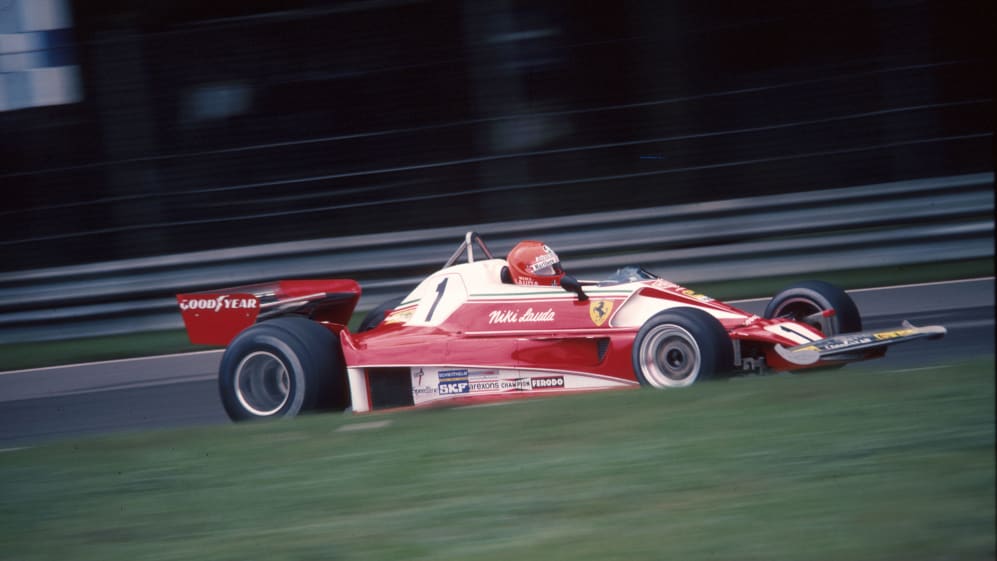 2020 Tuscan GP FP1: Russell commentates through a lap of Mugello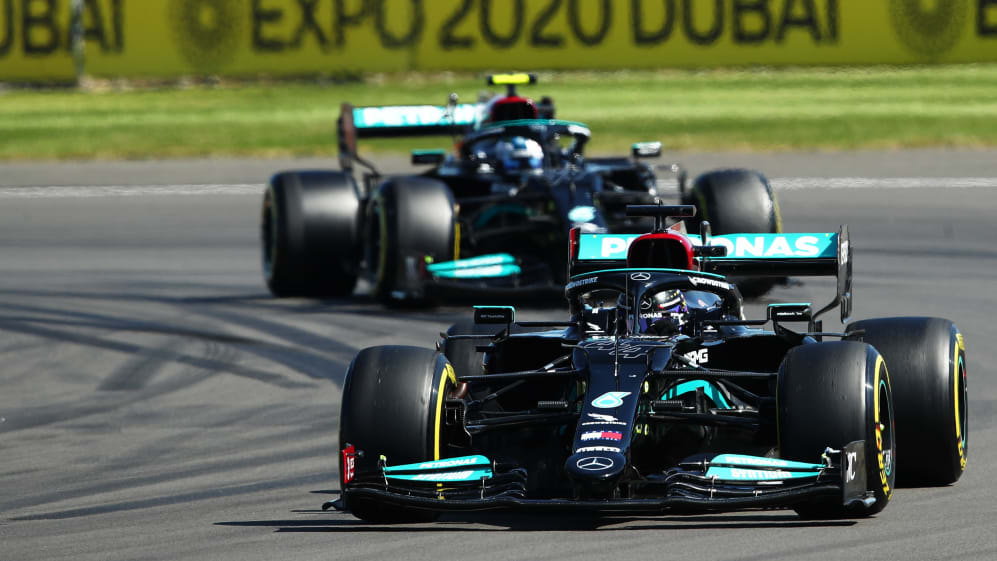 Friday – courtesy of the musical stylings of Lando Norris
Lando Norris is one of the more fun-loving drivers on the grid and he showcased his joyous spirit in FP1 back at the 2020 Tuscan Grand Prix.
Asked by his race engineer to make sure the radio was working, rather than simply answer back, the McLaren racer gave a rendition of Riton and Nightcrawlers song – featuring Mufasa and Hypeman – Friday, while driving the MCL35.
TECH TUESDAY: McLaren's aggressive solutions to the challenges of 2023
2020 Tuscan GP FP1: Norris sings his way through radio check
Leclerc not buckled in
You can try, but you'd be hard pressed to find any driver having a more eventful couple of laps than Leclerc at the 2020 Spanish Grand Prix.
The Ferrari racer's engine cut off to spin him around at the penultimate corner and, while he was able to get his car going, he had unbuckled his seat belts. So, he was forced to pit as they looked to fasten him back into the car, only for him to retire from the race.
Spanish Grand Prix 2020: Onboard as Leclerc mistakenly unbuckles seat belts before re-starting engine
Hamilton's head rest issue
Lewis Hamilton's 2017 Azerbaijan Grand Prix is often known for his tangle with Sebastian Vettel under the Safety Car. However, many forget the Mercedes driver having to go down the main straight at 340 KM/H, steering his car with one hand while trying to fix his loose head rest. Unfortunately, he could not quite manage it and was forced to pit, costing him the victory.
Watch Lewis Hamilton fix his headrest mid-race at Baku 2017.