[Editor's note: While this guide first appeared in our August 2021 issue, updates are continually made as new tires enter our market.]
The biggest variable in performance? Tires.
But which ones are the perfect match? It depends on the car choice, setup, rules, venue, weather and driving style. Budget and longevity can also influence this decision.
We're here to help with a synopsis of available options, culled from all our years of tire testing. If you can't find shoes that fit here, they probably don't exist.
All the tires listed here are DOT-approved, which means they can legally be driven on the street—even if that's not a great idea. (We're looking at you, Hoosier.)
While today's market concentrates on the 200tw Extreme Performance category that's so prevalent in autocross, time trials and endurance racing, we branched out to include faster tires that aren't limited by that UTQG figure. To make this guide easy to follow, we've grouped tires by their intended mission. Happy shopping.
Super 200s
These are fast tires for autocross and single-lap time trials that meet the 200tw ratings. All are capable of a fairly similar single-lap time trial or autocross pace, though each goes about it in different ways.
Yokohama Advan A052
We list this one first since it's the reigning king of the Super 200s, but it comes with caveats. To perform optimally, it needs lots of camber and wheel width. It also benefits from shallower tread depth to help mitigate its tendency to quickly overheat when pressed hard. And finally, it's expensive and only available in select sizes. But if your application meets those requirements, and your driving skill allows you to lay down that one perfect lap, then this is your droid. A note about that heat intolerance: This tire doesn't need any heat to activate—first turn, it sticks. It's even good in the wet, so long as there's no significant standing water to cause hydroplaning.
Bridgestone Potenza RE-71RS (Added August 2022)
After a hiatus, Bridgestone returns to the American 200tw arena with its Potenza RE-71RS. Sizes range from 15s to 20s. Our initial test found a tire that's very quick out of the box while providing strong grip and feedback–it's up there at the pointy end of the field. That first test compared the Bridgestone Potenza RE-71RS against the Falken Azenis RT660 on track and against the Yokohama Advan A052 around the cones.
Bridgestone Potenza RE-71R
For many, this was the go-to alternative to the Yokohama. Super-responsive, it could dance around cones or dive to apexes with telepathic instincts. Just think about turning, and it would react. Its super-stiff sidewalls also allowed fat tires to be successfully pinched onto narrow wheels—a reality in some race classes. And while it needed a little bit of heat for the compound to work, it could deliver a number of autocross runs or road course circuits at max attack. It's even been used to win in 8-hour endurance racing competition. Sadly, this tire is no longer in production, but many sizes still exist at retail in large enough quantity for it to remain an option for some time.
Update: As of January 2022, Tire Rack only shows 18- and 19-inch sizes in stock. In April of 2022, Bridgestone announced the replacement for the RE-71R, the RE-71RS.
BFGoodrich g-Force Rival S 1.5
Before the A052 stole the show, the big battle was BFG versus Bridges- tone. The Rival needs a little more heat to work, but stays in the game even longer than the RE-71R. This is great for lapping or two-driver autocrossing, but a little tricky for cold and or wet days. And while not as crisp as the Bridgestone, the BFG allows one to drive at larger slip angles seemingly with impunity.
Falken Azenis RT660
Exit Bridgestone, enter Falken. Indeed, they look alike, and to a large degree they perform alike. The RT660 has a fairly similar responsiveness to the RE-71R, though not quite as crisp. For many, this is a good thing as the tire tends to not be as edgy, allowing for mid-corner corrections to be made. Like the Bridgestone, the Azenis compound needs just a little bit of heat to turn on, but hangs in there for many laps or runs. It's a great choice for lapping, time trials or autocrossing. Oh, and it has some of the most favorable pricing of the bunch.
Kumho ECSTA V730
Added September 2021
We really like the new V730 as it does indeed honor the traditional Kumho characteristics for drivability, consistency and longevity. While not the quickest on single-lap pace, it is right in the mix and gives many chances at nailing great laps any time in a session–call it nearly as quick as the Falken Azenis RT660 and almost as consistent as the Hankook Ventus R-S4–so, basically, another contender.
Goodyear Eagle F1 SuperCar 3
Responsiveness of the Goodyear is similar to the Rival S, but grip turns on quicker and stays active lap after lap. Note that the smaller sizes of this tire (sub-265mm section) come molded deeper and with more void, so they don't perform quite as well. This is a great triple-threat tire: cones, laps, daily.
Michelin Pilot Sport Cup 2 Connect (240)
OE fitment on some of the world's fastest sports cars, the SC2 has been a staple of the track day scene for many years. The move from the 180-treadwear rating of the old Cup 2 to this tire's 240 rating, it should be noted, is more of a marketing change than a performance one. Think of it as a positive iteration of both grip and consistency/longevity through technology. In short, this tire is no slower than its predecessor, despite moving out of the Track Use only category. Its main attribute? Grip. Lots of it. That said, it can let go in a hurry if you ask for too much. But for most folks, it will deliver lap after lap of enjoyment.
Nankang CR-1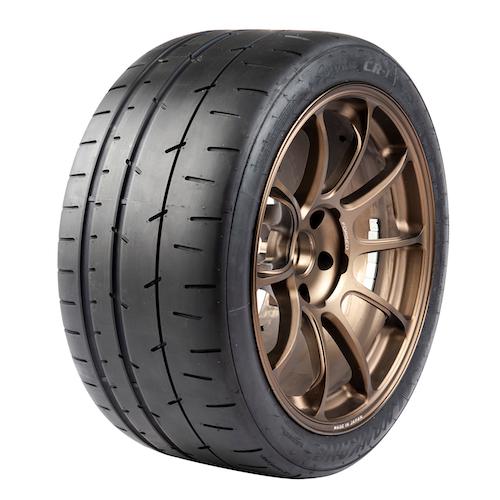 Nankang was able to create a worthy competitor to the Yokohama A052. While response is similarly vague, grip is outstanding. That said, it has the same trait of quickly heat-soaking when loaded hard. Perhaps its best feature is that there are some very motorsports-oriented niche sizes available, like the 245/40R15 that we recently tested.
Nankang Sportnex CR-S
Added April 2023
Newly revised, the CR-S is super consistent, though does need some heat to build up in order to get optimal grip.
Dunlop Direzza ZIII
The Dunlop ZIII might be an older 200tw tire, but Tire Rack still moves a lot of them. Why? Price and available sizes, as it comes in a Miata-friendly 195/50R15. This is also a good choice for dual use, with solid performance in both wet and dry conditions. We last tested it in 2018, and the Dunlop ran within a half-second of both the RE-71R and Rival S 1.5.
Toyo Proxes R1R
This tire is long in the tooth, but still a viable choice for triple duty. The R1R was once the darling of the autocross world, especially in the magical 195/50R15 sizing. Its excellent grip and tossability still delivers strong performance value in the canyons, around the cones, and hitting apexes. You might not win a national championship, but you'll smile every time you turn the wheel.
Endurance 200s
These tires trade some speed for consistency and long life while still meeting the 200tw requirements. Running endurance races? Looking to get a full season out of a single set of 200tw tires? Might want to start the search here.
Hankook Ventus RS-4
All hail the king of grassroots endurance racing. No tire has racked up more enduro wins or led more laps than the RS-4. It's the gold standard against which all others are measured. Wears like iron, but can still deliver a pace that's within a second or two of the Super 200s—and do so all day long. It does need some heat to come in, but loves living in the furnace of heavy lateral loading. This also makes it ideal for weekly lapping sessions where no trophies are on the line. The only downside is that Han- kook tends to sell out of popular sizes every year in the fall, though usually replenishes stock in the spring.
Maxxis Victra VR-1
The Maxxis offered super-responsive performance. It dove down to apexes much more easily than the Hankook. It also required very little warmup, netting its best lap time on the very first circuit–and matching the Hankook's single best. As the Maxxis heated up, though, response dropped off, the tire got a little mushy, and lap times slowed a bit. The Maxxis is a great alternative when the RS-4 is sold out, though.
BFGoodrich g-Force Rival
This was BFG's original entry into the 200tw category, but was superseded by the Rival S when Bridgestone raised the bar. With the rise of amateur endurance racing, however, BFG has put the original Rival back into production. Driving feel is a little more direct than the Hankook, but pace, consistency and longevity are all on par with the RS-4.
Falken Azenis RT-615K+
As the final installment in the decade-old 615 line, this tire blends a nice mix of dry and wet performance, with solid wear characteristics. A little loud on the street, but it's right at home delivering lots of track laps or autocross runs. While supplanted by the RT660 in overall pace, the RT-615K+ remains a popular choice for dual-duty or endurance use.
Valino VR08GP
If you want a set of tires that will deliver a full year of use, this Valino offering makes a great option. Our test showed imperceptible wear and great handling traits, though not nearly as much grip as the others in the category. Pricing is also friendly.
Michelin Pilot Sport 4S
One tire to work in all conditions, one tire to rule them all. This is the one. If the ground's not frozen, this tire will perform. Cold and damp? Got you covered. Standing water? No problem. Warm and dry? Still quick. Chosen each year by the majority of the field for the Tire Rack One Lap of America, this tire can easily put down quick laps at every venue regardless of the weather—and still do the 3800 miles of transit needed for the week without a hint of drama. Steering response is massively authoritative, although the tire can be a little edgy at the limit as it heats up in dry lapping conditions. Available in a huge variety of sizes, including many OE fitments. Its price matches its capabilities.
Continental ExtremeContact Sport (Updated May 2023)
Continental has updated this tire for 2023, focusing on improved dry performance while maintaining excellent wet manners.  It is now a match to the Michelin PS4S for grip, but ahead in its ability to cut through standing water. The Conti's steering response feels a bit vague and it doesn't last as long as the Michelin, but it's also priced substantially lower.
Continental ExtremeContact Force
A new, very worthy challenger for endurance racers. The Continental ExtremeContact Force posted a clear half-second average over the Hankook RS-4 and similar consistency–plus a bonus of immediate cold-tire grip. The latter could be very important on cooler race mornings. After 90-minute sessions, both the ExtremeContact Force and Hankook RS-4 exhibited similar wear characteristics–not quite a 1/32 of an inch. The new Continental does cost more than its competition, however.
Cooper RS3-R and RS3-RS
Cooper Tire supports the World Racing League and also offers two endurance—specific tires: the RS3-R (260tw intended for dry conditions) and RS3-RS (220tw for the wet). GRM test to come.
Endurance 100s
This category is a tick faster than the Endurance 200s, yet still in it for the long haul. While these tires don't meet the 200tw requirement often found in endurance racing, they can still work for those doing lap days.
Nankang AR-1
Although it's rated at 100tw, this one has all the traits of a solid 200tw tire. Pace is on par with most of that bunch, as is the typical output pattern of a single fast lap, followed by a number of laps at about a half-second slower pace. Feel is similar to the Goodyear SC3 or Rival S. Note that this tire benefits from a good heat cycle before delivering optimal performance.
Nitto NT01
Like the Nankang AR-1, this is another 100tw track day special that delivers on par with today's Super-200s for single-lap pace. But it can repeat that trick lap after lap, session after session—all the way to the cords. Sizing and availability are somewhat limited, but it's still a favorite among many track rats.
Toyo Proxes RA-1
The same parent company owns both Nitto and Toyo, with the Toyo RA-1 essentially a Nitto NT-01 with a different tread design—and a very clever one at that. When run at full-tread depth of 8/32 inch, it cuts through water with ease. Shaving to 6/32 improves dry traction and consistency. At 4/32, the lateral grooves disappear, while optimal dry performance comes at 3/32 where only two circumferential grooves remain.
Toyo Proxes R888R
Another popular tire for lapping, this one comes in a huge variety of sizes. Like the NT-01, pace is on par with the Super 200s, but consistency is the real game here. Just don't get caught out in a storm, as the tread pattern is optimized for dry use only.
Toyo Proxes RR
This is Toyo's ultimate expression of a DOT-legal tire optimized for competition use only. With a lightweight casing, 4/32-inch tread depth and a slick tread pattern, it wears its "Not for Highway Use" markings proudly. Even though it's rated at only 40tw, it performs on par with the others in our Endurance 100 grouping. NASA even allows it to compete as a 100tw in their Super Touring and Time Trials classes.
Maxxis Victra RC-1 (Updated August 2022)
Maxxis has updated the compound for its Victra RC-1, with this new R2 rubber promising improved grip and longevity. Our latest testing found this new, softer compound to delay response just enough to provide a more normal and natural feel. Compared to the original version, grip is up while times are down.
Street-legal Track
This category consists of DOT-approved track and autocross tires not saddled with a 200tw rating. Tired of pointing folks by? Looking to embarrass better machinery? Bolt on a set of these and win that next track day.
Goodyear Eagle F1 SuperCar 3R
This one is magic, simply magic. All the great traits of its 220tw cousin, plus a compound that hooks like a major league curve baller. Braking, forward bite, lateral grip—it does it all at the highest level and continues to deliver for entire sessions, though the first lap or two are typically the quickest. As with a racing slick, you'll need to put some significant energy into the tire before full commitment, though. But it's a small price to pay for such a big payoff.
Pirelli P Zero Trofeo R
This one is a little fuzzy, since so many of the size offerings are OE fitments with very specific characteristics that vary from standard. We tested the generic version and found it to be on pace with the Goodyear SC3R for a single magic lap, but then a bit of a fall-off ensued. The Pirelli was also less forgiving.
R-Comps
When it comes to the modern R-comp race tire market, Hoosier currently owns it with very fast lap times and minimal con- cessions to street use—just enough to earn that DOT approval—although Goodyear recently rejoined the segment.
Hoosier R7
No buyer's guide to motorsports tires would be complete without Hoosier. Availability in every size imaginable and a long record of success make it hard to bet against the crew from Indiana—should your rules and wallet permit. This tire is expensive and does heat-cycle out fairly quickly, but the lightning-quick response is without peer, as are the level and consistency of grip.
Hoosier A7
Want to go even faster? Here's the top tire of all the DOT-approved R-comps. Stamped "Not for Highway Use" right there on the sidewall, this tire is optimized for one purpose only: going fast around cones or a road course. It doesn't last long, sizing is more limited than the R7, and it will put a solid dent in your budget—but if you have the means, and your rules allow, it's hard to bet against the A7.
Yokohama Advan A055
Yokohama has rejoined the R-comp fray with its new Advan A055. We found the tire to be very responsive with full grip right away–could be great for autocross. Recovery was a bit lazy when overdriven mid-corner, and it was a little less adept at combined loading than the Hoosier, but still quite good. Our 205/50R15 test tire seemed a bit on the narrow side, though.
Goodyear Eagle RS
We've had great time-trial success with the Goodyear Eagle RS on our Corvette project, and SCCA GT2 racers have been knocking down lap records as well. We find the Goodyear Eagle RS to be fastest in the first one or two sessions after an initial heat cycle. There's a slight drop-off after that, yet performance remains stable through at least the next six to 10 heat cycles. The Eagle RS is predictable and communicative, but needs a bit of heat to work on track. They aren't a first-lap wonder like the Hoosier A7, but once you get some temperature in them, they're the equal of anything out there. They're also very communicative once you exceed the desired temp range, allowing you to get the tires "back under you" and doing a good job of letting you know when it's time to attack again. Overall, the Goodyear Eagle RS is an R-compound that can hold its own with anything on a road course, but the need for some temperature makes it suboptimal for autocross.
Let Your Usage Be Your Guide
We've assembled this chart to be a quick reference to choose the proper tire for the proper venue.
Autocross: Choose A or AA for Warm-up and B or better for Pace.
Time trials: Choose by Pace and Wear.
Lapping days: Choose by Heat Tolerance and Wear.
Street and Track: Choose by Heat Tolerance, Wear and Wet.
Updated May 2023