How do you make a newer car stand out? Paint it up like an old one. Retro paint jobs may not be anything new, but they still manage to stop us in our tracks. Where can you find inspiration? Hop online, flip through old magazines, or visit some events. 
Hans Herrmann and Richard Attwood's Porsche 917K

Photography Courtesy Porsche
The Cayman Interseries is a spec road racing series for the Porsche Cayman, but there's a twist: All of the cars entered in this HSR-sanctioned series must wear graphics carried by past Porsche race cars. 
The Porsche 917 wore some of the most memorable graphics ever applied to a race car and provides some great inspiration for today. Steve Jenkins's Cayman is influenced by the 917K that Hans Herrmann and Richard Attwood drove to the 1970 Le Mans win. 
Porsche and Ford Prototypes

Photography Credit: photosbyjuha.com

Photograph Courtesy Ford
Thanks to their Gulf Oil sponsorship, John Wyer Automotive ran one of the world's most iconic paint jobs on their Porsche and Ford prototypes back in the 1960s and '70s: light-blue bodies punctuated with an orange center stripe. Gulf has continued to use those colors in motorsports, while fans have applied the look to just about everything, from Porsche 911s to VW Rabbits. Frederick Motorsports shows that the livery works well on the Mustang FR500C, too.
Sunoco and Penske Chevrolet Camaros

Photography Credit: photosbyjuha.com

Photography Credit: Bob Hines
In 1969, Mark Donohue and Ronnie Bucknum practically dominated the SCCA Trans-Am series with a pair of dark-blue Camaros backed by Sunoco and fielded by Roger Penske. The latest Camaro seriously resembles the original. You know where this is going, right? Soon after the new Camaro's return to the showrooms, Stevenson Motorsports debuted a Camaro done in the classic Penske colors—including the Sunoco sponsorship livery. 
The big kicker was Stevenson's driver lineup for that first Grand-Am race: David Donohue, son of Mark Donohue, and Jeff Bucknum, son of Ronnie Bucknum.
BRE Dastuns

Photography Credit: Al Merion

Photograph Courtesy BRE Motorsports
Last year's Mitty celebrated Peter Brock's achievements in motorsports. He gave shape to the Corvette Sting Ray, turned the Cobra into a Le Mans winner, and earned a string of SCCA titles for Datsun, a new face on the American scene at the time.
The Mitty race weekend includes a round of the SCCA Pro Racing Playboy Mazda MX-5 Cup, and Mazda presented a special treat: a car done up in BRE Datsun colors for former team driver John Morton.
Dodge Super Bees

Photography Credit: Anthony Neste

Photography Courtesy Barrett-Jackson
No budget? No problem. Over the years, Team Mini Me has brought several retro paint jobs to our $2K Challenges, their latest being a 1988 Dodge Aries sporting the full 1969 Dodge Super Bee look: flat-black hood, functional hood scoop and tail stripes.
Lotus Formula 1 and Indy cars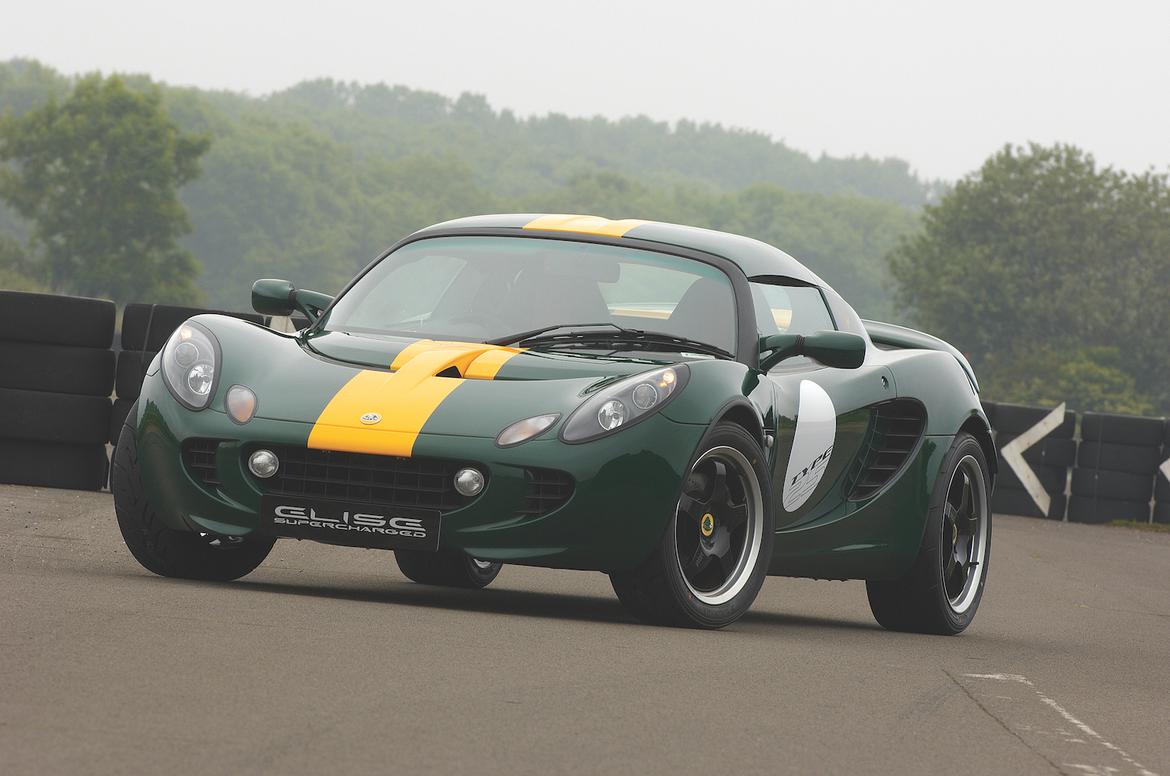 Photograph Courtesy Lotus

Photograph Courtesy Ford
During the 1960s, Lotus driver Jim Clark was one of the top formula car pilots. He earned two Formula 1 titles plus the 1965 Indy 500 win, the first one for a rear-engined car. To mark the 40th anniversary of his death, in 2008 Lotus released 50 copies of the Lotus Clark Type 25 Elise SC to the European market. Each one featured a color scheme made famous by Clark's machines, British Racing Green broken by a yellow stripe.
Brumos Porsches

Photography Credit: photosbyjuha.com

Photograph Courtesy Brumos
For more than 40 years, Brumos has fielded one of America's top Porsche teams. When the team went back to a 911 program for 2011, they reissued the classic red, white and blue livery that Hurley Haywood and Peter Gregg drove to so many victories in the '70s. Haywood said that 2010 would be his last year, but fortunately for race fans he broke that promise to join the team during the Grand-Am season opener at Daytona.
Design Your Own Look
Of course, you're free to put together your own retro look, too. For some examples, we asked Rob Ebersol to break out his art supplies and bring some ideas to life. Rob has been racing Miatas for 20 years, and by day he's a graphic artist whose clients include Georgia-Pacific, Coca-Cola, McDonald's and Motorola. Free plug: ebersol.com.
Mazda Miata: I thought about going with the Panasport wheels, but that's what everybody is doing. The Enkei mesh style isn't so popular on the Miata—BBS is as close as it gets. This angle asks for some screaming wheels, too, so gold it is. 
I then went with the orange numbers on the meatball and some tint on the directional/parking lights. I removed the passenger seat for looks and to call out the SCCA Production-style roll bar. 
I went with the bolt-on flares and front and rear spoilers for simplicity, then painted out the black rockers to bring the car down and tie the rockers in with the lower front spoiler. I tried painting the windshield frame black, but with all the white add-ons I thought it kept the car from looking too bottom-heavy.
Ford Mustang: I followed some Trans-Am cues: hood pins, flat-black hood, side stripes reminiscent of the Boss, rear wing, smaller-diameter wheels, larger sidewalls, much fatter tires, and a new nose that calls on the original Trans-Am Stang's front spoiler. 
Wheels are from the era, but not the Panasport/Minilite style since I used them on the Mini. This is more of a Shelby flat face-type wheel, but I think it looks period-correct. I was going to go with a flamboyant primary paint like on the Trans-Am cars, but I really liked the silver and flat black. You could color the body if you wanted to.
MINI: There's classic Monte Carlo Mini in there along with influence from the '80s and other rallies. The MINI's got a slight lift and smaller-diameter wheels with larger-profile tires; wheels are Minilite style. 
I bolted on an early Mini bumper to mount the front lights, then painted the car a satin-finish red in the spirit of the Monte Carlo cars that were nearly always red. I added the '70s "Starsky & Hutch" stripe to pick up and integrate the front bumper line. The stripe goes to the roof over the side-rear window, which has been screened red and features a Monte Carlo tribute decal. 
The rear spoiler up top is more of a modern-era item—maybe early '80s. I could do a luggage rack up there—some of the original Minis had them—but it looks out of place on the car, sort of like it's a safari truck.