Alfa Romeo's Valtteri Bottas is a huge fan of hockey, coffee, and cycling – but F1 eclipses all of those for the Finn. In this exclusive feature, the 10-time Grand prix winner explains in his own words why compatriot and two-time F1 champion Mika Hakkinen is his F1 Icon…
Finland is a unique place to grow up. It's a slow culture, but it produces fast racing drivers. It's a quiet place, but we love the roar of engines. There's pure water, pure air, great schools, it's safe, and growing up there was pretty ideal. You appreciate the simple things in life.
F1 ICONS: Rally legend Sebastien Ogier on four-time F1 champ Sebastian Vettel
But finding out as a kid that there was a go-kart track just 15 minutes away from my hometown of Nastola? You can imagine that I was really happy with that.
We'd play ice hockey in the winter – Finland has really cold winters, obviously – and I idolised Teemu Selanne. Of course, being Finnish, I'm also a huge rally fan. There are so many drivers I look up to: Tommi Makinen, Marcus Gronholm, Juha Kankkunen… the list could go on and on, honestly.
But when it comes to F1, Mika Hakkinen is the driver I look up to.
My earliest memories include waking up on Sunday – no matter which timezone, like it could be Japan or something – making a sandwich with my dad, and turning on the F1. It was pretty cool.
I still remember so vividly Mika's first win in the last race of 1997 (and also the other stuff that happened in that race), supporting him in the '98 campaign when he won the title, and again in '99.
He was a national hero in Finland and for me as well – a huge, huge hero.
LONG READ: David Tremayne on Mika Hakkinen, the easy-going champion
I felt like during that period, when Michael Schumacher was at the top, Mika was the only guy who could really challenge him, and that was great to watch, the battles they had, including Spa 2000. There were so many they had that were really exciting.
Apart from the obvious, which is winning two world championships, Mika's greatest achievement was that comeback from that horrible accident at Adelaide in '95. It must've been really hard.
F1 VAULT: Mika Hakkinen seals his first title in Japan
I've heard stories from his former manager Didier Coton that he was there waiting in Australia at his hospital for a month or something while Mika lay there recovering. That was the last race of the 1995 season.
That Mika came back to race in the first round of 1996 is a great lesson for everybody, to keep fighting no matter what.
F1 ICONS: Olympic legend Usain Bolt on Sir Lewis Hamilton
Mika definitely embodies the Finnish concept of Sisu, especially with what he went through with his accident: being in a coma, waking up and not being sure at all if he could even continue racing, but just keeping fighting. And he had so many years without wins in Formula 1 and he still never gave up, and the opportunity finally came.
I think he has that kind of Finnish mentality – Sisu is the word, that stubbornness, drive and determination, of not allowing yourself to give up no matter what. He's a true Finn.
Sisu is the word, that stubbornness, drive and determination, of not allowing yourself to give up no matter what. He's a true Finn.
I'd like to think I have that quality too. I obviously take this sport seriously and whenever I make mistakes, I beat myself up quite hard.
That I still haven't won the title and I had good opportunities to do that in the Mercedes years, it is hard to accept that sometimes, but that obviously still motivates me and keeps me going, and the dream is still alive.
BEYOND THE GRID: Valtteri Bottas on his burning desire to win again, the story behind the mullet – and how he rates Hamilton
Obviously, having got that first win back in 2017 is something really amazing, but I'd take a step back and look at everything as a whole: Being in a team and taking the constructors' title five times in a row with Mercedes was pretty cool.
I've lost count of the podiums and points I've scored, that's pretty epic as well, but I still think there's more to come from me in F1.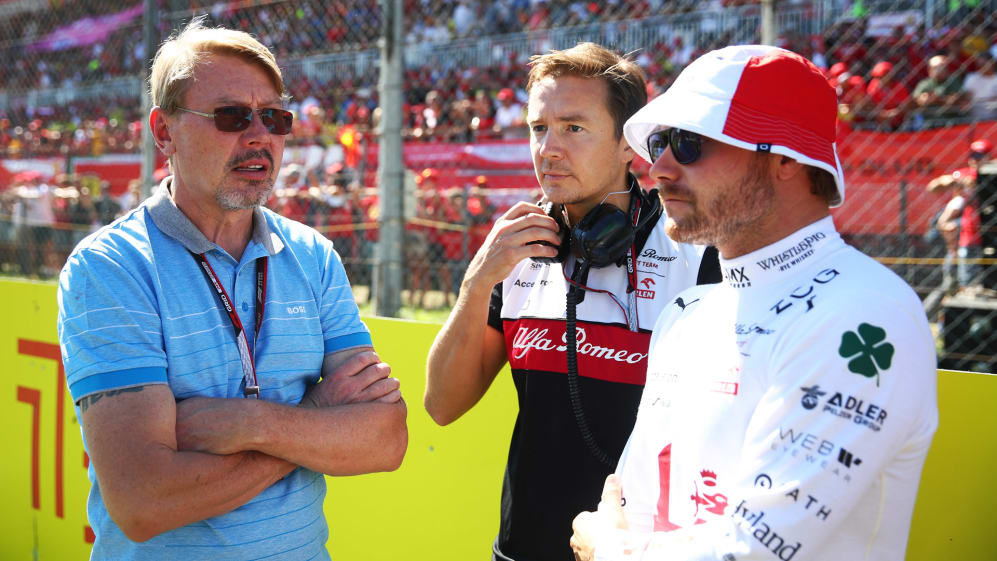 Now, I think I'm definitely more comfortable with everything in my life, I have a great balance, everything is in great harmony, plus the atmosphere here at Alfa Romeo means I feel like I can truly now be myself and do things that I like.
But I think nobody should be mistaken: I still take F1 really, truly seriously. It's my dream job, and I still have big, big goals for the future.
BEYOND THE GRID: Mika Hakkinen on his amazing comeback in 1996, fighting with Schumacher, and winning two championship titles
Mika is part of that. He's still one of my managers and it's great to chat to him sometimes, not just about F1 and driving but everything involved with being in the paddock, because he's seen and experienced so much in and out of Formula 1.
If ever in doubt, ask Mika.
Top 10: Moments of Mika Hakkinen Brilliance