From a second chance from pole position for Charles Leclerc to two old rivals side-by-side, and from progress for McLaren to multiple opportunities for the race to be turned on its head, Chris Medland highlights some key areas to look out for when the lights go out at the Baku City Circuit on Sunday…
1. Can Leclerc convert?
Red Bull entered the Azerbaijan race weekend as the dominant team with three pole positions and three wins from the opening three rounds of 2023. But that run came to an end on Friday when Charles Leclerc took pole – his third in a row in Baku.
Leclerc backed that up with another pole in the Sprint Shootout on Saturday, but was unable to hold off Sergio Perez in the Sprint itself, settling for a solid second place ahead of Max Verstappen.
With Friday's session setting the grid for the Grand Prix on Sunday, Leclerc will be in a familiar position when the lights go out and now has that experience from the Sprint after seeing his tyres fade in the latter stages – although the same can be said of every other driver in the field.
READ MORE: Perez beats Leclerc and Verstappen to victory in action-packed Baku Sprint race
If we focus solely on the previous races this year, it's been a tough run for Leclerc who has picked up just six points on Sundays, retiring twice and finishing seventh in Saudi Arabia.
There are parallels with Max Verstappen's season last year though, as the defending champion retired from the same two races as Leclerc, before taking pole position at the fourth round – also a Sprint but this time in Imola – and going on to win that race.
2023 Azerbaijan GP Qualifying: Charles Leclerc crosses the line to seal pole position in Baku
2. Hamilton vs Alonso
As much as the battle for victory will be a fascinating watch, the third row of the grid provides us with one of the most exciting line-ups possible as we're set to be treated to another instalment of Lewis Hamilton versus Fernando Alonso.
While the pair have a lot of history, it has been a long time since they had such closely matched cars to be able to fight with each other on a regular basis, which is what they've done on multiple occasions this year.
READ MORE: Verstappen and Russell at odds after dramatic first-lap Sprint skirmish in Baku
Alonso came out on top in Bahrain with a stunning overtake on his way to third place, while Hamilton responded with a faultless drive in Melbourne to hold onto second ahead of the Spaniard.
Ferrari have looked comfortably quicker than both Mercedes and Aston Martin over one lap so far during this weekend but as the Sprint showed the race pace is closer with George Russell beating Carlos Sainz to fourth on Saturday, so it's not beyond the realms of possibility that Hamilton and Alonso could be battling it out for a spot on the podium once again.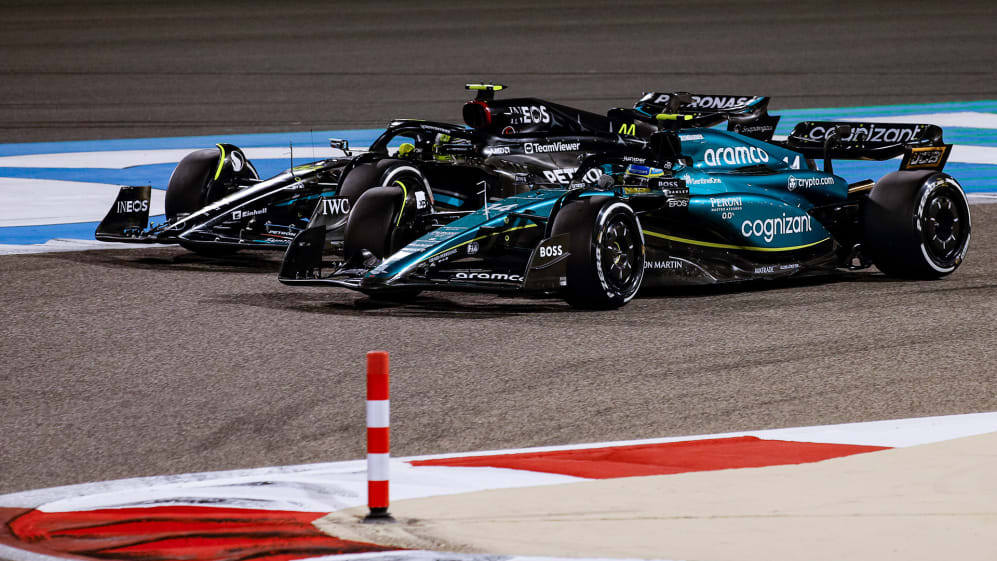 3. The proof of McLaren's step forward
Ever since the pre-season launches, McLaren have been speaking about their planned upgrade for this weekend, having been unhappy with the initial specification of their car.
A new floor in particular has led to clear progress even with just one practice session to prepare with, as both Lando Norris and Oscar Piastri reached Q3 on Friday.
READ MORE: Who gained and lost the most positions in the Baku Sprint?
That's the first time Norris has done so this season, and he will line-up seventh ahead of Piastri in tenth place, the pair looking for another double-points score to back-up their result in Australia that moved them into the top five in the constructors' standings.
That race did come their way due to the chaos that unfolded late on, but now McLaren have a chance to show what their updated car is like over a full race distance and if they're a force to be reckoned with in the battle to be best of the rest behind the top four teams, or if they can even start to trouble the likes of Aston Martin and Mercedes at certain venues.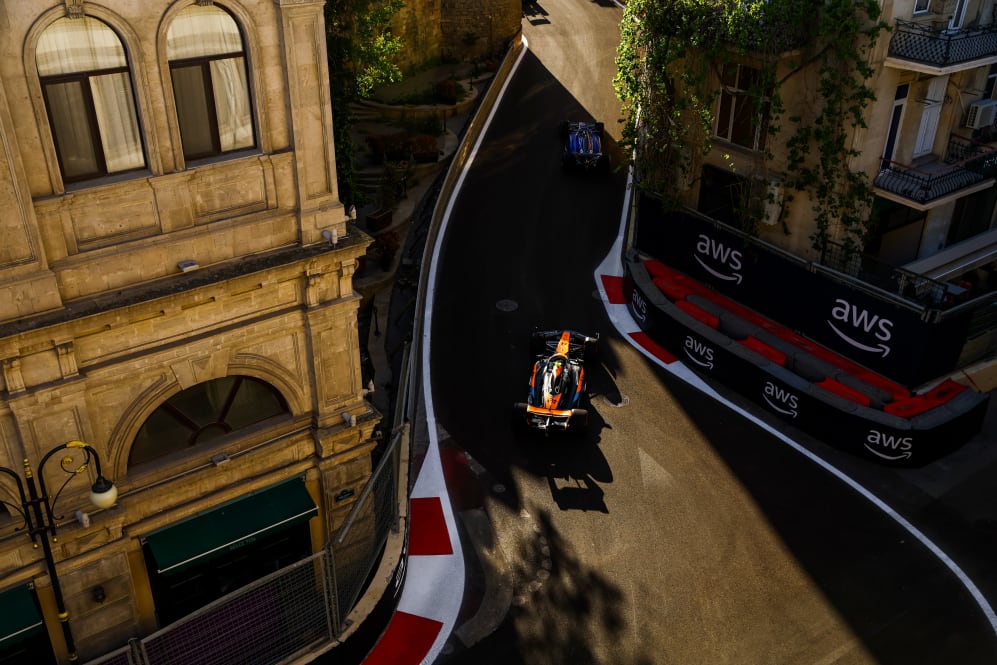 4. An Alpine fightback
Heading into the race weekend, it wasn't only McLaren who were excited about their upgrade, as Alpine brought a number of new parts to Baku in order to try and put the pressure on the top four teams.
There have been a number of races where Alpine have been able to get close to those ahead – becoming a threat to the likes of Ferrari in Saudi Arabia and seeing Pierre Gasly fighting for a podium for much of the Australian Grand Prix – but the final results have been lacking.
READ MORE: Ocon to start Azerbaijan Grand Prix from pit lane after Alpine make parc ferme changes
Unfortunately we didn't get to see the potential of the car on Friday or Saturday, as Gasly suffered a hydraulic issue in first practice and then crashed in qualifying. That should have left him as the only one requiring a comeback – and only on Sunday – but further exhaust problems took him out of the Sprint Shootout and then Esteban Ocon's car was taken out of parc ferme, forcing him to start from the pit lane.
So both Alpine drivers have it all to do from the back of the grid in Azerbaijan but it's a venue that has shown absolutely anything can happen on numerous occasions, and the potential pace of the car suggests both drivers will be hoping they have a chance of getting close to the points.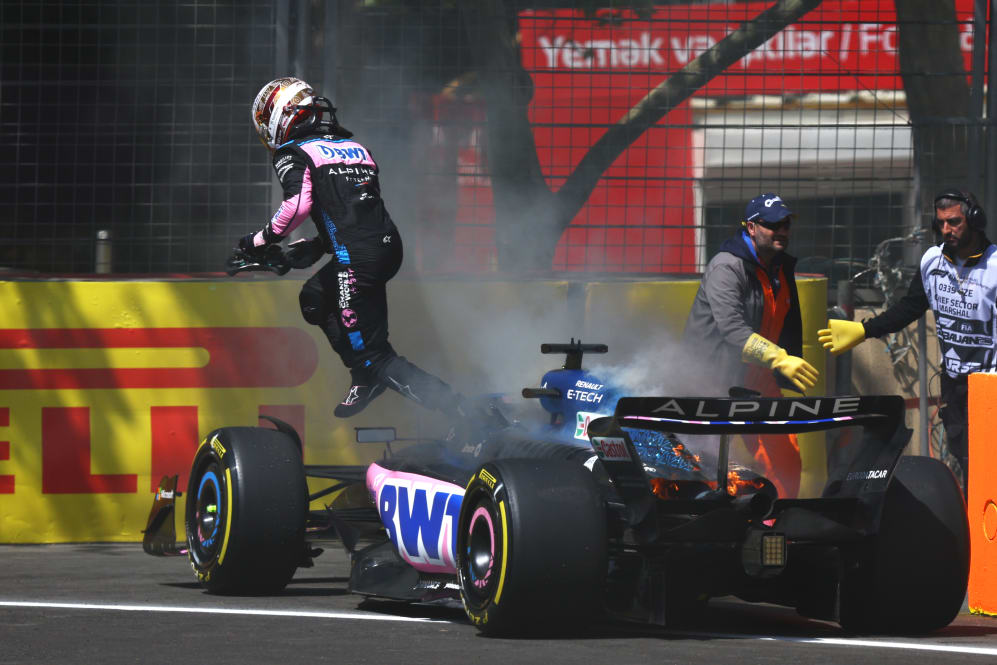 5. 'Baku syndrome'
The race organisers have a term for the chaos that often ensues around the spectacular street circuit here, calling it 'Baku Syndrome'. We've had all sorts of action in the past – red flags, controversy, team mates colliding, late retirements, two-lap restarts, surprise podiums – and it all adds up to the fact that there's never been a repeat winner.
That could all change on Sunday but whoever is going to win the race could well face a number of curveballs. The Safety Car probability is high – we've had either a Safety Car or Virtual Safety Car spell in each of the past five races here, and even got both in the Sprint – while red flags are also a common occurrence.
It's no surprise then that seven times in six races there has been a podium finisher that started outside the top five positions, while the driver lining up on pole position has only won this race twice. No wonder the race's tag line this year is 'Expect the unexpected'…
HIGHLIGHTS: Watch the action as Sergio Perez wins a dramatic Sprint on the streets of Baku