Le Mans: 24 hours of intense racing on just a single set of brake pads and rotors. For the past 20 years or so, in fact, that's been standard operating procedure for the LMP1 prototype teams. What sorcery allows brakes to live for so long? Two words: carbon-carbon. That means brake setups that feature both carbon rotors and carbon pads.
"The rotor starts out as a few different types of raw materials which are made into fibers," explains Brandon Miller, who provides race assistance and special production support at Brembo North America. "The fibers and resin are made into a preform, which is a clothlike material. The rotor fibers are longer whereas the pads are made up of smaller fibers." Any further details about their composition are top secret.
Carbon-carbon setups offer a few big advantages over traditional iron rotors, including lower weight, a high friction coefficient, instant heat dissipation and consistent performance. Carbon rotors also don't expand and contract like their iron counterparts.
During this year's 24 Hours of Le Mans, we learned a bit more about brakes from Brembo. By the company's math, it supplied braking parts to 96.7 percent of the cars in the field.
BETTER BRAKES: CARBON VS. CAST IRON
LIGHTWEIGHT: Carbon's big advantage is its weight–or, rather, its lack of it. Each LMP1 carbon rotor checks in at just 5 pounds. Compare that to the 24-plus-pound cast-iron rotors found on the front of a GTE car.
LOW WEAR: During the entire 24 Hours of Le Mans, Brembo reports that its carbon rotors lose 3 to 4mm of thickness. Pad wear is around 8 to 10mm. The iron rotors only shed about 1mm, yet their metallic/ceramic pads lose about 20mm. Plus, iron rotors develop cracks: tiny ones that inevitably form due to stress, and occasionally bigger ones caused by thermal shock. (More on that in a minute.)
UNIQUE FEEL: "Carbon material is harder and stiffer when compared to a cast-iron system, however there are many other contributing factors to the 'feel' of a brake system," explains Brembo's Brandon Miller. "This includes, but is not limited to, the friction material used, the design and material used for the upright, the size of the brake lines and master cylinders, the design and material of the caliper, and the tire compound."
WIDE TEMPERATURE RANGE: "The Brembo carbon has a very wide range of operating temperature," Miller explains. "We have come a long way since the days of running a carbon brake system at a higher temperature range in order for it to produce friction." For optimum performance and wear, he continues, carbon should be run between about 660 and 750 degrees Fahrenheit–roughly the same as an iron rotor setup. However, he adds that carbon brakes create friction from ambient temperatures up to and exceeding 1475 degrees Fahrenheit.

Photograph Courtesy Brembo
LESS SHOCK: Carbon rotors are tougher, too, as they're not susceptible to thermal shock. "Thermal shock is when the rotor becomes too cold–from the long straights at Le Mans as an example–and then heats up too quickly," Miller explains. "This causes the cast iron to distort and ultimately crack. This is something we don't have to worry about when using a carbon rotor."
MONOBLOCK CONSTRUCTION: All of the Brembo calipers found on the Le Mans grid feature monoblock construction. That means the entire caliper body, including the fluid passages, is machined from a solid block of metal: aluminum/lithium alloy for the LMP1 cars and just aluminum for GTE. Figure about 5 pounds for an LMP1 front caliper and nearly 7 pounds for a GTE front caliper. Why the one-piece design? Less flex. It's trickier to produce, of course. (And in round numbers, we're talking about $3500 to $4000 per caliper.)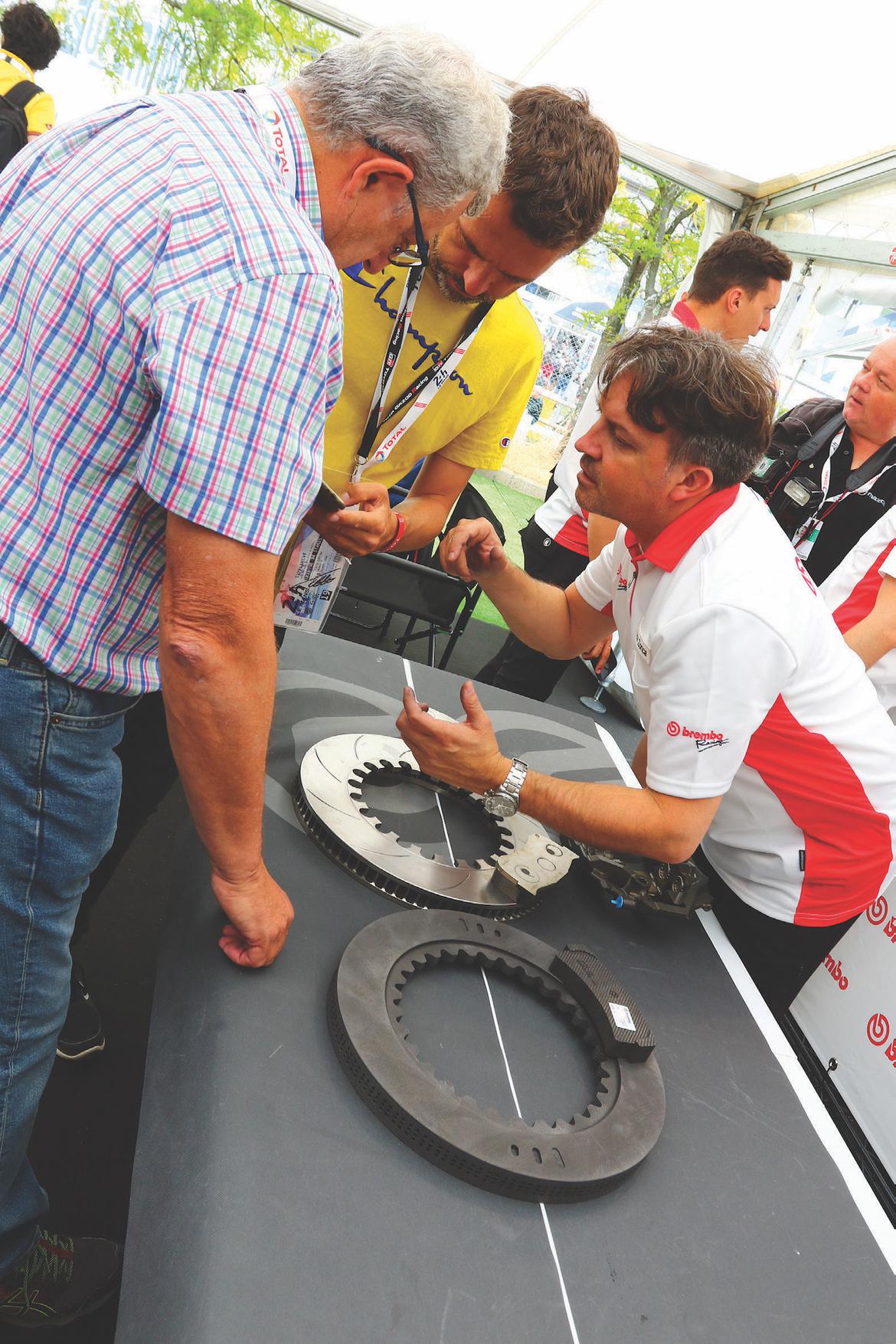 Photography Credit: David S. Wallens
SLOTS FOR STOPS: The slots found in the iron rotors aid both bite and brake modulation. Different patterns are offered so teams can personalize braking feel.
COOL FLUID: As the pads wear, more fluid fills the caliper. To help keep the fluid cooler, titanium piston inserts mitigate heat transfer.
QUICK CHANGES: Thanks to dry breaks, changing a caliper takes about 35 seconds. Swapping pads, Brembo says, takes just 25 to 45 seconds. If an opportunity to change pads arises–due to a full-course caution or extended pit stop, for example–some teams do so around the halfway point so their car finishes the race on relatively fresh pads, meaning less fluid behind the pistons.
MONITOR ALL: GTE and LMP1 teams can both run temperature sensors for each rotor and each caliper. Someone back at mission control monitors that info to spot brake problems early.
NO BED-IN REQUIRED: Carbon-carbon brakes don't require a bed-in process. Before the big race, teams running traditional iron rotors must bed-in sets of pads and rotors.
THE BIG COST: Of course, this performance doesn't come for free. The process of making a carbon rotor is complex and requires a lot of time, explains Daniele Bettini, Brembo's motorsport press officer. Each LMP1 rotor, for example, features 430 ventilation holes, each one precision drilled.
Then there's the interface between the rotor and the center mounting hat. Two-piece, cast-iron rotors feature a floating rotor secured by hardware. Carbon rotors are tightly secured by a sprocket gear-like arrangement that, like the cooling holes, requires a lot of fine machine work.
So, what's the actual cost? The carbon parts come out of Italy, so we need to talk euros here: Figure 500 euros (about $560) for one cast-iron rotor as found on a GTE car and 4500 euros (about $5000) for a single LMP1 carbon disc.