[Editor's note: This article originally appeared in the December 2021 issue of Grassroots Motorsports.]
Vintage racing is for old cars, right? Well, reality check: The '80s and '90s didn't take place yesterday. And considering the climbing interest in cars from that era–thank you, Radwood–perhaps it's time to put a few of them on track. 
Whether showing or tracking, the big allure of the Rad era remains the same: nostalgia. That word can mean different things to different people. For some, it's Brylcreem and Beatle boots; for others, it's all about big hair and BMX bikes. The Rad spectrum is just as wide. 
"You can race anything from a Pinto to a Porsche 962," says Brian Walsh, head of the IMSA RS/SCCA 2.5 Challenge Reunion Races, an effort focused on door-slammers from the '70s and '80s. "GRM readers can relate because a 1990 Miata is now considered vintage."
Where Brian ran Fox-body Mustangs in the IMSA Firehawk series back in the '80s, he now campaigns a purple Ford Pinto for a simple reason: It's one of the cars his dad drove. Brian's dad, Jerry Walsh, founded Ford tuning house Racer Walsh, which Brian now runs. 
That nostalgia can extend to later cars, too, and you don't have to work in the industry to participate. "I've always been a touring car fan, even as a kid," notes Rudy Glarner. "Watching bits and pieces of Super Touring in Europe when I was younger, or reading about it in magazines, it was always such a thrill. When World Challenge gained popularity in the early 2000s, it was the same sort of appeal for me, only now I was able to watch live–and on Speedvision and Speed!–and the cars were more relatable and attainable."
While Rudy wasn't old enough to partake in that golden age of motorsports, several years later he stumbled upon a piece of it: an E46-chassis BMW–some assembly required–originally campaigned by BimmerWorld in the Speed World Challenge series back in the mid-2000s. 
"It was also a fun period to learn about the car and unravel its prior history before me, figuring out how many chassis BimmerWorld had, where they went, etc.," he continues. "Restoring it back to the original spec and livery was also something I always wanted to do as a project, as I'm also a fan of historic cars and vintage racing in general. I love that when I sit in the car, it just speaks to you–rich in history and pedigree, all of its bumps and bruises telling a story. I tried to keep as much of it as original as possible when putting it back together."
The '80s motorsports scene featured all of the day's greatest hits, from V8 pony cars to front-drivers. Deep cuts included rarities like the Chevy Citation X-11 campaigned by Don Yenko and Jerry Thompson during the 1981 IMSA Champion Spark Plug Challenge. Photography Credits: Mark Windecker
Rudy says the car has proved reliable and rewarding to drive. "The early World Challenge cars are a great bang for buck," he continues, "as they are built on the same level as a fairly aggressive club race car but without the running costs and short-time lives of the later, more exotic World Challenge builds of the late 2000s–before the rules changed in '09 and '10." (Why is he looking to part with the BimmerWorld car? He found an E30 M3 and wants to build a DTM replica.)
The reality is that most teams can't hold on to all the cars that pass through their hands. "I never had the money to keep any of my cars," notes James Clay, president of BimmerWorld. "They always went to fund the next ones. 
"It's pretty amazing to see some of the old equipment we had restored and running these days," he continues, "and honestly, it's super cool that we've gotten to the level that people want to run the cars we built when we were first building our business. It's an honor to see them out there."
Pete Mansolillo, a longtime racer and owner of Muscle Car Jr., an Atlanta-area specialty dealer, reiterates how yesterday's race cars are today's deals. "In their time they cost quite a bit to build and be competitive, like any race car," he notes. "Today, they can be had for pennies on the dollar. If you kept an actual log on what it takes to build a car, most people would pass out; it's the little things that really add up."
Why reinvent the wheel? he asks, as the recent past contains some excellent engineering. "The '80 and '90s were the epitome of Speed Channel racing; the Escort and Firehawk series were in full swing."
Why race an older car? Look toward Brian Walsh for inspiration. He races the very Ford Pinto that his dad–that's Jerry Walsh in the Nomex–ran back in the '70s. As Brian notes, an '80s or '90s historic racer can range from a Miata to a Porsche prototype. Photography Credits: Courtesy Brian Walsh (top, middle), Bill Stoler (bottom)
He points toward two Vipers in his inventory. Both were built in the '90s for the Speed World Challenge series yet never raced under that umbrella. Pete figures someone spent at least $200,000 to prep each car. He's asking $54,000 for one and $42,000 for the other. 
This growing interest in Rad-era cars has also changed the market, he reports. "My demographics went from 45-to-65-year-old white guys to 20-to-40-year-olds almost overnight."
Part of the reason for those lower costs: "They're not in as much demand as a street car," explains Hayes Harris, owner of classic and historic race car dealer wirewheel.com. "It's a very limited market."
Why is that? For one, race cars can't be driven on the streets–at least usually. "You wouldn't believe the number of people who call me and ask if they can put a race car on a street," he says.
But certain factors can make one race car more valuable than another. Models that can run at the front of their field tend to command premium prices for the simple fact that racers like to race for the win, he adds. "No one wants to run at the back of the pack no matter how cool the car is," he adds. 
Cars that have an international following also tend to be worth more. "A car that's been raced at Sebring, Daytona, has world-wide appeal," he explains. "You can race it anywhere in the world." Likewise, popular street cars make popular race cars. 
Finally, cars that remain period-correct tend to fetch more. Once a car has aged out from a pro series, he explains, it often moves to the club ranks, where subsequent owners might make updates and changes to keep pace with the pack. 
"It's rare to find one as it was raced," he says of competition cars from the '80s and '90s. "If I buy one of these cars, it is worth the investment to put it as it was raced back in the day."
His parting advice: Buy a car you simply like. 
Fortunately, today's market is still rife with race cars from this era. As usual, you just have to do some digging. Look to the next page for some of the machines we've found out there.
Rudy Glarner's historic racer comes from the 2000s; he found one of the BMW sedans that BimmerWorld ran in the Pirelli World Challenge series. From the upper left: how the car originally raced, how it looked when found, and how it looks today. Photography Credits: photosbyjuha.com (top), Courtesy Rudy Glarner
1982 Ford Escort
Bring a Trailer • $6500 • SOLD
The IMSA Radial Sedan series ran from 1969 through 1993 and, despite some changes over the years involving title sponsors, series names and exact rules, always featured race-prepared, small-bore sedans–think cars like the Datsun 510, Mazda RX-3 and Ford Pinto early on and eventually machines like this Ford Escort, the VW Rabbit and the like. As the series name suggests, these cars ran on radial tires–new technology for the day. 
The program adopted the ProFormance name in 1985 before becoming known as the LuK Clutch Challenge five years later. Huge fields and liberal rules–the definition of "small-bore" always just included the inline-six cars from AMC–mean lots of available cars with history today. 
1978 Mazda 808
Bring a Trailer • $15,250 • SOLD
IMSA launched its GT Championship in 1971: small-bore cars in GTU and big-bore machines in GTO. It quickly became a top-tier pro series in the States, and it only became bigger when the GTP prototypes joined the program a decade later. These teams eventually ran at international events like the 12 Hours of Sebring and 24 Hours of Daytona, basically defining the American sports car racing scene well into the '90s.
While IMSA GT cars originally used stock tubs, rule changes allowed tube-frame cars by the middle of the '80s. This gave rise to wild creations like rear-drive Celicas and rotary-powered Mazda MX-6s.
Before the move to those silhouette racers, the Mazda RX-3 served as a popular GTU entry for many years. A group of Saudi Arabian enthusiasts built this Mazda as a GTU tribute that they donated to the Indianapolis Motor Speedway Foundation in 1987. Instead of using a RX-3, however, they built an 808–similar looks but propelled by a piston engine instead of Mazda's popular rotary. 
1982 Oldsmobile Cutlass
Bring a Trailer • $30,000 • SOLD
Not just a G-body fitted with box flares, but one with some serious provenance: Dale Earnhardt Sr. drove this very car early in its career, back when it was originally bodied as a Pontiac Ventura. Tex Enterprises converted this tube-frame machine to road race specs while rebodying it as Cutlass. Sam Moses then drove it in the 1983 Kelly American Challenge, an IMSA series for tube-frame cars that ran from 1977 through 1989–picture NASCAR stock cars adapted for road course use. Moses documented his experience in "Fast Guys, Rich Guys and Idiots." 
1986 Mazda RX-7
Cars & Bids • $4350 • SOLD
Club race cars from the '50s and '60s fill the grids at Monterey, so why not something similar from a later decade? Go back to SCCA grids of the '80s and '90s–basically before the proliferation of Spec Miata–and you'll find lots of cars prepared for the Improved Touring classes: modified production cars running on DOT-legal, R-comp tires. 
As the description for this second-generation RX-7 explains, the same family campaigned the car since 1992, running in SCCA Improved Touring as well as NASA and Midwestern Council events. And as the photos in the listing show, the graphics scheme remained faithful to the '90s the entire time. 
1987 BMW 325is
Bring a Trailer • $15,750 • SOLD
When the IMSA RS series adopted the ProFormance name in 1985, it also made a format change: front-wheel-drive cars only. However, the sanctioning body launched another endurance series at that time that welcomed both front- and rear-drive cars, including V8-powered models. Mild modifications were allowed with the rules requiring newer cars, meaning the grids featured the greatest hits of the '80s. This type of competition became known as street stock endurance racing. 
Firestone stepped in as the spec tire supplier in 1987, creating the Firestone Firehawk Endurance Championship. This series can be called the spiritual predecessor of today's IMSA Michelin Pilot Challenge, although along the way street stock teams could also be found in the IMSA Endurance Championship, Speedvision Cup Endurance Championship, Motorola Cup, Grand-Am Cup, Koni Challenge and Continental Tire SportsCar Challenge–all, more or less, parts of an evolutionary story. 
A lot of fast street stock cars–both Hondas and BMWs–came out of T.C. Kline's shop. As the listing explains, T.C. Kline Racing prepped this E30 for IMSA back in the '80s, with the current graphics retaining that period vibe.
1989 Honda CRX Si
Bring a Trailer • $17,001 • SOLD
Today's SRO series can trace its roots back to the SCCA's Endurance Championship scene of the '80s, and title sponsors included Playboy as well as radar detector manufacturer Escort. Cars remained close to stock, with the rules mandating DOT-approved rubber. Classes welcomed both big and little cars. Interest in the series was big, too, with the first race attracting 87 entries. 
Peter Cunningham and Scott Gaylord drove this very Honda CRX Si to the manufacturer's title in 1989, and it was also featured in Honda's advertising of the day. The selling price falls in line with current values for CRX street cars. 
1990 Chevrolet Corvette RG9
Mecum • $36,300 • SOLD
For the price of a new, loaded Honda Accord, someone bought one of the 23 Corvettes built by the Chevrolet factory for the 1990 World Challenge season–the SCCA's successor to its original Endurance Championship. This Corvette wasn't some back marker, either, as it claimed that year's team title.
1996 Dodge Viper
Muscle Car Jr. • $54,000 • FOR SALE
The world is full of racing cars that were built yet never campaigned–like this Viper, which is part of a matched pair currently available. They were both built for the Speed World Challenge series–the seller figures about $200,000 was spent to prep each car–but never saw competition in the pro ranks. 
1988 Porsche 944 Turbo Cup
LBI Limited via Rad for Sale • $90,000 • SOLD
Porsche entered the spec racing scene in 1986 with its own series for the 944 Turbo Cup, a factory-built, street-legal race car. Each one weighed about 600 pounds less than the standard 944 Turbo and received a seam-welded chassis, full roll cage, fiberglass hood, adjustable suspension, magnesium wheels and, of course, more power–about 300 horsepower compared to 217 for the stock U.S.-spec car.
Turbo Cup programs ran in Europe, Australia, South Africa and Canada–often with TV coverage and all the related pageantry–with 39 of these cars dispatched for Canada's Rothmans Turbo Cup in 1988. Another 11 cars were sent to the U.S. for the SCCA Escort Endurance Series. Porsche only built about 200 Turbo Cups during the 1986-'89 model run, and Rick Bye ran this one in Canada during the 1988 and 1989 seasons. 
1992 Porsche 911 Carrera Cup
Bring a Trailer • $210,000 • SOLD
Porsche planned a one-make series for its 911 in the U.S., sending 45 factory-built, lightweight specials stateside in 1992. These cars sported niceties like thinner glass, seam-welded chassis, limited-slip differentials and aluminum hoods. Andial, a California prep shop, got 25 cars ready for competition before the series was canned; all of the cars then had to be converted back to road use. Some of them, however, were eventually prepared for the track.
1995 Ford Mustang Cobra R
Barrett-Jackson • $46,200 • SOLD
For the day's professional street stock race teams, Ford unleashed the 1995 Mustang Cobra R. This limited-run model received an upsized 5.8-liter V8, factory Koni dampers and a fiberglass hood. It even came delivered with a fuel cell. Many were raced, some were destroyed. A few, like this one, survived in as-delivered condition.
1995 BMW M3 Lightweight
Bring a Trailer • $82,500 • SOLD
BMW North America also planned something special for street stock teams running in the 1995 season, conjuring up a lightweight version of the just-updated M3. This spec sheet included aluminum doors, deleted sound deadening, a quicker final drive and stiffer suspension. The car came with a trunk full of parts that technically couldn't be installed at the factory: lower X-brace, front splitter, deep oil sump and that towering wing. 
One small issue: While about a dozen cars showed up in time for the 1995 season, the rest arrived too late. About 125 cars were eventually delivered. "You could not give them away," notes Erik Wensberg, BMW M brand manager at the time. Some cars did wind up on track, although many, like this one shown here, remain in unraced condition.  
1995 Porsche 993 GT2
AJR Restorations • price on request • FOR SALE
After retiring from fielding top teams in the professional ranks, Alex Job has concentrated on restoring later Porsche race cars–mostly models with pro racing experience from the '90s and later. Among his current inventory is this 993 GT2: third at Sebring in 1996 plus a World Challenge title in 1998.
1999 Porsche 911 Carrera Cup
RM Sotheby's • €49,500 • SOLD
A legit 996-chassis Porsche GT3 street car now fetches about a hundred grand. This GT3 Cup–that's the factory-built race version–sold for about half that, the equivalent of not quite $58,000. This isn't just any GT3 Cup, either: It's the one Randy Pobst drove to four wins during the 2002 Speed World Challenge series. 
2001 BMW 325i
Racing Junk • $35,000 • SOLD
World Challenge carried title sponsorship from the Speed TV network from 1999 through 2010, with the small-bore Touring Car class perfectly capturing the day's sport compact scene–all the hot makes and models campaigned by the biggest tuners of the time. European-style touring car racing had come stateside. 
BimmerWorld built this one for the 2004 and 2005 seasons, and afterward the team used it sporadically as the E90 chassis came online. The car eventually made its way to the Canadian Touring Car Championship before its current owner found it in need of restoration. 
1991 Honda Beat
Duncan Imports & Classics • $12,777 • FOR SALE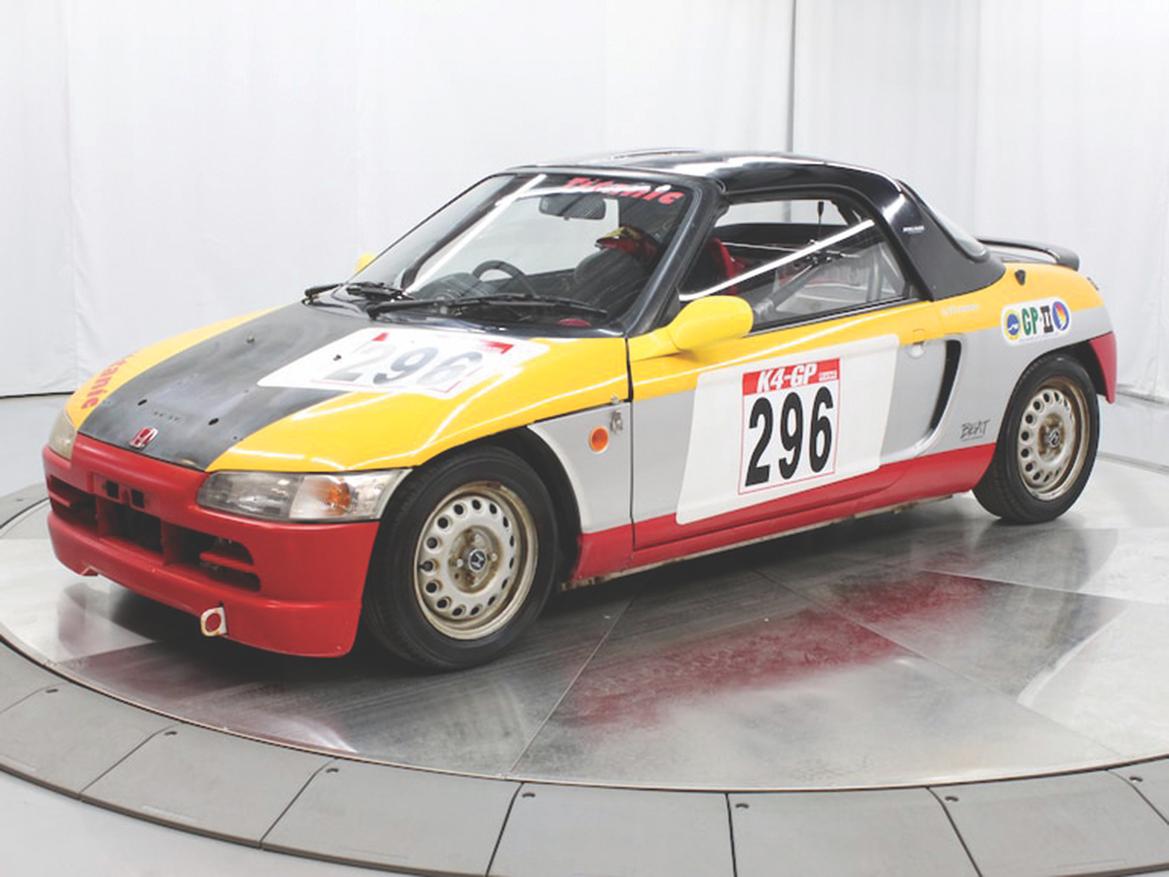 The Honda Beat was never officially imported into the U.S., but now that it's more than 25 years old, it's fair game. Judging by the stickers, this one has seen action in the K4GP, an endurance contest held at Fuji Speedway.
1994 Toyota Celica GT
Bring a Trailer • $5200 • SOLD
This Celica was prepared for the Toyota Pro/Celebrity race series and, according to the listing, "is believed to have been a backup car for several runs of the event." No word on whether Alfonso Spears or Jake Hanson ever drove this one, but it does retain the period livery for the spec race that added some Hollywood sizzle to the Toyota Grand Prix of Long Beach from 1977 through 2016.
1995 Dodge Neon ACR Coupe
Grassroots Motorsports forum • $9995 • FOR SALE
The Dodge and Plymouth Neon landed with a splash in 1994, along with a factory race package: better shocks, a retuned ECU, shorter gearing and some parts-bin engineering to minimize weight and increase durability. And then there was the healthy contingency program. 
These ACR Neons immediately became immensely popular in autocross and SCCA Club Racing–both single-cam sedans and twin-cam coupes–with a Celebrity Challenge series adding something for the masses. This particular Neon ACR originally competed in the Celebrity Challenge before running SCCA Showroom Stock races in private hands. 
1994 Dodge Avenger
Barrett-Jackson • $47,300 • SOLD
For a few years there in the mid-'90s, the International Race of Champions ran Dodge Avenger bodies–this was after the Dodge Daytonas but before the Pontiac Firebirds. This particular Banjo Matthews chassis had been part of the IROC fleet since 1984, with several drivers taking it to victory lane: Dale Earnhardt Sr., Mark Martin, Neil Bonnett and Geoff Brabham. Others who drove this chassis in IROC competition include A.J. Foyt, Al Unser Sr., Hurley Haywood, Rusty Wallace, Tommy Kendall, Bob Wollek and Darrell Waltrip. Provenance? Yes.
1988 BMW M3
Bring a Trailer • $61,000 • SOLD
Not the legit Bastos/Motul BMW M3, but a good replica that has some Group A rally history–the car spent most of its life over in the U.K. The selling price is more or less within range for a street M3, but maybe even a better deal.
1980 Mazda RX-7
Bring a Trailer • $6000 • SOLD
The U.S. rally scene dates back decades, meaning lots and lots of cars are out there, many still looking as they did back in the day. One example: this early RX-7 that, according to the listing, was prepared for rally in the late 1990s.
More like this
Comments
View comments on the GRM forums
You'll need to log in to post.
Log in