Story by J.G. Pasterjak and Robb Holland
International travel isn't so easy these days, but we can still visit some of the world's most amazing race tracks–all through the magic of iRacing, the dominant player in today's motorsport simulator scene. 
But can all of the digital trickery of the most popular racing sim come close to approximating the experience of driving these storied circuits? Or are you just playing a video game that has no bearing on IRL driving performance? To answer those questions, we brought in a professional: 
"Hey, guys. I'm Robb Holland and I have been fortunate enough over the almost two decades of my professional career to have raced all over the world. I was based at the Nürburgring for five years and have raced in multiple 24-hour races there, along with stints in the British Touring Car Championships, the FIA World Touring Car championships, the Macau GP, Pikes Peak Hill Climb, Pirelli World Challenge and more. 
"I've spent time behind the wheel at all the tracks in this story, both in real life and now in iRacing. Like so many people, in 2020 I dove pretty hard into iRacing competition, both as a diversion and as a training tool. Having real-world experience at so many of these tracks made it very interesting to put some of my comparative insights on paper."
Daytona International Speedway: Daytona Beach, Florida
Located right in GRM's own back yard, Daytona International Speedway hosts the annual kickoff for all of big-time sports car racing: the Rolex 24 At Daytona. Too many big names to list have competed in this twice-around-the-clock-spectacle that, due to Florida's typically weird late-January conditions, has been contested in nearly all kinds of conditions, from near-freezing temperatures to sweltering, low-angle sun. Sometimes it rains. A lot. Oh, and that one year it was really foggy.
Daytona has relatively few turns, and its surface is smooth and mostly predictable. As a result, 24-hour races here typically come down to multi-car, nose-to-tail contests in the final laps. The challenge of Daytona is not to overcome a difficult track–that honor goes to Sebring–but to operate at a near-perfect level for an impossible duration.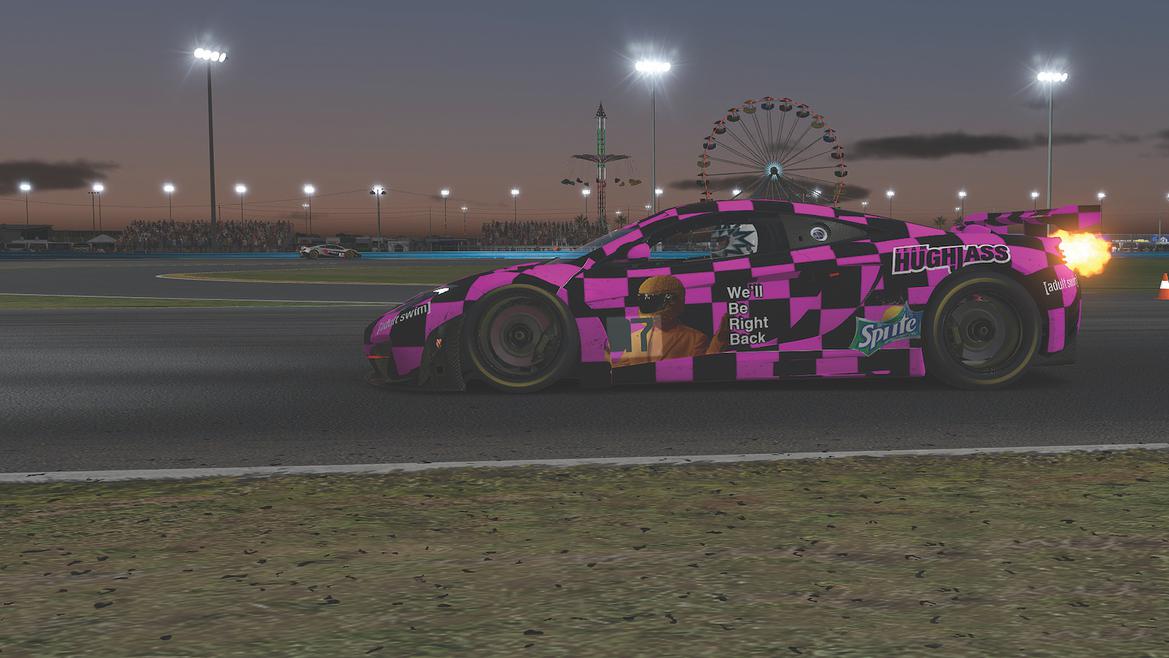 Daytona International Speedway might be one of the world's most famous tracks, but it's also quite accessible–and not just via iRacing. Many club-level series, including the SCCA's Track Night in America, regularly run the Florida high banks. Whether virtual or not, patience will pay off here: Maintaining momentum is key. 
Robb's Take
Daytona is ultimately a pretty straightforward and uncomplicated track, so the millimeter precision of iRacing really shines here. Little nuances, like the texture changes at the exit of the International Horseshoe (if you get out too far or track out too early), really come through. So does the way your grip changes with small line adjustments through the Kink because of the compression differences from the road camber at the extreme inside edge of the track.
At Daytona, the main factor that can't be replicated in simulation is the feeling of running on a 33-degree banking. Visually, iRacing gets it right–the way you're looking ahead by looking up instead of sideways, for example–but the sensation of literally driving up the side of the wall just can't be matched outside of being there. 
Also, the scale of the facility is missing. That's one thing I always remember from when I first came to Daytona: how incredibly vast the facility is. And you perceive that massive scale differently depending on if the track is packed with people, like at the 24 or the 500, or practically empty, like at a club event. Being inside that vast bowl is a singular experience.
Robb's Daytona Speed Secret
Daytona requires a focus on maintaining momentum and slow, deliberate steering inputs–or "slow hands," as every driving instructor you've ever had has probably said. Daytona has a lot of very long corners that you spend a lot of time in, but those exits are critically important. So every input beyond the bare minimum is a chance to upset the car and lose momentum. This track is an object lesson in patience and precise execution.
One of the coolest things I've ever experienced at Daytona–outside of a race car–is going up on the Ferris wheel at night during the 24 Hour. It's worth putting up with whatever weather is going on to see the race from 100 feet above the track. If you're lucky enough to time it so you're on the wheel during the Saturday evening fireworks, it's an experience you'll never forget.
Suzuka International Racing Course: Suzuka City, Japan
Originally built as a Honda test track and still owned by Honda to this day, Suzuka has seen mostly minimal changes to its 3.6 miles since opening in 1962. In addition to hosting F1, whose drivers rank it as a favorite for its old-school nature and diverse, raceable series of corners, Suzuka also sees an annual 10-hour sports car enduro, World Touring Car and Super GT action, and club-level events.
In a world featuring cookie-cutter F1 tracks, Japan's Suzuka stands out for being old school. This one features bumps, rises and actual character. Driving advice from pro Robb Holland: Be smooth to be fast. This isn't a place to jerk the car in and out of the corners. Take a deep breath, relax and work on being tidy. Then watch lap times drop. 
Robb's Take 
The iRacing crew doesn't just document the track; it takes tons of data and photos from the surrounding areas and incorporates it all into the virtual environment. This is a big deal for a track like Suzuka, which has a lot of gently rolling terrain that can make sightlines tricky. Having buildings and structures and other landmarks to use as reference points makes Suzuka particularly realistic.
The sim doesn't communicate Suzuka's camber nuances. There are several corners at this circuit where the camber changes from positive to negative mid-turn. Spoon Curve is a great example: There's a little rise in the middle of the corner, but as you start to power-on at the exit, the track starts falling away and delivers a bunch of understeer. 
This is much easier to manage in real life, since you have dynamic inputs from your inner ear and the seat of your pants to guide you. In the sim, you have to rely on just your sight, hearing and hands to get a feel for how much throttle you can get away with without understeering off the track.
Robb's Suzuka Speed Secret
Suzuka is very similar to Daytona in that it's a track where you have to do everything you can to maintain momentum or you'll just end up slowing yourself down. You can't "force" a lap at these tracks. Your "attack" mode needs to be a very smooth, almost Zen-like approach and not a toss-and-catch fest. It may look cool to do it that way, but it will just result in lower lap times. At all times on these momentum tracks, you need to be managing friction, making gentle inputs to not create any friction you don't absolutely need.
Suzuka itself is not a particularly great place to spend a lot of time. There is a fun little amusement park just outside the circuit, but other than that, there's really not much else to do in the area. And other than Formula 1, there's not a huge amount of tourist activity at the circuit, so most of the local hotels are fairly small and dingy–other than a couple that have been built recently. 
My recommendation is to spend most of your time in Tokyo. One of my favorite places there is officially named Omoide Yokocho (Memory Alley), but everybody calls it Piss Alley. It's a tiny, cramped, greasy alley in the Shinjuku district of Tokyo with insanely tiny yakitori shacks and izakaya (tiny Japanese bars) stacked on top of each other. It's an awesome, old-school Japanese experience that totally contradicts the buttoned-down, modern Tokyo that most everybody expects.
Mount Panorama Circuit: Bathurst, Australia
The Mount Panorama Circuit–frequently referred to simply as Bathurst due to its location in the town of the same name–may look like a dedicated racing circuit on TV, but it's actually fully accessible public roads for most of the days of the year. Wineries, hotels, businesses and even private residences punctuate the 3.8-mile circuit and are only accessible via the roads that define the track. Those roads, by the way, feature two-way traffic except during competition.
Most of the competitions held at the track are fairly high-profile: international GT enduros, Australian Supercar sprints, and a 6-hour enduro for everything from FIA GT3 machines to local club racers. There's even a long weekend of time trials every year, which has seen the outright fastest ever lap of the circuit by a GT3-spec Audi, but it also accepts club-level time trialers and track day enthusiasts.
As its name not so subtly implies, the circuit is built on Mount Panorama, and the route up to the peak and back sees grades as steep as 1 in 6; the track alone sees an elevation change of nearly 600 feet. Parts of the track are so narrow and lined on each side with concrete walls that an untimely 180-degree spin will result in either an assisted extrication from the circuit or a lengthy, Austin Powers-style U-turn under the direction of course marshals who are likely laughing at you, not with you.
Bathurst is tight, steep and hairy, with pro driver Robb Holland saying that it feels more like a hill climb than the usual road course–even though, ironically, public roads form the circuit. His tip for fast laps: be millimeter precise, pushing the car as close to the barriers as possible. However, a warning: one wrong move can knock you from contention. 
Robb's Take 
It's becoming an old refrain, but I just keep coming back to the accuracy of the geometry and physics of each corner. At Bathurst, there are several spots where the car is unweighted and you're basically a passenger for what can feel like an eternity. The sim does a great job of replicating those physics, even if all of your senses aren't necessarily experiencing them. 
The elevation change and steepness of the hills at Mount Panorama is something that is hard to get your head around, even when you're there in person. The mountain is by far the steepest gradient I have experienced on any race track in the world. It's almost more akin to a hillclimb than a circuit race. That elevation gives you a lot of extra grip on the uphill sections but takes it away on the downhill sections. And while iRacing does an excellent job of replicating the physics of these tendencies, the fact that your inner ear is sitting flat the whole time makes it hard to be consistent–especially with downhill braking. So, you have to rely a lot more on visual cues and timing than on feel.
Robb's Bathurst Speed Secret
Bathurst is all about being millimeter perfect. Once you start going up the mountain, there are concrete barriers on both sides of the track, just like any street course–think Long Beach or St. Petersburg. Unlike both of those tracks, though, the speeds at Bathurst through the corners is substantially higher and the elevation changes are insane. To be quick at Bathurst, you basically have to skim the barriers all the way around the track, requiring through-the-roof commitment levels. The simulated Bathurst is the best place in the world to learn that. In real life, these lessons can get expensive or painful in a hurry. If you learn to go fast at a virtual Bathurst, though, you'll have learned a lot of important lessons about commitment, muscle memory, and knife-edge precision and repeatability.
The Mount Panorama circuit is located about 3 hours west of Sydney. It's not technically the Outback, but it may as well be for how remote it feels, as much of the drive there from the big city is through arid desert. Once you're there, you might not want to leave your hotel room, as everything in Australia wants to kill you: poisonous snakes, dangerous insects, killer sharks, deadly crocodiles. Heck, even the kittens in Australia will shank you given half a chance. We ran into a "harmless" echidna (below) during a track walk at Mount Panorama, and although the guidebooks say they aren't dangerous, he still looked pretty suspect, so we gave him a wide berth. Actually, the town of Bathurst is pretty boring. It's an ex-gold-rush town from back in the day, but other than the Aussie Supercars race and the SRO 12-hour, there's really not much else going on. The track is so epic, however, that it's worth being bored the rest of the time.
Nürburgring: Nürburg, Germany
Perhaps no other track in the world has matched the legendary status of the Nürburgring. It's the standard by which many car manufacturers measure the worth of their performance models, and Nürburgring lap times stand alongside zero-to-60 and quarter-mile numbers as metrics of the capabilities of a sporting automobile.
Like the Mount Panorama circuit, the Nürburgring is also technically a public road, although it was built as a dedicated racing course in the late 1920s. But unlike Bathurst, the 'Ring is a limited-access, one-way, speed-unrestricted highway most days, meaning you can show up, pay the toll, and flog your car for all it's worth–at least until you slide into a guard rail. Expect a bill for the guard rail, by the way. 
In addition to public access, the Nürburgring also hosts organized racing events ranging from the legendary 24-hour race–which is contested by everything from factory-supported GT machinery to club-level entries–to more accessible organized track days and amateur racing events. 
In the virtual world, the Nürburgring is one of the standard tracks that a sim must replicate faithfully to be considered a contender in the marketplace. iRacing even has several user-created leagues that focus only on racing at the virtual 'Ring.
Nürburgring, like Daytona, needs little introduction: This 170-turn leviathan is the stuff of legend. For many, it's a bucket-list track. And it can also be incredibly tough to survive, never mind tame. Advice from our pro: "To be quick at the Nürburgring, you have to know the corners, but to be truly fast you have to know the bumps."
Robb's Take 
I was fortunate enough to consult with the iRacing designers during their process of scanning and mapping the Nürburgring, a track where I've spent a lot of time. (I even lived in a house just across the road for a while.) Maybe more than any other track in the sim, they've done a great job of capturing the "feel" of the track and the surrounding countryside–even the colors, the way the light comes through the trees, and the subtle, subconscious details of a place that make it feel different from another place. If you spend a lot of time in the sim and then go to the real track, it will instantly feel familiar.
There's an old saying: To be quick at the Nürburgring, you have to know the corners, but to be truly fast you have to know the bumps. Unfortunately, that's one thing that doesn't translate very well virtually. While every single bump is recreated in the virtual version of the track, their effect on the car doesn't seem to be as prominent as in real life–which makes it a bit hard for people who have never been to the track and don't know where the bumps are to fully understand all of the dynamics of their car at the circuit. The sim can replicate the resultant physics, but it can never replicate that solar-plexus punch you feel from the car hitting a bump–or the heart-in-the-throat lightness you feel when the contact patches get light.
Robb's Nürburgring Speed Secret
The Nürburgring is the world's greatest momentum and rhythm track. Even though it has 170 corners, a lot of those corners are taken at full throttle or close to it. And those corners flow one into another, so if you lose speed in one corner, you will carry that loss for a very long time. Therefore, it's really important to make sure that you're on the correct line at all times and mentally ahead of the car at all times. 
If you get it wrong on one corner and don't immediately adjust, you'll find yourself increasingly off-line over the next series of corners. Best case: You're slow. Worst case: You're bouncing off the barriers. Because of the track's "every corner is linked" nature, it's actually a great place to build autocross skills. 
The other things you'll learn at the Nürburgring are commitment and, of course, knowledge of its many blind, high-speed corners. You have to be comfortable not being able to see the exit of the corner you're in and just have faith that you're on the right line and going the right speed. It's a very difficult thing to teach and a great thing to practice in simulation.
Everything about the Nürburgring is awesome and can't be missed. Everybody focuses so much on the track itself, but to me what makes the Nürburgring so special is that the entire region surrounding the circuit is there to support the track. That means the whole region is steeped in motorsports history. 
You go to the local grocery store, and they're playing clips from the 24-hour race. Every bar and restaurant has autographed pictures from the legends of motorsport, like Beloff, Schumacher, Hill and Lauda. All of the major manufacturers have bases there. Audi, BMW, Porsche, GM, Aston, Jaguar and more, as well as several aftermarket parts manufacturers, have development facilities there. So you may just be hanging out at a local gas station and a prototype of an upcoming performance car in full camouflage just pulls up and tops off the tank. The whole countryside around the track just buzzes with a motorsports vibe. It's like a car theme park, and I'm very here for it.
Like what you're reading? We rely on your financial support. For as little as $3, you can support Grassroots Motorsports by becoming a Patron today.