[Editor's Note: This article originally ran in the May 2015 issue of Grassroots Motorsports.]
We loved our new SPC Performance front upper control arms for our past project Nissan 350Z, but the bushings were SCCA-illegal as delivered.
It all has to do with the bushings on the inner pivots. SCCA Street Touring rules allow for alternate bushing material, so long as you don't replace non-metallic components with metallic components. So you can replace rubber bushings with urethane or nylon or Delrin or some other non-metallic material.
Ah, but there's another catch: When replacing the bushings, the ratio of metal to non-metal may not increase. Sounds like a real bull-crappy point, but it prevents a savvy builder from doing a full metal bushing with a thin layer of plastic and saying, "See? It's legal."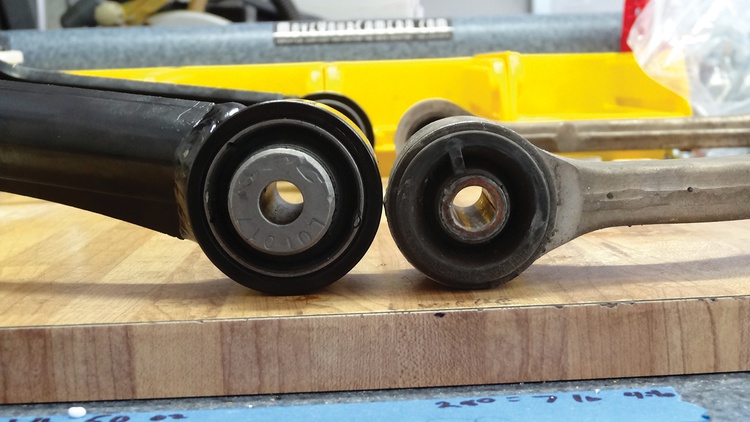 As you can see above, the bushings would never have passed muster as compared to the stock ones on the right. To be legal we'd have to build some of our own.
Step 1
Buy some Delrin. Actually, buy some polyoxymethylene, which is the chemical name for the thermoplastic sold by DuPont as Delrin (and by other companies under different names, such as Celcon, Ramtal and Kepital; it has no relation to Arby's Beef 'n Cheddar.) We bought a 4-foot stick from Grainger for less than $50. It was more than enough for four bushings plus a few failed experiments.
Step 2
Call your dad* and have him build your bushings on his sweet lathe. Our dad is easy to identify because he's always wearing pilfered GRM gear, but you may need a different ID method. Actually, machining Delrin is rather easy if you're used to machining metals. Treat it a bit more gingerly than soft metals like aluminum or brass.
Turning speeds should be on the slow side because you don't want to melt the plastic from friction. Start with shallow, slow cuts to see how your machine and tools react to the medium. Starting with 0.010-inch cuts at around 800 rpm should keep you out of trouble, and you can adjust from there if your machine is happy.
Of course, if you don't have a lathe, it's simple enough to drop off your control arms, your Delrin stock, and some dimensions at a machine shop and let them know what you want.
*Dad may vary in size, color and temperament. Consult your owner's manual for more details.
Step 3
Install your fancy new legal bushings. Our Delrin control arm bushings were paired with some bronze-coated steel sleeves we got from a local specialty hardware store. The sleeves are the same dimension and wall thickness as the stock metal inserts, so we're comfortable that we didn't increase our metal/ non-metal ratio in our new bushings.
Step 4
Now we could take full advantage of our SPC control arms, with their eccentric, adjustable upper ball joints that gave us control over both camber angle and caster angle–two things not adjustable on the stock 350Z.
Pour Your Own Urethane Bushings
Not content with having built our own Delrin bushings by hand, we wanted to see if other materials would bow to our will. Specifically, we wanted to know if building urethane bushings was within the purview of the mortal automotive journalist–if so, then such a project could easily be tackled by a smarter creature, like the average autocrosser or track day enthusiast.
Turns out it is, with a few caveats. While we didn't build any urethane bushings for our Z, we figured since we were talking about building bushings anyway, this would be a perfect place to share our findings.
Step 1
Although harder urethanes can be machined, most bushing-grade urethane is molded. This is a process you can do on your own with simple methods, but the trick is to produce a mold first.
Luckily we had the perfect candidate: the stock anti-roll bar bushings from our 1991 Toyota MR2 Turbo, a part that's NLA from Toyota. Our bushings were dry and creaky, but complete enough to use for molds so we could duplicate them.
Step 2
Eventually you'll want to get your new toy out of your mold, so your mold must be able to separate. To do this, you'll need to build it in two (or more) pieces.
We used a cut-up Glad food storage container to contain our mold. We first cut out the bottom so we could have access to both sides. Then we packed Play-Doh into the bottom to form our temporary half-mold. Play-Doh makes a great temporary mold because it's soft, it seals well, it works easily and, best of all, it's inexpensive and available anywhere. We then pressed our bushing halfway into our half-mold, which half-filled our container.
If we molded the hole through the center of the bushing, we'd have to destroy the mold to remove our finished piece. The goal is to build a couple of these things, so that's a no-go. We filled the hole with Play-Doh and we'll simply use a hole saw to cut our hole in the finished bushing.
Step 3
A generous coating of mold release will let us separate our solid mold half from the Play-Doh and the bushing once it hardens. You can use a commercially available mold release, but liquid soap, hand lotion or water-based personal lubricants like K-Y Jelly will also work. Stay away from silicones and petroleum- based products.
Step 4
Now we pour our first half of the mold. We're using simple, inexpensive plaster of paris. Plaster experiences almost zero shrinkage as it hardens, making it an excellent mold-making medium. The downside is that it isn't the most durable thing in the world. A plaster mold has a somewhat soft, granular structure, kind of like a big block of sidewalk chalk. It's a great inexpensive alternative if you're only going to make a few copies of something. If you plan on molding several copies of an item, it's best to go with a more durable mold medium.
Step 5
After a couple hours–maybe a bit longer in colder or more humid climates–you can remove the Play-Doh from the mold half. If you did a good job with the mold release, the Play-Doh should pull off pretty cleanly, revealing half of the item you're copying and your half-mold.
Step 6
After another coat of mold release, you'll be ready to pour the second half of your mold. At some point, you'll also want to make an allowance for a hole so you can pour your liquid urethane into your mold. We found a little cardboard tube from a spark plug, packed it with Play-Doh, and used it to mold a channel in our second mold half. We'll finish the hole with a drill later.
Step 7
Once the second half of your mold dries, you can separate it and remove your original part. You now have a cavity that you'll use to mold your new pieces. We finished our pour hole with a drill and cleaned up some of the mold's rough edges by hand before our first test.
Step 8
We got our polyurethane in the form of a 16-ounce kit from a supply house in South Florida for under $20. It's a twopart mixture that takes about 10 minutes to start thickening once mixed and about 24 hours to cure to the point where you can remove it from the mold. Urethane hardness is measured on the Shore scale. We used a mix with a hardness of Shore 80. It's about as hard as tire rubber and a little harder than your average rubber suspension bushing.
Step 9
To calculate how much liquid urethane we'd need to mix up, we asked our old pal Archimedes and simply dunked our old bushing in a graduated cup to measure its displacement. Beats doing the math.
Step 10
We taped up our mold and poured our mixed urethane. When mixing, do it gently and thoroughly. If you go too fast, you can introduce air into the mixture. If you see bubbles forming, wait for them to work their way out of the liquid mix before pouring. When you pour the urethane, do it slowly so it fills the cavity completely. Going too fast can trap air pockets inside.
Step 11
A day later, you can separate your mold and gently remove your new piece. You may have a few bits of "flash" that need to be trimmed– extra urethane that seeps into the cracks–but if you did everything right you should have a near-exact copy of your original.
Step 12
After trimming off additional material from the pour hole, we simply used a hole saw to cut our center hole. Go slow and it's a much easier process.
Step 13
And there you go: one homecooked bushing. This simple, affordable molding method can be used to reproduce more than just bushings, too. Basically, you can use it to make a duplicate of any bit you may have. Just adjust your material hardness as needed for the job.
Like what you're reading? We rely on your financial support. For as little as $3, you can support Grassroots Motorsports by becoming a Patron today.