"Building what our customers are driving is just a natural way for us to help serve them better." Those words from BimmerWorld boss James Clay explain his company's motivation for creating in-house project cars, like this 2010 BMW 335i. But he's quick to qualify that statement: "Well, I also really like building fast BMWs." 
And while the folks at BimmerWorld certainly build their share of fast BMW project cars–for both racing use and street use–most of those share a trait that's missing from this E90-chassis, N54-powered sedan: an M badge.
"This was really the first time where we felt like the non-M version of a car potentially had a higher performance ceiling than the M variant," James explains. "The naturally aspirated M3 was faster off the showroom floor, but the turbocharger on the non-M 335 gives you a lot of options for building power."
So that's what BimmerWorld did, and the result–or at least the current iteration, as its project cars tend to be ongoing affairs–is a 500-horsepower, track-capable monster that's tame enough to take out in public.
Make It Sound
Put a 335i–or any other N54-powered BMW from that period–on track, and a common problem quickly crops up: The engine gets hot, and then the engine shuts down. 
From the factory, this generation of twin-turbo N54 has a lot of heat to manage, and the engine control computers are not shy about engaging limp mode when things get too hot.
In stock configuration, the system sends the car into a low-power mode when coolant temps reach 245 degrees or when oil temps touch 304 degrees. Reprogramming the software can raise these thresholds, but all that really does is subject the engine to more potential damage. 
A better strategy is to not let the temperatures get up there in the first place. Phil Wurz, BimmerWorld's sales manager and project head for this build, stresses the importance of proactively maintaining and upgrading the cooling system on any N54-powered BMW headed to the track. 
The 335i has a reputation for running hot on track. If it's been a while, replace the water pump with a fresh one–stock or better. Photograph Courtesy BimmerWorld
"Replace the water pump with an OEM-or-better equivalent," he stresses, "and the thermostat. This car also has an upgraded radiator and supplemental oil cooler, and a more elaborate oil cooler with multiple heat exchangers is probably coming. Even with the additional cooling in this car, we can still trigger limp mode on really hot days or during very long sessions."
The N54 engine also benefits from tip-top coil packs and spark plugs. Coil pack failure is not uncommon in tracked cars, Phil notes, so spare coils should be a mandatory inclusion in a track kit. And spark plugs should be on a tight refresh schedule–maybe even tighter than the 40,000 miles BMW recommends while also going one step colder than specified. 
[How BimmerWorld grew a BMW passion into a BMW business]
The other boring but absolutely necessary service that most used N54s need: a blast of the intake. Since the direct injection system doesn't constantly wash the backs of the valves, residue can build up there and inside the intake tract. Removing the intake manifold and blasting away the gunk with a soft yet abrasive media, like walnut shells, cleans away the grime that can lead to much bigger problems down the road.
This engine also got new rod bearings–originally as a preventative measure, as N54 engines aren't known to go through bearings as quickly as their S54 and S65 stablemates. However, when the crew removed the caps, they found considerable wear on half of the rod bearings. Fresh OE pieces were installed.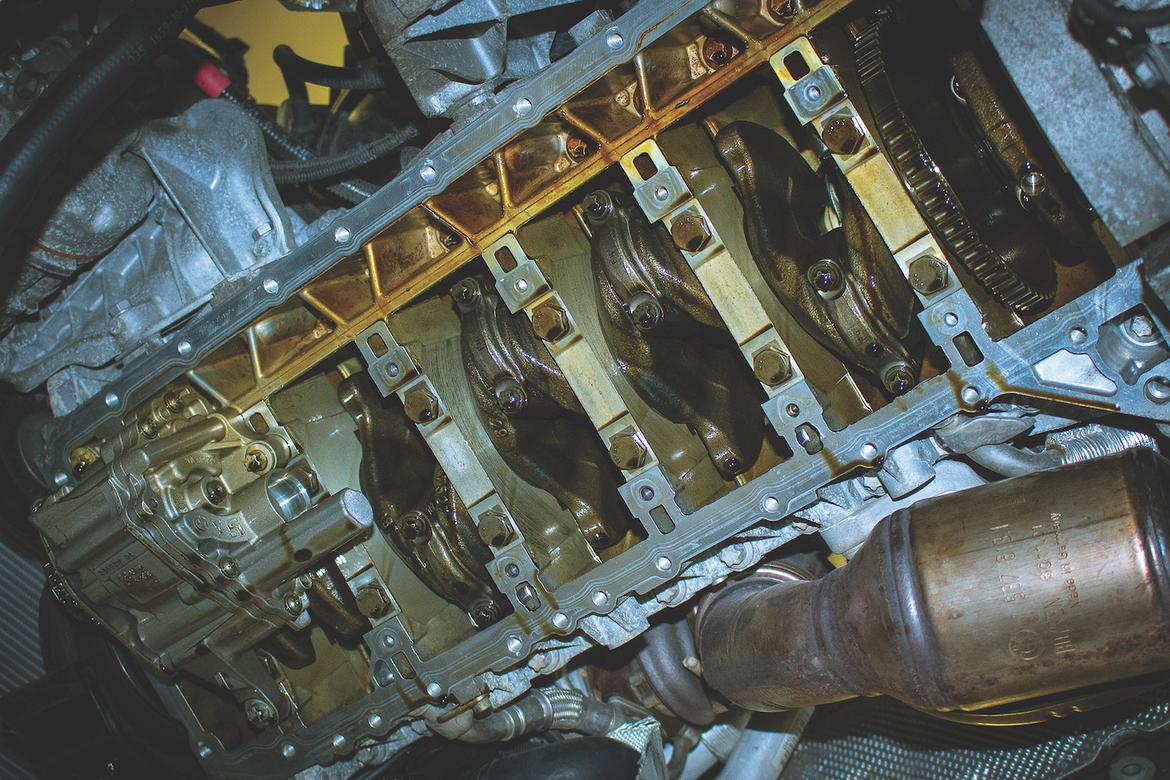 While these engines aren't known for eating main bearings, BimmerWorld still took a peek and saw that it was time for new ones. An oil pan baffle was added at the same time. Photographs Courtesy BimmerWorld
Make It Fast
After handling the boring, preventative stuff, it was time to add some speed–and conduct some R&D in the process.
"Yeah," James notes, "we'll use lots of parts that we sell that we either want to torture test or just be able to speak more intelligently about to our customers. But we'll also integrate parts from lines we may not currently carry but are considering–or even stuff that we don't directly deal with much, but it's what our customers are doing, so we want to know more about it."
The 335i's stock charge pipes are known to fail, even under stock boost loads, so the BimmerWorld car received aluminum charge pipes to handle increased boost. The crew also added a larger intercooler from CSF, the same company building the upgraded radiators and oil coolers for this high-powered BMW. 
That extra boost comes from upgraded 17T turbos, a MagnaFlow exhaust, and tuning. The team started with a Speed Buster piggyback but eventually moved to a more thorough Epic Motorsport ECU calibration.  It all combines to produce more than 500 horsepower from the straight-six. 
A few engine mods–upgraded turbos and intercooler, a free-flowing intake and exhaust, and the right tuning–can take power north of 500 horses. The original bushings were replaced with urethane pieces from Powerflex. The suspension features MCS coil-overs topped with Ground Control camber plates. Photographs Courtesy BimmerWorld 
Under the car, the chassis and brakes got plenty of attention as well. M3 front control arms were installed to gain more camber and track width as well as spherical bearing mounts; spherical bearings were also fit into the thrust arms for improved braking and cornering response. 
In the rear, the stock subframe bushings remain in place–M3 pieces are not a direct replacement fit for those–but some Powerflex inserts provide a mount that's notably firmer. Should the subframe mounts fail–and many do eventually, especially on tracked cars–some solid aluminum pieces will probably serve as the final upgrade.
BimmerWorld's own rear toe arms replaced the stock pieces and provide adjustment not available from factory bits, and the whole thing is connected to the chassis via MCS coil-overs with Eibach 2.25-inch-diameter springs–topped by Ground Control camber plates up front.
Keep It Fun
The kicker here: Despite the extra power and upgraded suspension, the entire package remains extremely tractable without any bad habits. "When I ran the Optima DriveAutoX event at NCM a few months ago," James recalls, "I put a lot of street miles on the car that weekend. I had kind of forgotten just what a great street car it was. After that, I found myself really driving it a lot more just because it's so fun in any situation."
The 335i rolls on forged 18×9.5-inch BimmerWorld TA16 wheels wrapped with 265/35R18 tires, a tight fit on the later E90-chassis sedans. Lots of negative camber and some trimming required. The twin-disc clutch from Clutch Masters should be good to at least 800 horsepower. Photography Credits: Courtesy BimmerWorld (Wheel and clutch), Chris Tropea
Phil notes that the BimmerWorld crew learned a lot about these turbo cars, especially regarding heat management. "Installing larger turbos actually let us shed a little heat while adding power," he notes. "Because they spin slower, they produce less heat for the cooling systems to deal with while pushing more air through to make power."
James says the car is seeing increased time in his rotation. "As a racer–and I'll just go ahead and say it–the only thing I'd really love in the car is a paddle-shift gearbox. I'd love to see what it's really capable of on track if you got the shifts even quicker and more easily accessible."