[GRM+ members read this article first. Subscribe and gain access to more exclusive content for only $3/month.]
Competitive, clean racing? A cool, fast, hassle-free car? Spec E46 drivers report that the class delivers. 
"I don't come expecting to win," BimmerWorld's James Clay says about the Spec E46 class. "The cars are so even that even with a top car, it's never a guarantee."
Two drivers, Evan Levine and Jason Tower, have spearheaded the Spec E46 effort since its conception in 2013. In addition to more speed, the class for the newer BMWs offers more adjustability–and with that, more parity. 
"I remember my Spec E30 and Evan's Spec E30 drove considerably differently," Jason recalls. "We assumed that since they're both spec, they should drive the same. Well, we couldn't do anything about it, because the cars weren't adjustable. 
"With the E46, I've driven 15 to 20 cars over the years. None of them were spectacularly faster, nor were any of them dogs. They're all pretty darn close."
Then there's the class's visual appeal, an important element gleaned from NASA Mid Atlantic regional director Chris Cobetto. "Chris said cars have a 'cocktail party factor,'" Evan explains. "People want a car that looks cool. People want a car that when their friends who aren't car people come through their garage, they go, 'Oh, damn, look at that race car!'"
And finally, the people involved in Spec E46 are a big draw. "The culture of the class is supercritical," James adds. "We seeded the culture for the class correctly from the outset. You start building a foundation with quality drivers, so you're not banging cars up. People see that there's really good racing. Once you get the ball rolling, you start to develop that momentum, and more and more people want to be a part of it."
The quality of the culture extends beyond the track and into the paddock. "You don't need to know the secret handshake," James notes. "Many people are willing to share anything about their cars, including data. Walk over to one of the front-running guys and say, 'Hey, what are you doing with your shocks?' and they'll tell you.
"If you're in the Spec Miata class, you have to know which motor to have, which wheel to use, what the little tricks are. Those tricks should be for everyone if we are truly going to have parity."
One of the core tenants of Spec E46: adjustable, real race shocks, with the class using MCS pieces. Toyo tires are spec, engines must fall under a horsepower cap, and OE pieces can handle the pounding. Donor cars are plentiful. 
Set It and Forget It
"You've got to have a huge number of production cars to make a good spec race car," James says. "There is something like a million E46 330s produced globally. There's a huge number to draw from."
In addition to the cars, you can readily find parts for Spec E46 racers, too. "You've got about 10 years of transmission donors," says James. "You've got so many cars that got the engines. Then you've got so many other parts that cross over from the non-330 cars. You've got huge numbers of available parts."
This abundance also helps keep down parts costs, including one of the biggest expenses of most cars: the engine. The powerplant used here was built from 2000 to 2006 and fit into a wide variety of BMWs: the 330i, 530i, 730i, X3, X5 and Z4. "They're under $1000 for a good junkyard motor," Evan says. 
Those common parts have proved to be reliable, too. "I get made fun of for how little I like to work on the car," he admits. "I barely take it out of the trailer between events. It doesn't matter. There's not a whole lot that can go wrong."
The mandated ECU, flashed with a Spec E46 tune from Epic Motorsports, favors reliability over performance. "We didn't want people tuning, because if you start pushing rpm or timing, you as the person who's doing it may be willing to accept those risks," James explains. "But when people see cars blowing up, it's not good for the class."
The rules do allow for an upgraded differential. "With a nice differential, those need service only every three or four years," says Evan, "just to keep them running optimally, not because they're failing."
Other areas of the cars hold strong as well. "Suspension components are thoroughly vetted," he continues. "The driveshaft, CV joints, the entire braking system–completely stock–are absolutely bulletproof. I've never heard of someone shearing an axle. It just doesn't happen."
"You don't have to be a mechanic to run one of these things. Just go to the track and drive," James says. "You don't spend a lot to do basic maintenance or spend time at the track working on it. It's just tires, brake pads and fuel, so the cost of operations is low."
Not everything is specified by the rules, though. "The worst thing you can do for a spec class–any class, for that matter–is create artificial parity," says James. "If you spec something, like a flywheel or a differential, the reality of it is unless you do a teardown, you're never going to know if it's legal. So it becomes artificial in that people think they can't do this.
"What ends up happening is you have cars that are faster, and somebody thinks somebody is doing something. We got rid of that."
The Line in the Sand
While some areas of car prep are open to a degree of interpretation, others are not. When it comes to suspension, competitors must run a specific set of Hyperco springs paired with spec, single-adjustable shocks from Motion Control Suspension. The cars run on Toyo tires. 
Cars can't make more than 225 horsepower on the chassis dyno. "We've pulled motors out of cars from the junkyard and made 222 horsepower," says Evan, "so if you go over 225, you're disqualified."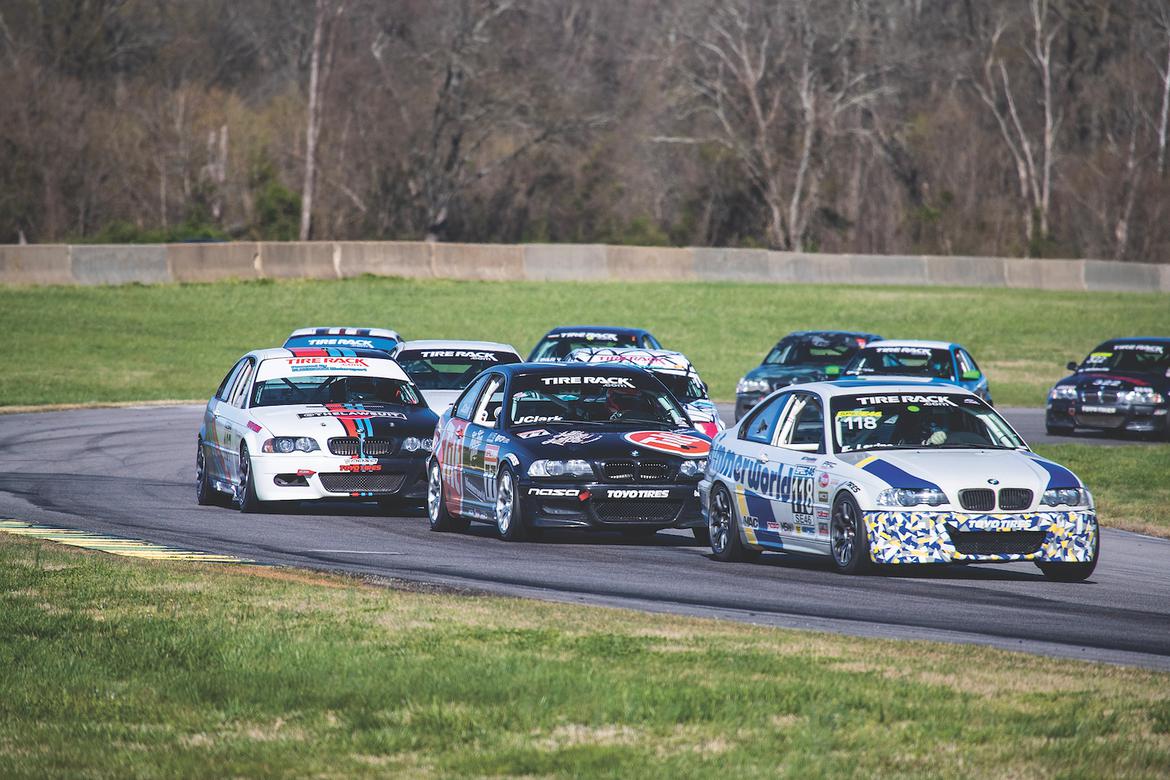 Spec E46 rules allow drivers to work on setup, although the cars tend to be easy to drive. "You're doing shock clicks at some tracks," says the class's Evan Levine. "Tire pressures, to some degree, it's more weather-based."
To avoid supply issues, the rules also look to eschew components coming from a single source. "I've seen suppliers not be able to come through," James says. "All these guys who have to use these parts to build the car don't have them, and you have to write exceptions. Then you have cars that are different in a spec class."
BimmerWorld, reluctantly, does supply one spec part: the exhaust system. "We tried to keep our name out of the rulebook as much as possible," says James. "We wanted spec parts to be high-volume production, with a reasonable price point. A good E46 racing exhaust didn't exist, and BimmerWorld has a partnership with Magnaflow; we were willing to spend the money to put exhausts on the shelf so they would be readily available."
Spec E46 organizers insisted on the class not being bound by any one sanctioning body. Yes, NASA has a Spec E46 class. So does BMW CCA. And it's legal in SCCA competition. A BMW Spec E46 driven by Chris Hart finished third in the T3 class at the 2021 SCCA Runoffs.
BMW CCA, in fact, recently took steps to enforce the openness of the class. "They took a page from ChampCar's book," Evan says. "They took five cars at random and they did an open impound. They made them take the wheels off, put them on jacks, and the whole field got to look at them. The more secretive guys were pissed. I can see why they were upset by that, but I don't care. This is how the class is going to be run. Your car is not going to be kept under a cloak so nobody can see it."
Cost of Entry
"Spec racing sometimes gets confused with cheap," James notes. "The Lamborghini Super Trofeo class is spec. So is the Porsche 911 Cup. Not everybody that goes spec racing wants to race as cheap as possible."
James says building a Spec E46 yourself costs in the vicinity of $30,000. Quality, used race-ready vehicles can be had for $45,000. Past the initial investment, Spec E46 does offer a low cost of ownership.
"The culture of the class is supercritical," notes BimmerWorld's James Clay. A major goal: Create close, quality racing so that others will want to join. 
Either way, racers are buying in.
"When you have a good-looking car at a price point that's achievable by a lot of people in a space not crowded by too many options, that's a recipe for success," James says.