It was over before we realized it had happened. A flash of brown and an extremely hard stab of the brakes threw our passenger against his seatbelt as the McLaren 720S slowed below the speed limit for the first time in hours. 
We'd missed the deer, and the only damage was to Andy's sleep schedule. There was no sense in dwelling on what had just happened. Oklahoma was still 500 miles away, and we needed to be there (and be well rested) by 7 a.m. We accelerated back to cruising speed and continued on into the dark.
We hadn't just escaped from jail. We weren't tasked with delivering a heart transplant to a state far, far away. No, we were on a grueling 3500-mile trek through 13 states and nine tracks in one week.
Elsewhere on the mostly empty interstate, teams were dumping E85 into miniature fuel cells on highway offramps, explaining to officers why their speeding Camaro looked like it had hit a tire wall (because it had), and relentlessly strategizing how to get enough food and sleep to be effective on track the following morning. 
Welcome to the Tire Rack One Lap of America Presented by Grassroots Motorsports. Participants are pushed to their limit for eight days straight and forced into brutal transits between tracks–no tow vehicles allowed. At each stop, teams get just three laps from a standing start. 
Every lap is scored. Every single lap counts. Lowest time after eight days claims the top prize.
Andy Hollis is no stranger to the One Lap of America, with a decade of participation (and frequent class wins) under his belt. When we learned that his professional co-driver and wife, Ann Hollis, had decided not to return to One Lap, we were shocked. 
That led to the coolest question we've ever been asked: "Do you want to co-drive the McLaren with me?"
How could we say no to that? We'd never been on One Lap, but how hard could it really be? It sounded like fun. 
Of course, we didn't realize just how far Andy had gone to reduce the hell. One Lap's run group design is unique: Faster cars run first, slower cars run last. Doesn't sound like a big deal, right? 
We didn't think so either, but on day one we realized that driving a fast car materially lowers the difficulty level of the event: We were leaving tracks 2 or 3 hours ahead of the slowest entries. With transits as long as 700 miles after every track session, that meant the difference between going to bed at 10 p.m. and turning in well after midnight. Those extra hours of sleep add up over the week, meaning we were calm and refreshed while other teams seemed to be approaching their wits' end.
It takes a village to get to the One Lap finish line mostly intact. And the community spirit within the participant community is unrivaled. Successes are universally celebrated and problems are solved. Lap Dogs are the best friends you never knew you had. Pro drivers, basic track rats, celebrities and average Joes all mix, sharing their love for motorsport and the open road.
One Lap pairs the relentlessness of a 24-hour race with the pressure to be perfect every single second of a national-level autocross. It's a challenge like no other, where first-timers start an event with 84 teams of strangers and finish it with a giant group of friends.
Photography Credit: Driftpoint Media
Photography Credit: Tom Suddard
What goes like stink on the track and is super comfy on the highway? A McLaren 720S. And that's what we took to the class win in Stock GT and sixth overall while flying the GRM flag. Normally, an unmodified road car would be quite reliable for a week on the highway. But this is a British supercar, so all bets were off. 
The most dramatic turn happened before we even began. With back order situations looming for popular tires, we stocked up last fall on one set of dry-focused Yokohama Advan A052s and one set of all-weather Michelin PS4Ss. After watching the weather carefully, we made a game day decision to take a chance on the Yokohamas, as we had previously tested on them for both longevity and wet performance. 
Our best laid plans went awry, though, as the mobile Tire Rack mounting service found cut beads on two of our Yokohamas, apparently incurred during the heat cycling operation. With none left in the country, we were forced onto our Plan B Michelins. On the bright side, they made the wet transits less stressful, but we lost some overall competitiveness.
The highlight of the week, though, was not on track. It was cruising a seldom used interstate between Barber and Hallett to complete a 10-hour trip in 8 hours, telling stories and laughing the whole time.
Photography Credit: Tom Suddard
One Lap is the domain of high-horsepower, factory-built supercars, but anything with four wheels is welcome. Even a fleet of, well, shitboxes. 
Enter Gridlife Sundae Cup, a time trials series focused on tracking mildly modified hatchbacks like the Honda Fit and Mazda2. Gridlife sponsored a Sundae Cup class at One Lap this year, and four teams of Grassroots Motorsports forum regulars took the challenge. 
[SpecFit, Gridlife's affordable alternative to time attack racing]
Two Mazda2s, a Kia Rio5 and a Honda Fit may seem like unlikely steeds for 3500 highway miles and nine different race tracks, but Sundae Cup seemed to have more fun than any other class as they proved that it doesn't take an expensive car to finish One Lap. Scott Robertson and Becky Burton drove their Mazda2 to a class win and 54th overall. 
Photography Credit: Driftpoint Media
What's One Lap like if you're not Andy Hollis in a McLaren or a Honda Fit die-hard suffering at the back of the pack? Do normal people compete in (and enjoy) the event? 
As Kelsey Karanges and Silvio Zucchet proved, the answer is yes. They campaigned a mildly modified 2014 Scion FR-S on this year's One Lap. Careful driving and rock-solid reliability combined for a podium finish in their class, putting them right behind the SuperK Honda S2000 and the factory-backed Toyota GR86 in Sports GT-2 Small Bore. Kelsey summed up the event on Facebook this way: "It was a fantastic week of seeing old friends and making a pile of new ones while driving new racetracks, and we definitely will be back!"
Photography Credit: Driftpoint Media
The most popular marque in the field is Porsche, which boasts a variety of sports cars that tend to be  trackworthy and reliable. At the pointy end of the field, those Porsches come packed with prodigious power and race car handling–plus a lofty price tag. Todd Treffert and Tyson Timperley slotted their GT2 RS (below) into fourth overall with some stellar driving in the rain. Also choosing a GT2RS was Chuck Veth and his son Max. Struggling with his dry setup, the rain turned his week around as the car suddenly came alive. They finished eighth overall.
Photography Credits: Tom Suddard
High-profile events like One Lap serve as perfect venues to spotlight automotive performance products, be it a car, a tire or a tuning shop. They can also provide real-world experience to development engineers for those products.
This year, Michelin teamed up with Cadillac to enter a pair of Blackwings in the Stock Touring and Luxury classes, winning both at the hands of Brian Wallace and Andrew Simrell. Finishing right behind them in both classes was the Acura TLX Type S driven by Honda employees Nic Hammann and Clifton Ching, who had a hand in the car's development.
Goodyear sent test engineers Dave Ogburn and Nick Gullatta with a Camaro ZL1 1LE straight out of their test fleet. That familiarity served them well as they claimed the GT2 Big Bore class win.
For the past several years, Toyota Product Engineering has sent a team of employees fielding a fleet of vehicles. To prepare for the event, the cars are tested and dialed in at various venues–with setup sheets worthy of a pro racing team developed for each of the tracks. Each driver gets plenty of pre-event seat time, sometimes at tracks on that year's route. It's a great program for teaching teamwork as well as engineering skills applicable to their day jobs at Toyota. Their 2021 Supra took the win in GT1 Small Bore.
Photography Credit: Tom Suddard
Read the One Lap of America overall results and you'll notice that the caliber of cars is insane: 2019 Corvette ZR1. 2021 Tesla Model S Plaid. 2019 Porsche 911 GT2 RS. 2018 McLaren 720S. 
And what's that in second overall? No, it's not a typo, it's a 2006 Honda S2000 entered by Alex Moss and Andy Smedegard. Power comes from a turbocharged K24, while shifting is handled by a BMW DCT with an aftermarket adapter and controller. Their attempt to win One Lap nearly paid off this year before ending in a second-place finish behind Tom O'Gorman and Steve Loudin's Corvette. How close was it? Just 150 points out of more than 6500 separated the entries. 
Day one saw the S2000 team welding up their trailer hitch, a necessary tool to carry all the 5-gallon cans of E85 necessary for roadside fuel stops. Oh, and the spare parts. We watched Andy build a new differential mount from scraps before the final timed track session; he eventually completed his laps with pieces of a floor jack handle holding the S2000's Ford Explorer-sourced differential in place. 
Despite looking like a miserable place to spend 3500 miles on the highway, SuperK was easily our favorite car of the event. Look for a full feature on this one in a future issue of Grassroots Motorsports. 
Photography Credit: Tom Suddard
2019 marked the first time a Tesla was able to finish One Lap, though the journey was not without on-track performance troubles and logistical nightmares. Two years later, three Teslas finished with very little drama. This year, only one entered–and it finished on the podium. The times, they are a changin'.
Team PGR's Andrew DeKoning and Chad Martin have been part of all those efforts, adding in teammate Damian Dela Huerta for this year. The car was a 2021 Model S Plaid sporting otherworldly acceleration straight from the factory. 
But at 4800 pounds, it needed some help in the braking and handling departments. Enter Mountain Pass Performance, a maker of Tesla track gear. This vehicle was a rolling laboratory of everything the company makes. 
In addition to suspension and braking upgrades, the car was fitted with a MoTeC management system that interfaced directly with the drivetrain to allow modifications to the torque delivery curve. Battery capacity was no longer a restriction, but pulling power from the battery pack to the drive motors caused massive heat. Cooling became the bottleneck.
The team's solution was to modify the power delivery to be as efficient as possible for the three timed laps. It mirrored how some internal-combustion race cars use a fuel-saving mode: come off the turns hard to get up to speed quickly, then gradually ease off the power as the drag increases down the next straight. 
The Tesla's torque curve was altered to a decreasing output as speed increased. Done right, and the cooling system would manage just enough power draw for those three laps. Miscalculate, as they did at Carolina Motorsports Park, and you fall 10 seconds off the pace nearing the finish line.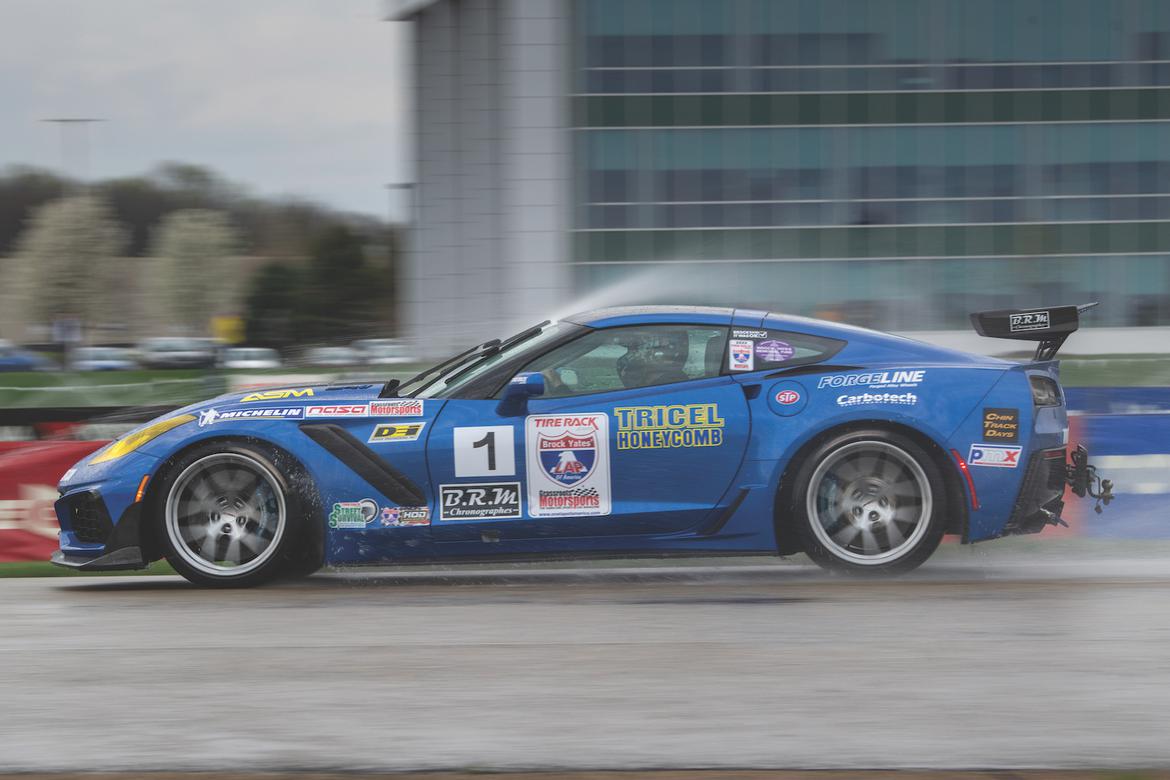 Photography Credits: Driftpoint Media (Corvette), Tom Suddard (O'Gorman and Loudin)
Defending champs Tom O'Gorman (left) and Steve Loudin (right) teamed up again this year to prove that last year's win was no fluke. Previously, drama had always crept into Steve's efforts to get to the top step of the podium. His approach of putting pro drivers in very fast cars always ended up short of the W. But the magic combination proved to be the versatility of TomO behind the wheel of a mostly stock, extremely fast street car–a 2019 Chevrolet Corvette ZR1. 
Trading dry-track wins with the SuperK S2000 and the Team PGR Tesla early in the week, it looked like a three-way battle for top honors. But when the rains came, O'Gorman found another gear. His ability to put it all on the line when it counted, mistake-free, cemented the team's second win. 
Of note, his laps at Putnam Park on a very wet track were unbeaten even when the surface dried completely for later cars. By contrast, SuperK driver Andy Smedegard made one small error resulting in a minor off, losing 10 seconds and 20 positions in the process.