[GRM+ members read this article first. Subscribe and gain access to more exclusive content for only $3/month.]
"It's like bringing a puppy," explains Vu Nguyen, executive director for the Porsche Club of America, noting how this ride will draw a bigger crowd than his air-cooled 911.
The life of the party? His tiny Suzuki pickup imported from Japan. When pushed to the limit, the 550cc-powered truck can just about cruise at interstate speeds. 
These Japanese-market imports don't have to be about performance–although some can be quite fast. They're about having something unique.
"Just being right-hand-drive is, to me, the unique difference," Vu explains. Even something seemingly pedestrian like a Toyota Corolla, he continues, becomes exotic once the steering wheel is located on the right.
"People look at you funny," he continues, "which I think is cool. You have your kid in the 'driver seat' while going down the highway."
Vu notes something else to love: A lot of these Japanese imports are well made–well, for being older and a bit exotic. "To have an enthusiast car that's reliable and cool–usually those things don't go hand in hand."
And then there's the nostalgic tie-in to the '80s and '90s, as today's EPA and U.S. Customs rules permit the importation of overseas models once they reach their 25th birthday. A lot of U.S.-market cars from that era are simply no longer around, Vu reminiscences. "They all served a purpose and went to the junkyard."
So here's a way, he figures, to have something from that time that's also unique. 
But he does temper those dreams with some harsh realities: less parts availability and less safety. His 1989 Suzuki Carry pickup, he explains, was really designed for top speeds south of 45 mph. "You feel like you're riding in a Coke can," he notes. Technically, some states forbid its use on certain roads, too.
Does the dream of owning a Japanese-market car always match the reality? Keep reading. 
1990 Nissan Skyline
Photography Credit: Pat Guzowski 
"Dude, I'm 41. I played 'Gran Turismo.'"
Back when Sony's famed release changed everything in 1997, Pat Guzowski put together a plan: When the Skyline GT-R turns 25 years old, be in position to buy one. 
Kids, school and life in general pushed back that quest a bit, but earlier this year Pat started the hunt for an R32-chassis Skyline GT-R. Small problem: Prices have gone up in the past three years, leaving just sketchy examples in his price range. He was finding rusty cars or ones with title issues. 
"Dude, don't buy one that needs work," Pat says, quoting his wife, so he expanded the search and found this one, a more pedestrian 1990 Skyline GTS-T Type M upgraded to nearly GT-R specs. "It popped up on eBay," he says. "It was filthy in the pictures and it looked a little ratty." 
A previous owner had swapped in an RB26DETT engine from a Skyline GT-R while adding the flares and GT-R nose. It is, Pat says, essentially a rear-drive Skyline GT-R.
Pat didn't win the auction, but the car was relisted after the top bidder flaked out. So Pat reached out to the seller, who happened to live nearby. "Got a super-good vibe from him," Pat recalls. Pat asked if showing up with a truck, trailer and cash would seal the deal. Sold.
Sold: 1993 Nissan Skyline GT-R
$44,000 
via Bring a Trailer
"The dude was more than honest," Pat says of the seller. "He essentially sold the car as I would have done. Legitimately, I could not be happier." Pat rates the driveline 10 out of 10. He figures the bodywork, including the all-metal flares, is an 8. It's a Godzilla that can be used and driven, without worrying about a parking lot ding, at half the price, he says. His kids note that the back seat is plenty roomy. 
For those on a similar hunt, Pat says to avoid sketchy sellers and do your research. Once you have a VIN of a possible purchase, search the Japanese auction sites for any first-person inspections–they're out there. Spend the money for any other available reports. It's maybe $35 that can save thousands in headaches, he adds. 
An example of how research can help avoid issues: Pat found a Skyline billed as a factory five-speed car, but searching the VIN revealed it had been converted from an automatic. "Even just Googling the serial number on this car took me to the Bring a Trailer link from three years ago," he notes.
1989 Suzuki Carry
Photography Cedit: Vu Nguyen
Kei trucks have become way popular lately. They're cool, they're quirky, and they're not too expensive.
They're also really slow.
So Vu Nguyen got the lightweight version. "Mine is the base, base model," he jokes about his 1989 Suzuki Carry: two-wheel drive, no dump bed, just a single sun visor. 
Kei cars and trucks–vehicles built to follow Japan's rules for lightweight vehicles–have to meet strict engine output limits. Currently, they're limited to 660cc engines; back when Vu's truck was built, the displacement cap was just 550cc. 
"I always have had a soft spot for quirky cars," Vu explains. "A friend was importing cars for rural postal service." The little pickup fit Vu's definition of quirky. 
Back home, Vu's truck was used for groundskeeping work. When he bought it in 2016, it was clean and had covered only about 7000 miles. "It's a perfect example."
For Sale: 1996 Suzuki Carry
$6900 
Via Duncan Imports & Classics
While it's neither fast nor built to fend off modern American traffic, the Carry has proved to be practical in addition to unique. Need to carry something bulky? Just throw it in the bed. 
It's been reliable, too. "The only thing I've done is put a new battery in it." Just don't expect to find parts at the corner shop. "Wheel bearings, etc., are out there," he notes, "but you have to find it. Might come from Canada, Thailand, Japan." Once you have a part number, then start searching. 
And some advice for those looking for their own kei truck: "Make sure you're buying from someone who has imported more than just one." In other words, stick with a trusted, known importer who will provide a U.S. title. "Then, when you go to the DMV," he continues, "it's super easy."
The reward, he says, is worth it: "I have so much fun driving it."
1994 Suzuki Cappuccino
Photography Credit: Courtesy Jeffrey P. Burdick
After kicking tires for a while, Jeffrey P. Burdick finally got his JDM import, a 1994 Suzuki Cappuccino. To save money, though, he bought one that needed a new engine. "Mechanical problems don't scare me," he notes. "It was cheaper than I'd pay for a Miata."
He was able to order a replacement engine from Japan–some importers are flakier than others, he cautions–while replacement parts can be bought online via MegaZip and Nengun. Although wider than stock, somewhat common 185/60R14 tires fit the factory wheels. 
"If you've worked on a lot of Japanese cars, you have an understanding of what size fasteners are used," he explains. "Now knock it down a factor." Where there should be an M6 fastener, for example, there will be an M5.
The packaging is also really tight, he cautions. "There's always something in the way." The Cappuccino is not as easy to work on as a Miata or AE86 Toyota, he notes, and it's also a bit primitive by modern standards. Where the cam sensor in a later LS engine has 58 teeth, for example, the one in the little Suzuki has only three. 
The Cappuccino's ECU is also rather basic, as Jeffrey has found that it won't always flash a check-engine light if there's a problem. Sensor out of spec? The ECU might not tell anyone. His solution: Go through the factory service manual–an English language version is available–and check all the sensors. He's also converting his car to MegaSquirt. 
Sold: 1992 Suzuki Cappuccino
$6800 
via Cars & Bids
These cars are also not new, he cautions. "The biggest thing to me is that you're talking about a 25-year-old car," he says. 
And as a member of Japan's kei car class for lightweight vehicles, the Cappuccino might not fare well against a modern F-150. "It will do highway speeds if you're brave enough," he says. "There's no safety in these cars. It's the least safe thing that you can drive on the interstate."
But for some people, he says, it can be as easy to live with as a Miata.
1991 Honda Beat
Photography Credit: Ken Ostrow
Longtime Honda fan Ken Ostrow fell in love with the Beat upon reading Car and Driver's 1991 first look at the car. But those hopes were quickly snuffed: "At the end of the article, it stated that this car would only be sold in Japan and not available in the United States."
Finally, in 2010, Ken saw a Beat in person, with one showing up for his annual Hondas 2 Orlando meet. "So me and the owner became friends, and over the course of the next nine years, he kept saying that I would be the very first person to have a shot at it once he was ready to sell," Ken recalls. "He saw my clean 1991 Honda CRX and knew I took great care of that and said he would trust me to take care of his Beat."
That call finally came in 2020, with Ken fetching the car with a U-Haul truck. "Unfortunately," he continues, "the Beat had been sitting in a garage for the last three years and needed a lot of TLC."
For Sale: 1991 Honda Beat
$9999 
at Duncan Imports & Classics
Since then, he says, it's been a project. "It's been a long, two-year, love-hate relationship with a lot of blood, sweat and tears, especially when it came to finding parts and then having to source them from Japan and getting them shipped here to the U.S.," he explains. His parts list has included a distributor, coil, igniter, ECU, timing belt, water pump, fuses and spark plugs. The engine is practically new, he jokes, as the 30-year-old car needed plenty of deferred maintenance. 
Tires have also been a challenge, as the Beat wears narrow, 13-inch front tires paired with 14-inch rears. The sizes have become incredibly scarce in the U.S., so Ken orders his Yokohamas from Japan. A friend stationed in Japan has helped with the shipping. 
Despite these setbacks, Ken finally has his Beat up and running thanks to help from Brian Baker, one of Jay Leno's mechanics. "She's been running beautifully ever since."
1991 Nissan Figaro
Photography Credit: Bradley Brownell
Bradley Brownell, co-founder of Radwood and now director of the Crawford Auto and Aviation Museum, simply needed a commuter–and it had to have some style, too.
His final answer: a 1991 Nissan Figaro, the brand's one-year-only retro car. "The vintage looks of the Figaro always appealed to me, especially when mixed with the fairly modern reliability and parts availability of a '90s Nissan," he explains. "The cloth rollback top is exactly the kind of open-top experience I wanted, giving it that extra sense of occasion."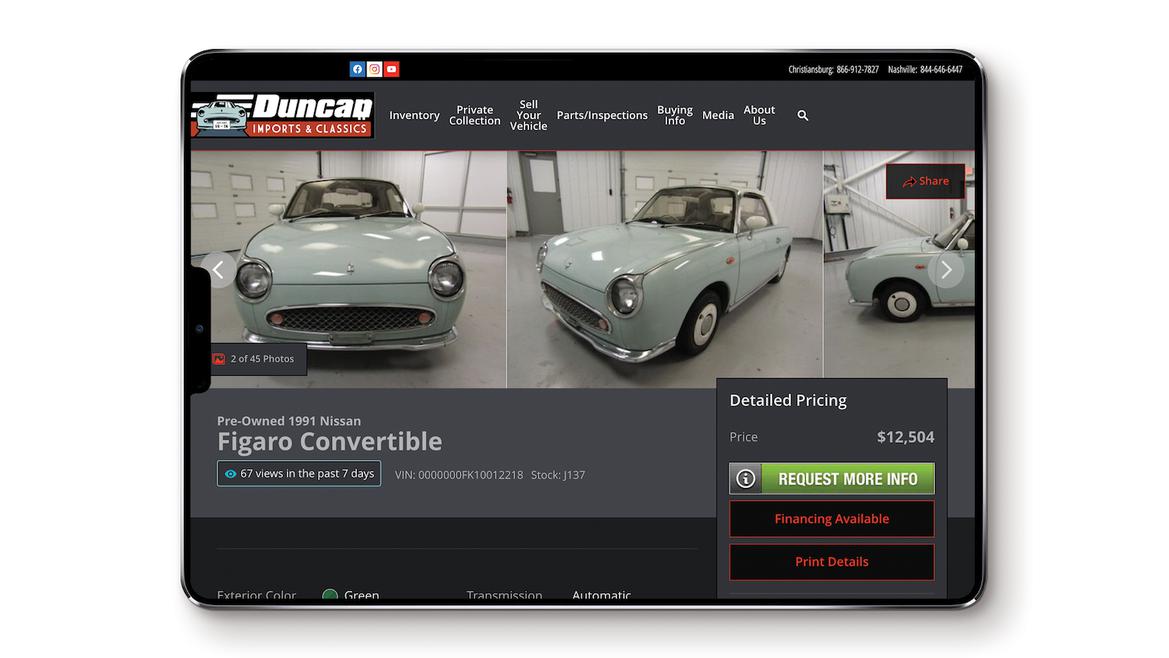 For Sale: 1991 Nissan Figaro
$12,504 
at Duncan Imports & Classics
Even though this model didn't come stateside, it can now easily be found here. At any time, JDM dealer Duncan Imports & Classics is likely to have close to 100 in stock. "Apparently a local enthusiast had imported four of them and chose to keep the best of them for himself," Bradley explains. "We got one that he didn't want with around 90,000 miles on it. It was just $12,000, which seemed like a fair price, and I've been very happy with it since.
"I have always wanted a vintage Mini, and this feels like it does a lot of the same things that I wanted a Mini to do but with modern engine management and a turbocharger."
1990 Mitsubishi Galant VR-4 Evo
Photography Credit: Shawn Burke
Mitsubishi sent its rally-ready Galant VR-4 stateside, but Shawn Burke fell into a JDM version that had already been imported. "Because everyone always asks," he says, "right-hand drive becomes natural very quickly.
"I've owned a rather extensive list of cars over the years," he continues. "I purchased this specific car mainly for a trip down memory lane. I'm in my mid-30s and moved on to higher-caliber vehicles, but I grew up around various 4G63-powered Mitsubishis and will always have a soft spot for them."
Sold: 1992 Mitsubishi

Galant

AMG

Type 1
Bid to $17,000 
via Cars & Bids (sold after)
Shawn has since sold the Galant–after prepping it for hillclimbs, he found the perfect Lancer Evo VI–but reports that the ownership experience was good. Finding parts for a Japanese-market car, he adds, can be mixed: "In some instances, you can save money if there's a U.S. counterpart. Chances are you will have to become comfortable with waiting on parts from various ends of the earth. Ownership is fairly easy if you already own something older and have to track down parts."
1992 Toyota Century
Photography Credit: Courtesy Brad Phillips
"I didn't know those cars existed until I saw one at Gary Duncan's place," explains Brad Phillips, a senior VP at auction house RM Sotheby's. He returned home from Duncan Imports & Classics with this Toyota Century, a limousine for Japanese execs–diplomats, bank high-ups, yakuza, whatever. 
Soon after purchasing the car in 2017, Brad and a friend took it on a cross-country drive to Monterey Car Week. The trip was so effortless that their first stop didn't come until they were 30 hours in. The backseat passenger could enjoy their own a/c and massaging seat as well as a passthrough that provided extended legroom up into the driver compartment. 
The big challenge in ownership, however, was parts availability. "I assumed that parts would cross-reference to some Toyota or Lexus no problem," he says. "Wrong."
For sale: 1992 Toyota Century
$12,900 
at Duncan Imports & Classics
Just about everything, he discovered, was unique to the Century. "The shocks are really hard to find," he says, "so you wind up with a substitute." Internet sleuthing told him that GM rears would fit; he never replaced the fronts. 
He sold the Century when facing a cross-country move, as he couldn't justify the shipping. But he says he'd own another one. "Everyone does a little take," he says, when he would drive by. "It was crazy cool."
1986 Honda Accord Aerodeck 2.0Si
Photography Credit: Victoria Scott
"I wanted a cruiser and I wanted something unique," explains Victoria Scott, a staff writer with The Drive. "It was pretty much the rarest car I could find." She figures that when she traded a Supra for the Aerodeck early in 2020, fewer than a dozen lived in the States. 
But rare doesn't have to mean difficult to own and feed. While the shooting brake bodywork is unique to the Aerodeck, everything forward of the B-pillars more or less matches a U.S.-spec Accord–it's just right-hand-drive. The Aerodeck has proved to be very reliable, and she can get parts at AutoZone. 
Sold: 1986 Honda Accord

Aerodeck

2.0Si
$11,891 
at Duncan Imports & Classics
Her other car, a 1995 Toyota Hiace Super Custom, also comes from the Japanese market. It's a diesel-powered, go-anywhere van that she says is the best. But it's more challenging to own: Parts to do the 100,000-mile service had to come from Australia, and it's taken more than a year to find replacement glass for a broken window.