Story by Ben France
[Editor's Note: This article originally appeared in the May 2008 issue of Grassroots Motorsports.]
Nissan's legendary Z-car has managed to survive a roller-coaster ride through its long history—one that has included several shifts in design focus as well as fluctuating production numbers—throwing the car-nut community for the occasional loop along the way. The Z has been Nissan's top sporty car for North American consumers for more than 35 years, and during that time it has been met with praise from the automotive press as well as strong interest from the car-buying public. Those are about the only constants, though.
The Z has done well by evolving to meet the market's needs. In just its first 15 years of existence, the model's identity shifted from the 240Z, which was a lightweight two-seat sports car, to the 280ZX, which was a heavily optioned cruiser. The purists may have cried, but the model stayed afloat. When the third generation debuted with the 300ZX, the model's focus moved even further into the grand touring realm, but back in the mid-'80s that seemed to be what the masses wanted, and sales were still brisk.
By the end of that decade, however, sales had begun to slow as contemporaries like the Toyota Supra and Mazda RX-7 started to beat the Z in the marketplace. Nissan desperately needed something to resurrect its standing as the top dog of the Japanese sports car segment. They responded by debuting the all-new-for-1990 Nissan 300ZX. It carried the Z32 chassis designation.
When the Z32 hit the public in the spring of 1989, it was met with universal praise. Heralded as a world-beater, the new Z-car was sleek, sexy, sporty and more. This was the first model change in the Z-car's history that could legitimately be termed revolutionary, as opposed to merely evolutionary. (The earlier, Z31-chassis 300ZX had, despite its totally different appearance, shared some suspension architecture with the original models.)
The automotive press loved the new car—Road & Track magazine even called it "the class of its class." Motor Trend named it their 1990 Import Car Of The Year, and Car and Driver practically reserved a permanent spot for it on their annual "10Best" list. In fact, the Z32-chassis 300ZX made that magazine's top-10 list every year it was sold in North America.
Total Recall
The Z32-chassis 300ZX was a real sports car with a shape that immediately attracted the eye, but the sex appeal here was more Marilyn Monroe than Audrey Hepburn. In other words, it was a robust, heavy car. Curb weights varied depending on options, but ranged from about 3200 pounds for a cloth interior, base-model car to almost 3500 pounds for a loaded Turbo model. The 2+2 coupes fell somewhere in between. 
While the new car's styling got the blood stirring, the real thriller could be found under the hood. Although the engine's VG30 designation was carried over from the previous 300ZX, this was actually a completely redesigned 3.0-liter V6. Designated the VG30DE, it featured dual overhead camshafts, an iron block with aluminum heads, four valves per cylinder, and cam timing that could vary based on engine rpm and throttle input. This engine also featured coil-on-plug direct fire ignition, dual throttle bodies, separate inlet tracts for each cylinder bank, a 7200 rpm redline and a 10.0:1 compression ratio. 
All of this added up to 222 horsepower at 6400 rpm and 198 lb.-ft. of torque at 4800 rpm. When coupled with a 4.08:1 final drive ratio, this normally aspirated engine propelled the Z from zero to 60 in a respectable 7.1 seconds.
The suspension was also an all-new design, with an independent multi-link setup front and rear, that delivered excellent road handling for its day. The base 300ZX was able to pull .88g of lateral acceleration on a 200-foot skidpad and could get through a 700-foot slalom at 65 mph with relatively neutral balance.
Tremors
The regular 300ZX was spiffy, sure, but Nissan had something special up their sleeve: In the fall of 1989, they released the 300ZX Turbo. This was the manufacturer's own version of a supercar, and it was pretty darned super thanks to 300 horsepower from its twin-turbo engine.
Stepping up to the Turbo model brought many upgrades to the drivetrain, suspension and braking systems. Starting under the hood, the Turbo Z featured dual Garrett hybrid turbochargers, each one using a T-25 compressor housing mated to a T-2 turbine. These were both oil- and water-cooled, which was just becoming standard OEM practice in the late 1980s. 
Twin intercoolers were mounted low in the front sides of the bumper, necessitating three horizontal vents cut into the bumper cover. Those slots are one of the visual clues that differentiate the Turbo cars from their naturally aspirated brethren. 
In order for this VG30DETT powerplant to survive at an elevated breathing rate—maximum boost from the factory was about 8.5 psi—the compression ratio was lowered from 10.5:1 to a more manageable 8.5:1. Other modifications included oil-cooled pistons, stronger rod bearings and higher-grade exhaust valves that could better handle the increased temperatures. All of this added up to an impressive 300 horsepower at 6400 rpm and 283 lb.-ft. of torque at a rather low 3600 rpm. This gave the new Z-car enormous bragging rights, since back in those days 300 horsepower was seen as the magic number.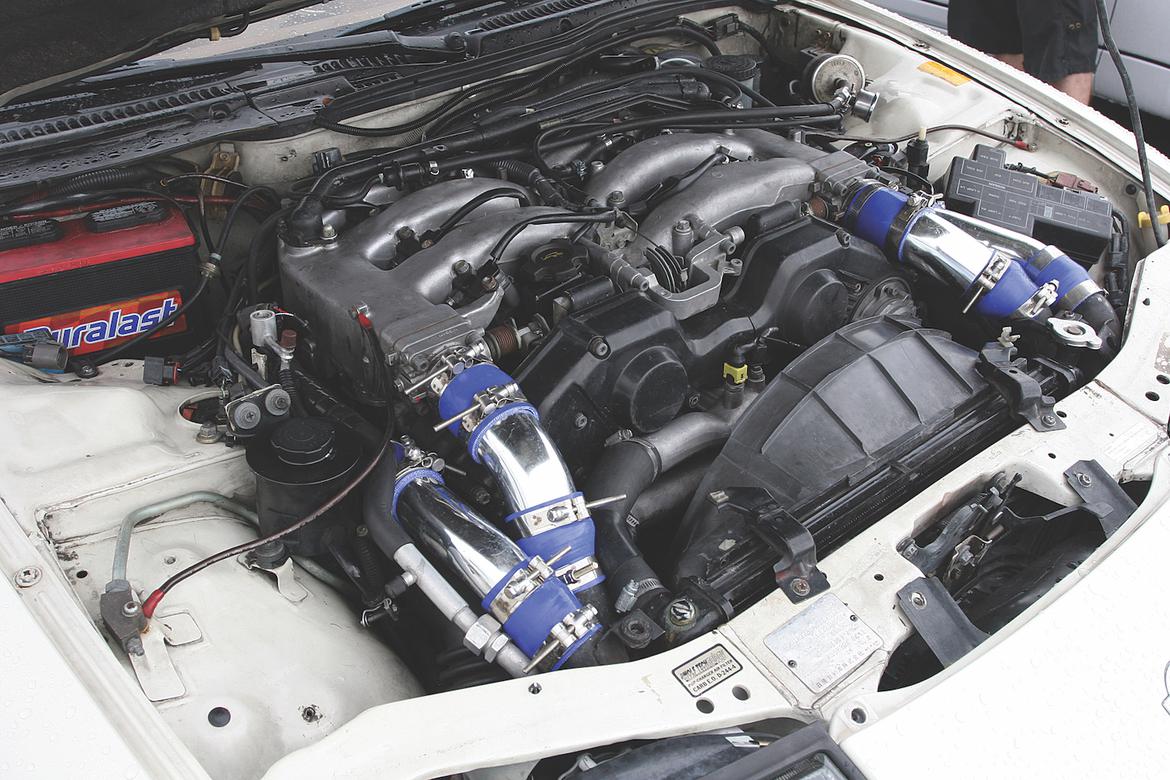 The seating position in a 300ZX is low and laid-back, just as a sports car should be. Under the hood, the VG30DETT engine in the Twin Turbo models cranks out 300 horsepower in stock trim. Owners love to upgrade these cars; shiny turbo plumbing like this is a sure sign of tinkering. Photography Credits: David S. Wallens
The Turbo's drivetrain was beefed up to handle the added power with stronger drive shaft U-joints, strengthened gears in the already strong five-speed transmission, and a stronger clutch with 38 percent more clamping force plus a vacuum assist. As final insurance, the rear end was upgraded to a larger unit featuring a 230mm ring gear—a 50mm increase over the standard car. (The Twin Turbo's ring gear dwarfed even the one found in Ford's legendary 9-inch unit.)
This car did more than just look good in person and on paper. The 300ZX Turbo rocketed to 60 mph in just 6.0 seconds, and could eclipse the quarter-mile mark in 14.4 seconds at a trap speed of more than 102 mph. (For comparison, the 1990 Toyota Supra Turbo could only muster a 7.1-second zero-to-60 mph time and a 15.6-second quarter-mile run.)
To handle the extra momentum, the Turbo also received upgraded brakes: Where the standard car's rotors were 28mm thick, the turbo model's were 30mm. Although the 60-to-zero mph stopping distance decreased by only a scant two feet, braking feel was rated by contemporary testers as "excellent" as opposed to "good" on the naturally aspirated car. 
The Turbo's suspension featured an electronics package that allowed the driver to select between sport and touring settings, although few drivers found this feature to be useful—the touring setting was firm and the sport could be best described as bone-jarring. The final drive ratio was also lengthened to 3.69:1, and the rear wheels were widened an inch (to 16×8.5 inches) and fitted with 245/45R16 rear tires. 
The biggest change to the Turbo's suspension also proved to be the most controversial: Nissan used this car to introduce the American market to their Super HICAS (High Capacity Actively Controlled Steering) four-wheel steering system. Unlike the rear-steer systems that had been used in the past by other manufacturers, Nissan's did not provide input at lower speeds. It was designed to operate at moderate to higher speeds, starting with a short dose of rear-wheel countersteer against the fronts before transitioning to in-phase steering. At higher speeds, the rear wheels are steered exclusively in-phase with the fronts. While magazine tests initially praised this system as being "nearly invisible," enthusiasts would eventually decide that it could be unnerving in some instances. As a result, a market grew for HICAS-eliminating kits—which you can still buy today.
While most of the Turbo Z's upgrades were contained under the skin, one little difference was visible to all bystanders: Nissan added a small decklid spoiler and an even smaller "Twin Turbo" badge to the tail of the car.
Marked for Death
Nissan released the 300ZX during some tough times. Economically, the yen's falling value made Japanese cars not such a hot bargain as the 1990s marched on, and starting in the middle of that decade American consumers began deserting smaller, sportier cars in favor of large SUVs. On top of that, the 300ZX had some serious competition for the sports car buyers who remained. There were definitely faster machines available, like the Camaro, Firebird or Corvette, as well as more responsive machines such as the final iteration of the Mazda RX-7. There were even more comfortable daily cruisers, including the Mitsubishi 3000GT and Dodge Stealth. It all added up to a premature death for the 300ZX in the American marketplace in 1996, although the car was continued in Japan for a few more years.
Although the Z-car lost out to other models, none of those cars offered such a well-rounded package of solid handling, reasonable comfort, fade-resistant brakes and more than enough power to break every major traffic law. Throw in looks that still garner admiration in today's traffic, and you have a car that remains an excellent choice today.
Photography Credit: David S. Wallens
Things to Know
Even though the 300ZX could hardly be considered inexpensive when it was new, it was viewed as a great value and that trait has only increased with the passage of time. Actual asking prices can vary greatly depending on the condition, options and model year, with low-mileage private party cars selling for significantly more than Blue Book prices. 
Photography Credit: Euroimage.us
Engine
The underhood wiring harness is susceptible to premature wearing due to the immense heat that the engine and turbochargers generate. The heat is also tough on the various vacuum lines, hoses and belts. 
Earlier cars have been known to have a poor master cylinder design that can leak. The part was changed for 1991.
The springs that actuate the variable cam timing are seen as somewhat weaker on the earlier cars. 
There was only one recall during the model run, and it involved an ignition system power unit. All cars affected should have had the necessary work performed by now, but it doesn't hurt to check. 
Make sure the ignition coils are working properly. Listen for a light, rapid ticking sound. Any odd pattern or hesitation in this firing could mean coil problems. 
The alternator can be a weak spot.
This Z-car uses an interference engine. If the timing belt breaks, the valves will most likely contact pistons, ruining your day, week, month and possibly even year. Don't go more than 60,000 miles on a timing belt.
Great horsepower improvements can be made with moderate modifications such as an ECU remap, free-flowing exhaust and an air intake system. These three basic modifications can quickly uncork a Turbo car and make another 65 to 75 horsepower at the flywheel. 
Bigger intercoolers, turbochargers and fuel injectors, along with aftermarket engine management, can bring the stock turbo long block up to a giant-killing 500 or more horsepower.
Chassis
The wheel wells are spacious enough to run up to a 255mm-wide front tire and a gigantic 285mm rear tire. 
If they haven't been replaced yet, most cars by now will need new front tension control rod bushings. The stock liquid-filled bushings tend to deteriorate and leak with age. Harder durometer rubber bushings or urethane pieces are readily available, as well as spherical ball-jointed pieces that completely eliminate the compliance and looseness attributed to the stock rubber bushings. 
Drivetrain
Clutch throw-out bearings can get noisy, although Twin Turbo clutches can go 70,000 miles or more if not abused.
Body and Interior
When shopping for a T-top car, check the seat rails for corrosion. Any rust here is a sure sign that the tops have been left off during a rain shower or that the car needs new weather stripping.
Comments
View comments on the GRM forums
You'll need to log in to post.
Log in