[Editor's Note: This article originally appeared in the June 2007 issue of Grassroots Motorsports.]
By definition, a Locost is supposed to be a simple, lightweight, stripped-down, home-brewed sports car. Call it an individual interpretation of Colin Chapman's original Lotus 7, a bare-bones sports car that has been inspiring enthusiasts for half a century.
But no one said that building a Locost is a low-stress proposition. Even a relatively simple car is surprisingly complex, and there are lots of potential roadblocks. This isn't confined to Locost projects, of course. We've all hit setbacks the size of Mt. Everest. Bone-tired and frustrated, the last thing you want to do is stumble back into the garage and face the monster that lurks within. 
It's easy to start a major project with the best intentions, but how do you prevent your dream from becoming one of those bargains sold on eBay? Here are some tips for you.
1: Avoid Design Paralysis
Photography Credit: David S. Wallens
Most people build a Locost because they want a car built exactly to their own specifications. That's great, but it's easy to bite off more than you can chew. 
It's not unusual to get all excited about trying to design the ultimate front suspension or engineer a monocoque chassis. The good thing about this is that design work is free. The bad thing is that you can't drive a design—you have to build something in order to do that. 
Some of us are victims of this design paralysis. A need to design the ideal front suspension can prevent us from tack-welding two frame tubes together as we flounder around in search of the ultimate geometry. This can lead to years of zero progress. 
Sometimes it's best to just put something together that isn't ideal but at least gets the car running. It can always be fixed later, or maybe that not-quite-perfect suspension design will prove to be more than adequate with a little setup work. The idea is to have a functioning car to experiment on.
2. Have a Mental Picture
Photography Credit: David S. Wallens
By having a good idea of what you're trying to accomplish, you'll be able to make better plans. Will this be a high-horsepower track car? Then you'll need to invest in a dual master cylinder brake system with a bias bar. Or will it be a weekend, sunny day toy? If so you can use the brake parts from the donor car.
This mental picture can also work for motivation. When you look at your car, instead of seeing a cooling system that seems to have more leaks than pipes, you can imagine your car storming over Turn 9 at Thunderhill. That frustrating mess of wires? They're just waiting to facilitate a fun drive over your favorite roads. And hey, if it helps, stick a seat in the car and "drive" it for a while. It's your garage, you can do whatever you want.
3. Get Mad Skills, Yo
Photography Credit: Keith Tanner
Many people shy away from building a car because they don't have the skills. But really, they just don't have the skills yet, and building a car is a great way to get them.
If you're willing to build a car, you're obviously willing to learn a thing or two. Take the opportunity to learn how to weld, how to shape metal, how to paint, how to flare brake lines—whatever your goal is. Local college courses can be an excellent way to learn, plus you'll gain access to a good shop, good tools, and a teacher who can evaluate what you're doing.
4. Bike vs. Car?
Photography Credit: Courtesy Honda
Ah, the big question. Motorcycles are light, powerful and filled with mouthwatering technology—like sequential gearboxes. Since they have a tendency to topple over (sometimes spectacularly), this technology can often be purchased quite inexpensively. Locosts are all about max performance from minimum weight, and bike components are hard to ignore. 
But bike engines also don't have a reverse gear or a long life expectancy. The engines are offset to the left in a longitudinal application, so they're not well suited to left-hand drive cars. They work best when being driven flat-out, not when moving around town or dealing with traffic. You'll also have to find another source for all the other bits and pieces. It's a tough choice. 
Street-biased cars generally benefit from the more relaxed, torquey and flexible nature of a car engine, while the track toys are well suited to a lightweight motorcycle screamer.
5: Consider a Kit
Photography Credit: David S. Wallens
The big reward of doing a Locost is knowing that you built the car from a pile of tubes. But it's worth it to consider purchasing some components. 
A store-bought frame will instantly fill your garage with something concrete and give you a visible sign of progress—and sometimes that head start makes life a lot easier (especially if you're trying to justify the project to someone else). 
Also, a kit will help you avoid the onset of design paralysis and give you a source to go to for solving common problems. Don't get too comfortable—there's still a lot of work ahead, but at least you won't have to worry (hopefully) about the quality of the welds or where to get body parts. You can also jump ahead by purchasing a fiberglass scuttle, or maybe some prefabbed control arms. It might be cheating, but it's hard to get upset about that when you're driving instead of building.
6: Single Is Good.
Photography Credit: Keith Tanner
Going with a single donor will ensure that all of your components will play well together. You'll also get a complete car's worth of parts without having to scrounge around for odd bits and pieces. It'll even supply a good collection of nuts and bolts. 
So what are your options? The rear-drive Corolla used to be the standard, especially the GT-S version, but the drifters have discovered the car and prices have shot up. The Miata is becoming more popular all the time, but its independent rear can add some complexity. A first-generation Mazda RX-7 is a good option. Brunton uses a Chevy S10 pickup for a grunty V6 and a live axle. Get a bunch of gearheads together and they'll start coming up with more and more (weirder and weirder) possibilities. Volvo, Subaru, Alfa, Lotus—Lotus?
7: Get Organized
Photography Credit: Keith Tanner
Take a little bit of time when you disassemble your donor to clean and label every part. It's a lot more pleasant to deal with clean parts instead of ones that are coated in half an inch of slime. 
And while that bag of brake parts might seem self-explanatory today, in six months it could be a real puzzle. Permanent markers and resealable plastic bags are your friends—so are parts bins full of bolts sorted out by size. Yes, it's boring work and nowhere near as fun as welding tubes together, but it makes a big difference when you're hunting for those special drive shaft bolts two years from now.
8: Do Something Daily
Photography Credit: Keith Tanner
Even if you don't plan to work on it every day, don't let your car get lonely. Go visit it every day for 15 minutes. You might just sit and look at it, or maybe you'll tidy up a few tools, or pick up some wrenches and turn some bolts.
It's possible you'll find that a couple of hours have passed and suddenly you're a little closer to having your car on the road. Or maybe not. But it helps keep the project alive instead of getting dusty.
At the very least, you'll spend some time thinking about the most recent challenge you're facing. And most importantly, there's always work being done, even if it's just a little bit.
9: Baby Steps
Photography Credit: J.G. Pasterjak
How do you eat an elephant? With ketchup! No, no, one bite at a time.
Remember, even the largest project is nothing more than a series of smaller steps. Instead of concentrating on the overwhelming whole, take it one step at a time. 
A wiring harness can be daunting to take on, but if all you're trying to do is get the rear turn indicators to flash, then it's not a difficult or long job. Instead of focusing on the maiden voyage, concentrate on the first time the wheels turn under their own power. Achieving a series of small goals is rewarding and it lets you kinda sneak up on that big mountain of work. 
10: Walk Away
Photography Credit: Keith Tanner
Cars can be ornery. They'll frustrate you and drive you crazy. Usually you'll have to make a choice: You can try increasingly extreme measures to free that bolt or make that differential fit where it doesn't want to go, or just walk away from the car.
Perseverance is certainly admirable and is sometimes required, but don't push yourself into frustration. If you leave the problem alone and go do something else for a while, you might come up with a good idea. Certainly you'll be a little more patient when you return to take a second (or fifth) shot at the problem. So go mow the grass, reintroduce yourself to your significant other or learn to ride a unicycle. The car will be waiting when you return.
11: What Would Lotus Do?
People have been building the Lotus 7-style cars for 50 years. Chances are that whatever you're thinking of doing has already been done. Books on the Lotus 7 and variants can be really useful when looking for a solution to a problem. Online, there are hundreds of build sites ranging from obsessively detailed Caterham assemblies to stillborn bizarre beasts. A lot of brainpower has gone into these little cars over the years. Take advantage of it.
12: Size It Right
Photography Credit: Keith Tanner
Colin Chapman was five-foot-seven and sized the Seven to fit him. The modern Locost is generally about four inches longer. 
A popular modification for the Locost is the McSorley 7+442. It's a chassis that's four inches longer, four inches wider and two inches higher than the original Locost design. A bigger frame makes it easier to fit modern engines with overhead cams. It also makes it easier to fit modern people. 
But bigger is heavier and less stiff. The good thing is that it's fairly simple to stretch and shrink the frame as you need. So how do you decide?
Well, a good way to determine if you have enough room in the cockpit is to put a couple of boxes 18 inches apart. Can you sit between them? How about 17 inches of space? Is that better or worse?
This exercise will help you decide what width to set the chassis once you've factored in the width of your transmission tunnel. You can cheat a little bit if you don't put an inner skin on the sides of the frame. Sometimes an extra-wide or -narrow axle will also force a change in width.
The standard Locost design will take an engine that is about 24 inches tall without odd hood bulges. Length is really dependent on the type of seat you use—the original Seven just had pads on the floor and rear bulkhead!—but most people will fit in a normal Locost frame.
13: Get Help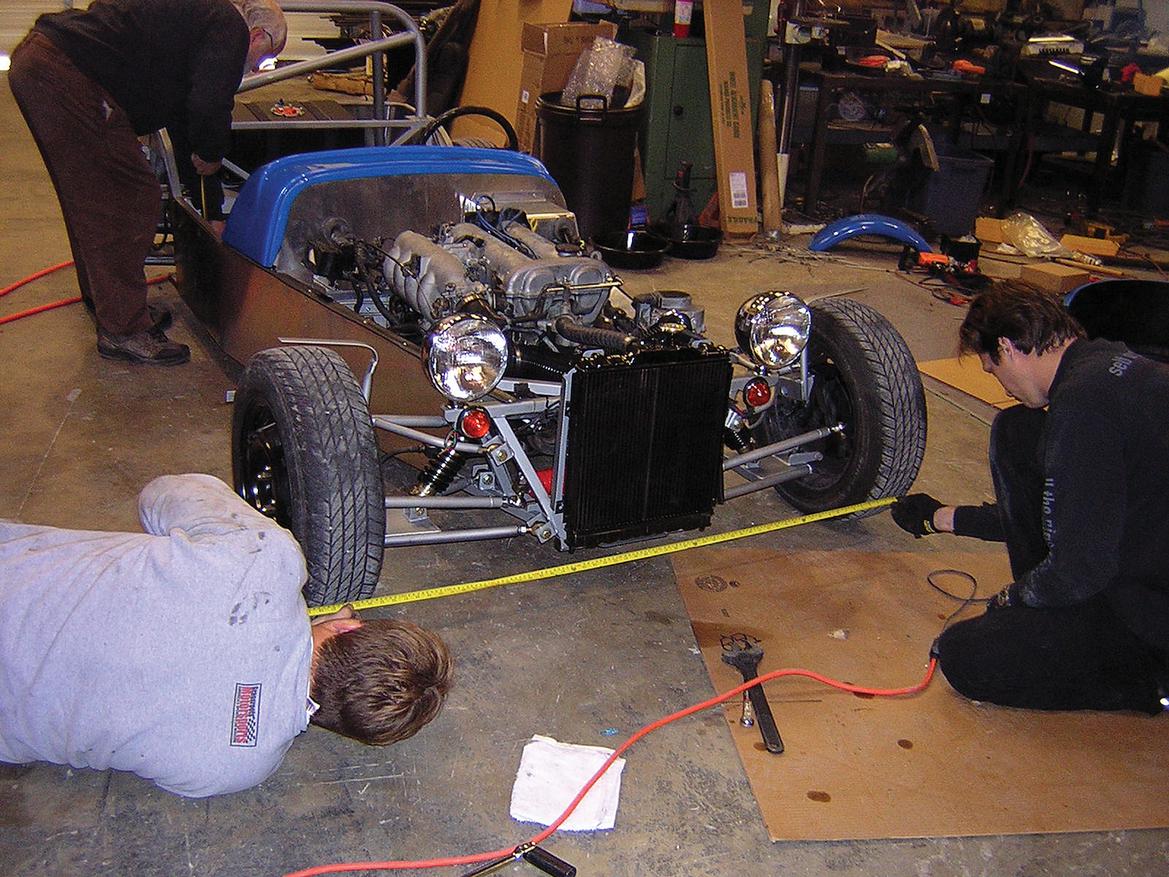 Photography Credit: J.G. Pasterjak
You just can't do this alone. Whether you're installing an engine, lifting a chassis onto a welding table or sobbing quietly in your garage after discovering that you carefully fabricated all your control arms backward, you need help.
A friend or two will help you through the hard times. Make an event out of it. Invite your friends over for a work party. It's amazing what people will do for pizza and beer, and even more amazing how much can get done when you have a few people working instead of just one. You might even remember how much fun this whole thing is supposed to be.
Luckily, we all have access to a great support group—the Grassroots Motorsports family on the magazine's Web forum. They can't necessarily drop by your house to help hold up that differential for you, but you'll find support there for just about any crazy scheme. (Sometimes a little too much support, to be honest; nobody there will tell you that it's a dumb idea to base a Locost on that 500-cubic-inch Caddy engine you just found.)
14: Don't Stop When It's Running
Photography Credit: J.G. Pasterjak
Toward the end of a project, it's easy to declare the car finished once it can be driven on the road. But honestly, work has just begun.
Continued attention to the car can turn it from being a cool little ride to a world-class piece of work. It doesn't need to be constant toil, but a bit of experimentation will bring out the full potential of your work. The best part is that you need to drive the car to tune it, so you'll have an excuse to take your toy out for a spin or to the track.
15: Remember Why
Photography Credit: Keith Tanner
Don't forget, this is supposed to be fun. Keep that in mind. You might be frustrated in the garage and swearing at inanimate objects, but it's far cooler to be building a car than sitting on the couch and watching "The Golden Girls". It helps to stick a seat in the car, grab a steering wheel, and make "vroom" noises for a while. 
Comments
View comments on the GRM forums
You'll need to log in to post.
Log in